The Chamberlain is one of our go-to landmark hotels whenever we think of Los Angeles. It's not very grand or opulent by any means, yet it stands out among a star-studded set of luxury hotels in the city. What we love most about the property is that it is completely tucked away in the laid-back, leafy Norma Triangle of West Hollywood. It gives this intimate city retreat a local neighbourhood feel.
Angelinos will go on and on about traffic, yet get in their cars and drive to go to a local store. But what we really enjoy about staying in the city of West Hollywood is how accessible everything is on foot. Staying at The Chamberlain put us within walking distance of both Sunset Boulevard and Santa Monica Boulevard, which immediately made us feel that we were living like a local. We've lost count of the number of times that we've staggered back from a night on Sunset Strip and/or from the infamous West Hollywood LGBTQ+ institutions, merry from the proceedings.
Our open-plan room at The Chamberlain was very generous, with an ample sitting-room area, study, small balcony, bedroom and decent-sized bathroom, all paying homage to the hotel's original architectural charm and period features. The property has recently undergone a facelift – we'd agree with the many that said it was much needed – which has been executed stunningly. Although we did find the original Art Deco vibe of the furniture, even though it was looking a little tired, somewhat charming. Still, kudos to the designers who, while installing a much more contemporary feel throughout the hotel, have done well to capture the glamour of old Hollywood, matched with the sophistication of today's tastemakers.
The rooftop pool is rather small but perfectly well formed – there are much better hotel pools across the city for sunbathing and frolicking, but it provides welcome relief from the California heat. Breakfast served in the ground-floor restaurant here at The Chamberlain is beautifully presented and its portions large. And as for dinner… we still have pangs of guilt about ordering one of their renowned pizzas for room service and then passing out before it was delivered.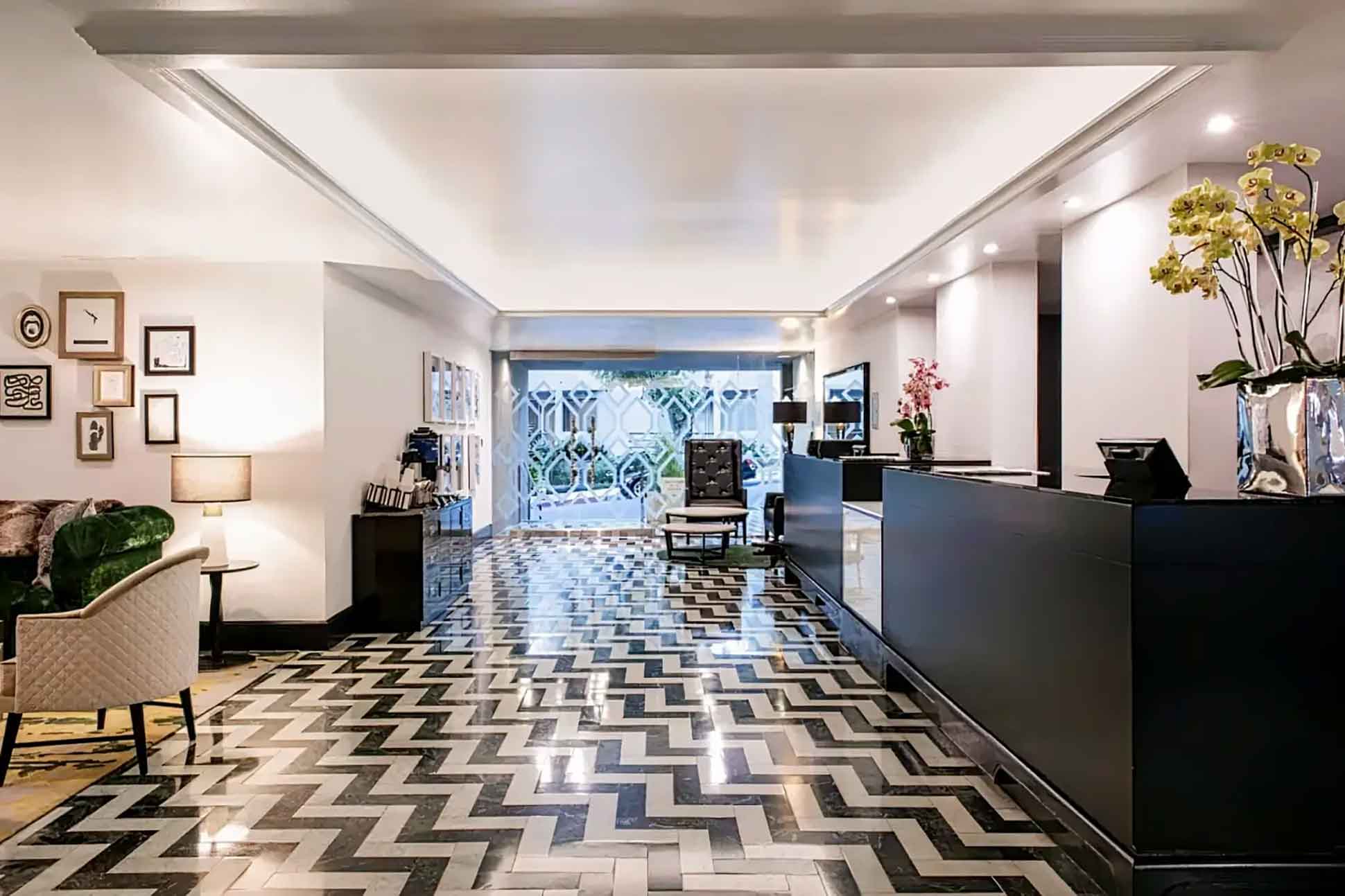 | | | |
| --- | --- | --- |
| Perfect for | Fly into | Right on time |
| The Insider | LAX | GMT -8 |
While you're Out There
Head across the roundabout and down Westmount Drive and in two minutes you'll experience the delights of Santa Monica Boulevard. We won't tell you where you need to go to enjoy what OutThere West Hollywood has to offer (for fear of leading you astray). All you have to do is just follow your nose and remember how to get back to the hotel!
www.chamberlainwesthollywood.com
Photography courtesy of The Chamberlain