Testament to New York City's distinct ability to evolve and reinvent itself over time, Manhattan West, the city's seven-million-square-foot redevelopment on the west side of Manhattan has seemingly sprung up in the city overnight – and that's despite allegedly being three decades in the making. It has rapidly become a contemporary commercial, residential and entertainment hub. At the very heart of this new, New York neighbourhood is a luxurious California-inspired boutique property that is spearheading a new era of hospitality in the city, the Pendry Manhattan West.
Ardent, OutThere fans of New York City are divided in opinion about what's happening on the city's west side. Some have mourned the loss of 'old Manhattan' and its creative soul, but there are others who celebrate and welcome the development and gentrification of this once less-than-salubrious part of town.
Regardless, it is impressive what has happened here, not to mention the speed at which it occurred. Hot on the heels of the launch of Hudson Yards (the single largest private real estate development in the history of the USA, a veritable city-within-the-city), Manhattan West, just a block or so from Hudson Yard's southern perimeter, is styling itself as a new, in-the-know, New York neighbourhood. The area is redefining the NYC experience; a commercial and dining nerve centre featuring a plethora of new lifestyle brands and attractions. It spans some eight acres or so, which is small by Manhattan standards and only really bound by one block east to west and two blocks north to south.
Naturally, a boutique, designer neighbourhood of such stature requires a boutique, designer hotel to match. This comes in the form of none other than the Pendry Manhattan West.
The lifestyle-driven Pendry brand, part of the Montage Hotels & Resorts family, is held in high esteem, particularly in the hearts and minds of West Coasters. But now, it is equally a New York institution, but not without bringing with it a heady dose of California dreaming.
Understated, elegant, muted, yogi-inspiring decor in neutral tones is the hotel's deliberate, aesthetic trademark. Designed as an oasis from the flurry of city life outside, entering the Pendry Manhattan West immediately evokes an air of calm and relaxation. The warmth of a large, contemporary fireplace greeted us upon entry. The deep scent of woody top notes from Pendry-branded candles heightened our senses and cleared our minds. The hotel's well-dressed and heeled staff – primed at the ready and eager to help – rid us of our long-haul travel woes.
Texture-rich, contemporary furniture with a mid-century-modern twist punctuates the physical space that embodies, yet redefines a distinctly Californian architectural narrative of flat planes, large glass windows and ample open space. In the hotel's lobby, a cleverly imagined, indoor garden room completed the illusion that we were in the Golden State, instead of Gotham City.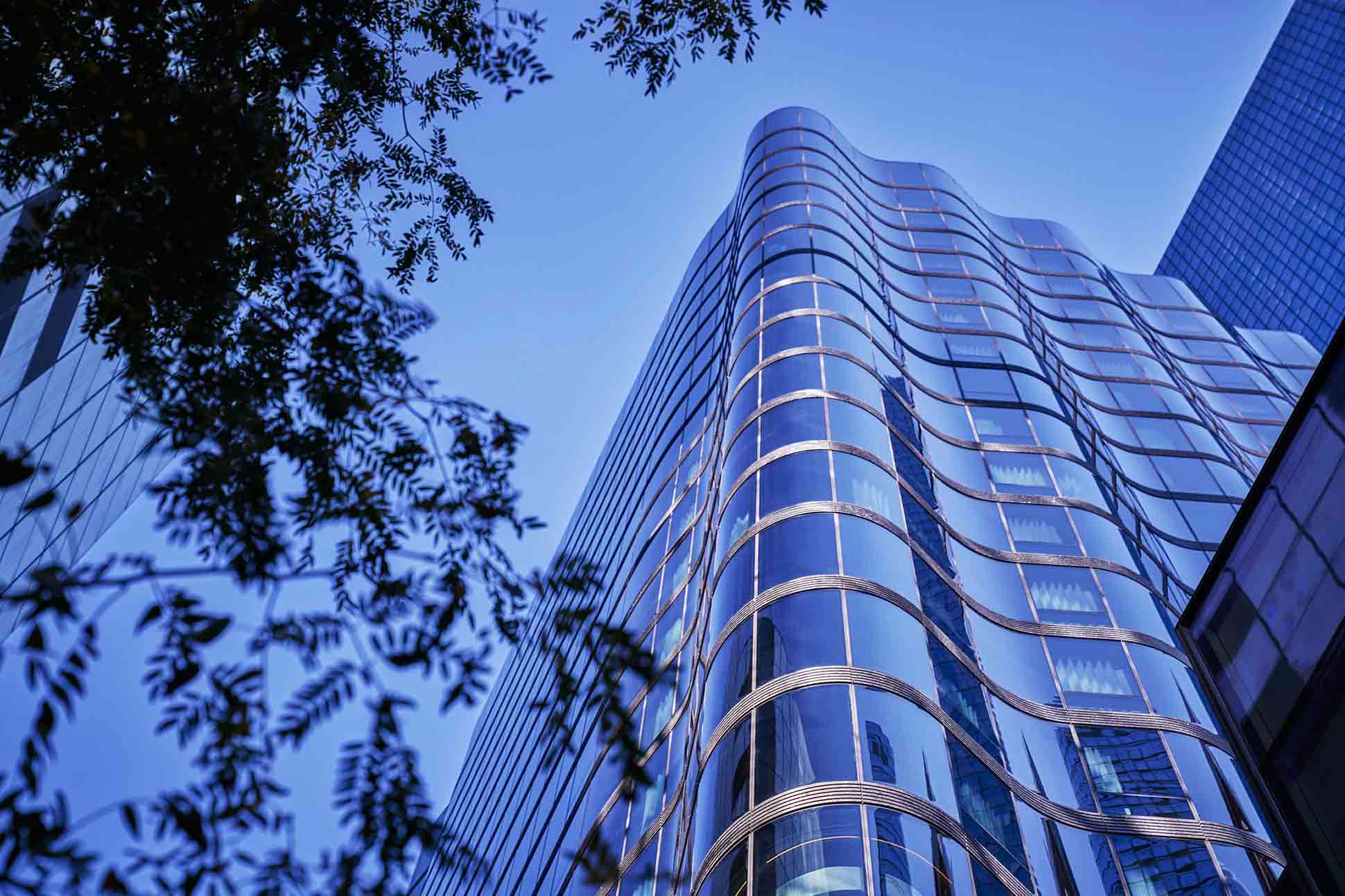 | | | |
| --- | --- | --- |
| Perfect for | Fly into | Right on time |
| The Insider | JFK / EWR | GMT -5 |
While you're Out There
Make sure to book in for drinks at Bar Pendry, the hotel's jewel-box, bijou, speakeasy-esque signature bar, characterised by its gilded walls, abstract nacre-and-gold-leaf Nancy Lorenz mural and shimmering, delicious, hand-crafted cocktails.
Upstairs at the Pendry Manhattan West, our wood-panelled corner studio suite was yet another infinite space that was right on brand: filled with natural light from the immense floor-to-ceiling glass wall that ran the entire length of the room, the architects certainly maxed out on the feel-good factor in-room. We loved our rotunda-like alcove living room, seemingly cantilevered (another architectural illusion) over the Manhattan West development, offering a distinctive, physical sense of place.
Big Apple lovers fear not, other suites have old-Manhattan views, affording guests the best of both worlds. A portfolio of thirty suites out of 164 keys offers a fantastic choice, but if you're feeling particularly fancy, you can splurge on the Pendry Suite, a top-floor, 1,200 square-feet / 112 square-metre, two-bedroom corner suite with its own baby grand piano!
We were also thrilled to learn that the hotel has many accessible suites as well – built for purpose without compromising on elegance, design and comfort – affording disabled travellers an almost identical spatial experience to what we had.
Lest to say, all accommodation types at the Pendry Manhattan West are exceedingly comfortable. Back in our suite, we particularly enjoyed a MiN Momento (MiN of New York is the exclusive bathroom amenities brand for the hotel) infused bath with a view, serenaded by the dulcet tones of Billy Joel, the music selection that awaited us when we returned to our room after the turn-down service, that put us in a New York state of mind. Just bear in mind that when the lights are on in the bathroom, the all-glass room is in view of neighbouring apartments and office buildings – yes, we inadvertently put on a show!
Gym bunnies will adore the Peleton bedecked fitness facility, which makes sense seeing the East Coast HQ of the exercise-wellness-lifestyle brand is just next door. Foodies and occasional foodies respectively will love Zou Zou and Chez Zou Zou, which serve up Eastern Mediterranean, Middle Eastern and North African fare by chefs Madeline Sperling and Juliana Latif, in a super chic setting. The Vista Lounge offers even more dining space and was our choice for breakfast; but when we needed to grab something on the go (it is NYC after all), Black Fox offered hot, black gold, courtesy of one of the best roasters in the city.
At the time of our visit, we were also taken up to the hotel's rooftop, a blank canvas with magnificent views, which is a perfect space for a concept bar, we're told, is coming soon.
New York hotels often come with a New York sensibility: edgy, glamorous, fashionable and sometimes overly cocksure. We like how the Pendry Manhattan West still takes the best of what NYC can offer but applies a laid-back, Californian attitude to it all, to keep the attitude in balance. In a city of a thousand great hotels, it's important to stand out. This is a property that certainly does that.
Photography courtesy of Pendry Hotels