Somewhere between the skytrains of Bangkok and the sacred sites gracing the former seat of the powerful Lanna Kingdom, Chiang Mai, Thailand is home to no small amount of natural beauty. Stray off the Kingdom's heat-beaten roads and you'll find yourself in a verdant rice field or an ancient rainforest within minutes – or, in fact, on the kind of beach that makes you wonder whether your sunglasses came with built-in Photoshop.
It's no surprise that experiential travel to the country's great outdoors has truly taken off: adventure-seekers and those on a spiritual quest to reconnect with Mother Nature alike find themselves well catered to in Thailand, where continuous innovation throughout the luxury hospitality sector for decades has brought about some of Asia's most raved-about beachside resorts (not to mention upscale tented camps and deluxe mountain lodges). Though arguably, it's not until you leave the hotel behind and sense the appeal of Thailand's rich landscapes that you'll truly get the essence of this gem of a destination.
For the most memorable stay in the Thai Kingdom, get 'out there' and don't forget to bring a wide-angle lens.
Go on a trek
Whereas in more conservative parts of the world, trekking around rural areas can be a bit of a hit-and-miss among our community of travellers, Thailand's mentality of openness and inclusivity make the country the ideal place to get your hiking boots out. And there is no shortage of trails around the country, with our favourite treks covering between three and five days in the highlands north of Chiang Rai. If you're after an authentic, cultural immersion, we highly recommend opting for a tour that includes overnighting in a hill tribe village – the Lahu, Akha and Karen villages are among the very prettiest. Tempted by a more high-end experience of the mountainous north instead? Book yourself into the Four Seasons Tented Camp Golden Triangle, whose open spaces lie deep within the thick forest canopy. Staff here will happily assist in organising a private sailing tour down the Ruak River, which affords stunning views of the area's untamed wilderness.
View the world from above
As obvious a pleasure as they may be, we're the first ones to admit we have a weakness for viewpoints. And in any case, men of the world have enjoyed looking out at their surrounds ever since the 18th century – just consider any Romantic painting. Though you wouldn't be altogether mistaken to think of some of Bangkok's rooftop bars as viewpoints in and of themselves, we'd argue the best peak for a peek in Thailand is Krabi's stunning Khao Ngon Nak. Encompassed by Hat Noppharat Thara National Park, it's a strenuous two-hour climb to the top, but visitors will be rewarded with sweeping views of southern Thailand's typical, forest-covered karst formations jutting from the grounds below. Prefer seeing one from up close? Back in Krabi, long tail boats are headed for the nearby Railay peninsula several times a day. From where they dock, it's less than ten minutes down a sandy path to Phra Nang Beach, which you'll recognise from Instagram, thanks to the massive karst rock protruding from the turquoise waters just off the coast.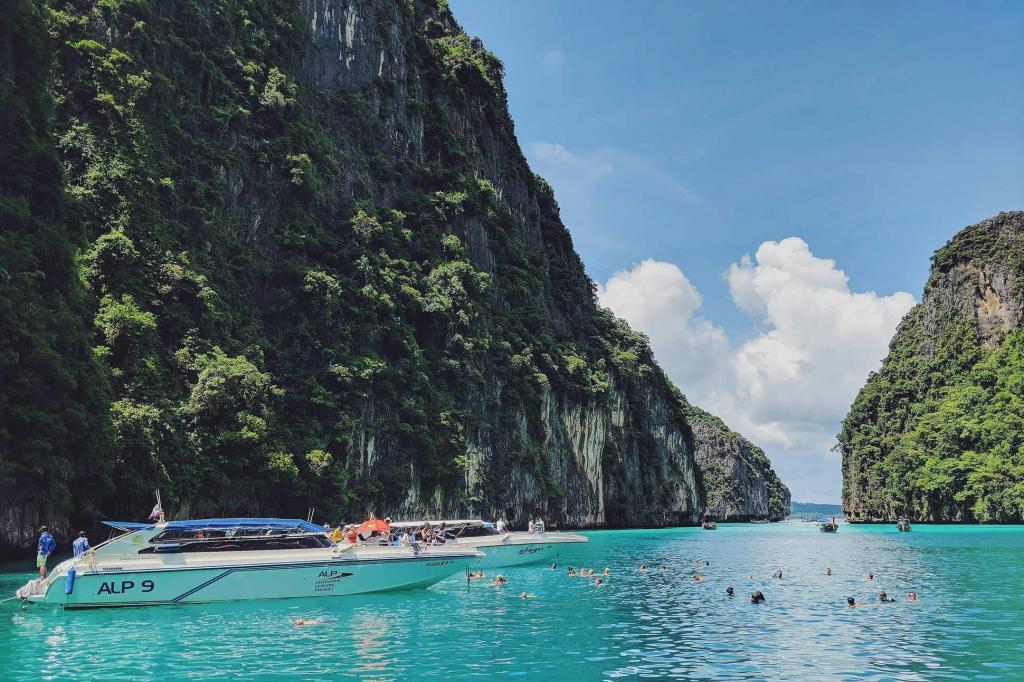 Take a jungle shower
With so much trekking and climbing on your itinerary, you'll soon find yourself longing for a shower, no doubt. Luckily, Thailand is home to what might be best described as the most experiential shower there is: the jungle waterfall. Although some cascades are known to facilitate a party-like atmosphere during the day, with hordes of tourists taking selfies (or worse, blasting their own music) this isn't the case at Thi Lo Su waterfall, which only made its way onto the Thai map around twenty years ago. And that's despite its size – Thi Lo Su is now recognised as the Kingdom's largest cascade, whilst also ranking among the top 5 in Asia, overall. Perhaps most intriguingly, however, the UNESCO-protected site near the border with Myanmar offers a truly off-the-beaten-path experience, forming part of the secluded Umphang Wildlife Sanctuary. If you choose to visit, you'll most likely have this spellbinding place of natural beauty all to yourself. And in some ways, we'd like to think, that's the ultimate luxury.
Go beneath the surface
Can't get enough of water, still? We feel you. Amazingly, some of Thailand's most prominent wildlife and wilderness aren't actually on land – but you already knew that. All along the Andaman coast, world-class dive sites lure explorers and adventures from across the globe. Sure, the Gulf of Thailand also has no shortage of beautiful underwater worlds, but on the west coast, chances are higher you'll get to swim with the biggest fish of them all: the gargantuan whale shark. Our favourite dive site in the country by far is Richelieu Rock, a remote underwater habitat discovered by OutThere man Jacques Cousteau himself. Step into the famed adventurer's footsteps (or diving fins, for that matter) and ask your hotel to help organise a yacht charter or private boat tour out into the ocean. What awaits beneath the surface are perhaps the most colourful and diverse landscapes in all of Thailand: coral reefs, home to neon-coloured fish and if you're lucky, the occasional giant drifting past – this is nature at its best.
*This article is in partnership with the Tourism Authority of Thailand www.GoThaiBeFree.com