Bangkok is undergoing a transformation: the heady Thai capital has always been a place of spirituality, but when it comes to offering a fully-blown wellness retreat, the city has long lacked behind Hua Hin and Koh Samui. With the launch of Sindhorn Wellness by Resense, a state-of-the-art and boldly luxurious spa at the Sindhorn Kempinski Hotel, however, a new age of retreat tourism has arrived in the capital. Reason enough for us to take a closer look.
We can remember a time, not long ago, when the zenith of excitement in urban wellness was a sixty-minute massage followed by a facial. Those days seem long gone now, with recent world events having awoken us all to the importance of wellbeing sanctuaries closer to home. One of these, we found in our hometown of London, and another, in glitzy Beverly Hills. It's in the very heart of Bangkok – a city famous (or infamous) for its anthill traffic, budget-bursting retail temples and rampant nightlife – that another such sanctuary has opened: Sindhorn Wellness by Resense at the Sindhorn Kempinski promises to offer the most advanced wellbeing experience in the city centre. And judging by how fabulous of a hotel we thought the Kempinski was, our expectations ran high.
Our day began with a thorough body composition test, which has become very much the standard of any serious retreat in recent years, and for good reason, too: if you want to make improvements to your overall health, you've got to identify your body's strengths and weaknesses first. Against expectations, ours was in reasonably good shape – not Instagram 'fitness account shape', but not 'fat cat account shape' either.
Pleased with the knowledge that we weren't quite as wobbly-legged as we'd imagined, we walked (well, paraded) into Sindhorn Wellness' virtual cycle station. A high-energy and joyously psychedelic Les Mills video protection straight ahead constitutes the 'virtual' part of the experience, but don't be fooled into thinking the work you're required to put in isn't, in fact, very, very real. Not that we minded. The equipment was expectedly state-of-the-art and, in line with the rest of this extremely stylish hotel, even the cycle studio had been designed not merely for optimised functionality, but to appeal to the senses, with icy blue mood lighting at our feet, electric blue lights above our heads and mirrored walls all around.
Mirrored walls also featured in the next stage our health journey at Sindhorn Wellness took us to, although having spent most of our time with our back pressed firmly into a yoga mat and our limbs in places nature had never intended for them to go, we can't say we saw much of our own reflection – perhaps, this was for the better. Our stretching class instructor was considerably more confident to look at, anyway. Using a sequence of precise clutches and what felt like at least half her body weight, she had us in a hold that had our eyes roll towards the back of our head as our muscles were stretched to the max. When you think about it, it's rather amazing how comfortable the human body can be when it's held in position without the need to do much of the work yourself. We hadn't done an assisted stretching class before, but walking out of what's essentially yoga with support while feeling as though you'd done pilates without; now that's something to win us over.
Satisfied with the fitness offering, and arguably ready to embrace our inner 'spa potato', it was at this point that we decided to switch over to the wellness part of our day. A thermal journey through the spa's bio and salt saunas, cold chambers and a rasul mud room is a must, and the space dedicated to thermal experiences also features an aroma steam room, cold bucket showers and a tepidarium overlooking Bangkok's iconic skyline. As we lay on a heated bench with views of one of the world's most hectic cities just beyond a soundproof glass wall, we couldn't help but be impressed by how easy it had been to completely forget about the world outside – mind you, at some 4,000 square metres, Sindhorn Wellness felt a bit like a world in its own right to us.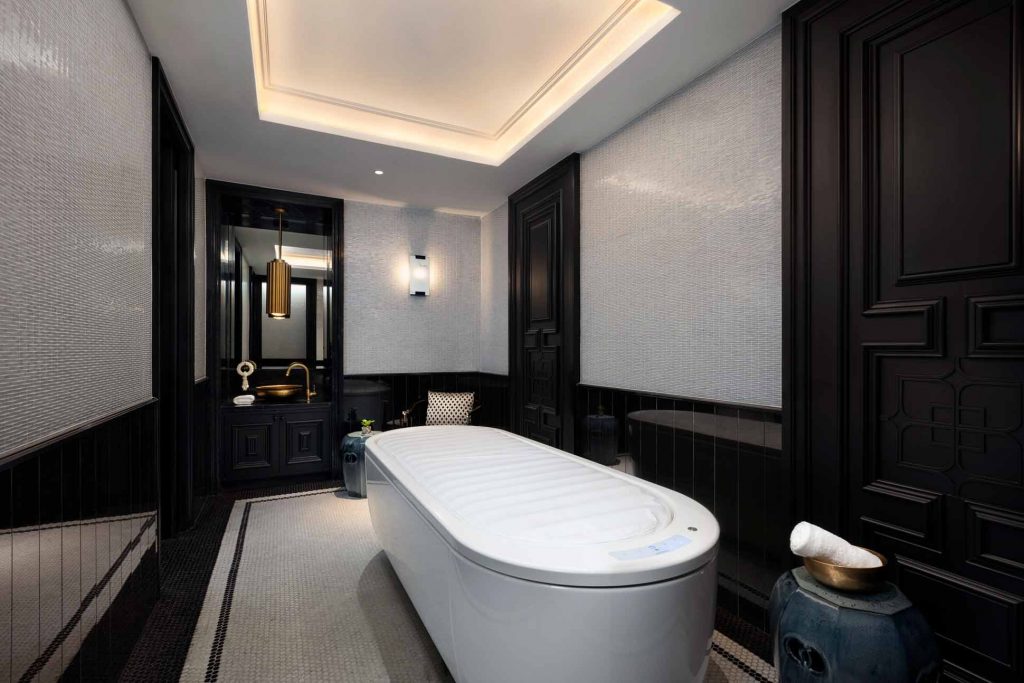 We weren't going to leave this world behind, of course, before surrendering ourselves to the care and noticeably moisturised hands of a therapist. She recommended the hydro-bath (soothing), a mud body wrap on a zero-gravity dry-floatation bed (immersive – literally) and a Scottish shower of alternating hot and cold jets of water. If the journey sounds like a luxury carwash, you're not far off, although 'passengers' get to go on this ride in their swimwear – or in our case, having forgotten to bring our shorts, in a minuscule, transparent and disposable panty, which tested our therapist's capacity to suppress a hearty chuckle.
Completing the pampering program, we opted for a classic massage and a facial in one of the Kempinski's 26 private treatment rooms. The therapies available are impressive and include everything from LED facials to lymphatic drainage, but after all that sweating, we genuinely felt as though there wasn't another toxin to rid our body of. This is also why when the time came to unwind by the hotel's 25m saltwater sky infinity pool and order a meal, we followed up a green salad and a serving of roasted cauliflower with a hearty Beyond Burger and fries: you've got to live a little.
That said, you've also got to live a little better. It's certainly true for ourselves, and a few hours in a spa have their very own way of reminding us to give our body the rest and reset it needs from time to time. Sindhorn Wellness makes a rather convincing (and tempting) point of this, with its hydro-therapeutic treatments and detoxification circuits. But you'll hardly have to conquer your weaker self to book a relaxing few hours in a spa. It's the combination between a superb well-being area and a bullet-proof fitness concept that's arguably what makes this place stand out. There's no shortage of either gyms or spas in Bangkok, but to find both in a single location, with each being pioneering in its own right, is something you'd have struggled to find in the Thai capital previously.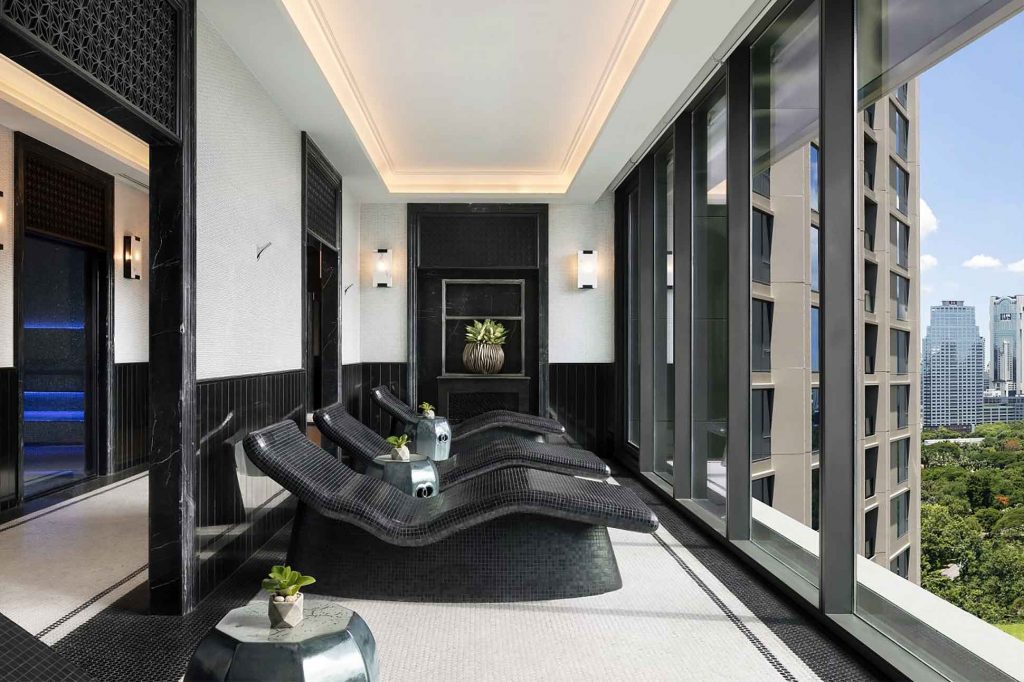 If there's one thing we'd change, it's perhaps the lack of mental health services available. Though physical well-being no doubt plays an important role in how we feel, it doesn't magically result in a happy life. Modern-day luxury travellers look for a breadth of therapies to help them find balance; be it by means of guided meditation sessions, breathing exercises or gong baths that soothe the soul. Yoga sessions in the hotel's lush gardens can, in all fairness, assist with this, and they're certainly available. But they pale in comparison to the holistic rituals holidaymakers will find in resorts down south, or the actual counselling we've enjoyed during spiritual retreats to Bali or Rishikesh. Sure, Bangkok is neither of those places, but you don't need to sit atop a mountain for a guided meditation to benefit your mental health.
We still found our time in this glorious, new space for all things health and fitness heavenly – so much, in fact, we thought it gave new meaning to Bangkok's soubriquet, the 'City of Angels'. An experience like the above goes to show that Thailand's most populous urbanity has grown more versatile in recent years, from sin city to zen city, with world-renowned wellness concepts turning out to be its latest forte. Not that we think this will take the fun out of visiting. There's a reason Sindhorn Wellness also welcomes locals in need of a detox. Thais love to live the good life. And more than anywhere else on the map, perhaps, Bangkok still leaves plenty of room for some debauchery, too.
www.sindhornwellness.com | www.kempinski.com | www.resensespas.com
Photography courtesy of Kempinski