Don't think a Beverly Hills spa is the real deal? I beg to differ. When in 90210, it's not unlikely for your inner competitive retail athlete to demand you move away from Rodeo Drive and towards some much-needed downtime in one of the most talked-about spas in town – though this being OutThere, I recommend you stop by a different kind of wellness facility first.
The Beverly Hilton is always worth a visit – not least because the State of California's first same-sex wedding was held on the rooftop. Though I'm here for the sole purpose of coming face-to-screen with the miracle-working technologies on offer at Upgrade Labs, the state-of-the-art biohacking facility also known as Beverly Hills' latest craze. Walking past a virtual reality headset and infrared-equipped sex toys, I quickly proceed to the cryotherapy room, where it's not without a moment of hesitation that I strip down to my underwear and enter the fridge-like walk-in chamber.
Within seconds, white mist ascends all around me and temperatures drop to an Arctic -188F. Am I really prepared to spend a total of three minutes in here? As the clock above my head ticks away, with each second feeling a little longer than the last, my song choice ('Stronger' by Britney Spears, because it seems fitting) plays from a set of built-in speakers.
'You can always dance a bit to distract yourself from the cold', a personal trainer explains through the device's microphone. I can't quite tell whether he's being ironic, as standing there and shaking in my non-existing boots, I doubt there's anything on the face of the earth to distract your body from a physical sensation as immediate as this. Be that as it may, just before Ms Spears intones the bridge leading up to the final chorus ('stronger than yesterdayyy, it's nothing but my wayyy'), the chamber's door flings open and I'm finally released. What's it all for, you ask? Well, cryotherapy is said to counteract inflammation in the body and ease muscle pain – neither of which I walk away with, to be fair.
Rise of the machines
Meet the 'cheat machine', an intelligent device that measures your strength and endurance, before pushing the weights you just moved towards it right back at you. 'It's about resisting the weight as much as it is about pushing it away from you, and you don't get a break. It's just great!' my trainer proclaims as I find myself once more questioning whether 'great' is meant to be ironic. Concluding a single, unforgiving set of non-stop physical labour, I see why they say fifteen minutes on the cheat machine replace a whole week worth of weightlifting – not that I was much of a bodybuilder in the first place.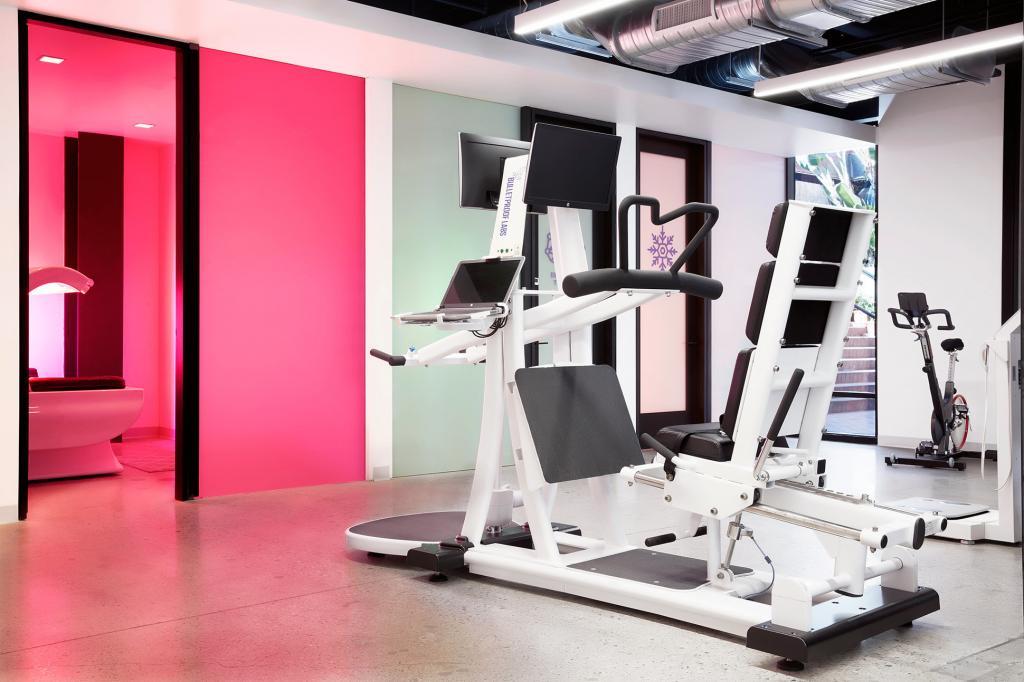 Instead, I buzz from Upgrade Labs' ozone sauna to a space devoted to inhaling specially charged EZ water vapour (you know, as you do). Nothing, however, quite compares to a deceivingly simple-looking device that after sending a few electric impulses through my body knows me as if we'd been lovers for years. A cascade of data pours onto me from a place beyond my comprehension: 'it says that the discrepancy of musculature between your two body halves is minimal, your body fat content is low and you have a little too much extracellular water'. The only thing the device doesn't tell you, it would appear, is how much longer you've got to live – except, perhaps, in extreme cases.
Meanwhile, in the next-door IV drip station, a single man sits with a needle in his arm, a laptop on his knees and an iPhone tucked between his shoulder and his head. The sight makes me wonder whether some take the body-boosting trend too far. I'm no stranger to occasionally turbo-charging my system, but I do like to keep things recreational. Fortunately, a simple IV drip is the most invasive Upgrade Labs will go. Here, the focus is less about looking 21 again upon leaving (although coincidentally, I think I do) and more about accelerating the body's cellular repair process and providing stress relief to improve mental health. Tops, a visit makes for a great story.
A more hands-on approach
Across the road, the spa at the Peninsula Beverly Hills has a reputation to precede it. A newly designed urban retreat that was voted among the world's top 10 spas, it's the temple of Zen your muscles will call for after raging against the cheat machine. Steven, my skilled massage therapist, has all my sorest muscles worked out within the first three minutes of my one-hour custom treatment: 'We'll have to do something about your mouse muscle, I can tell it's tense from clicking and scrolling all day'. With a soothing blend of herbal scents in the air, I quickly drift off into a dream-like state under Steven's watch – I hardly know what he's doing, but I sure am walking on clouds. In fact, it's not until I sip on a glass of rose and throw glances over my shades at LA's in-crowd strutting around the Peninsula's rooftop pool in their designer swimwear (Dior is all the rage, it seems) from the comfort of my private cabana, that I'm fully back to reality.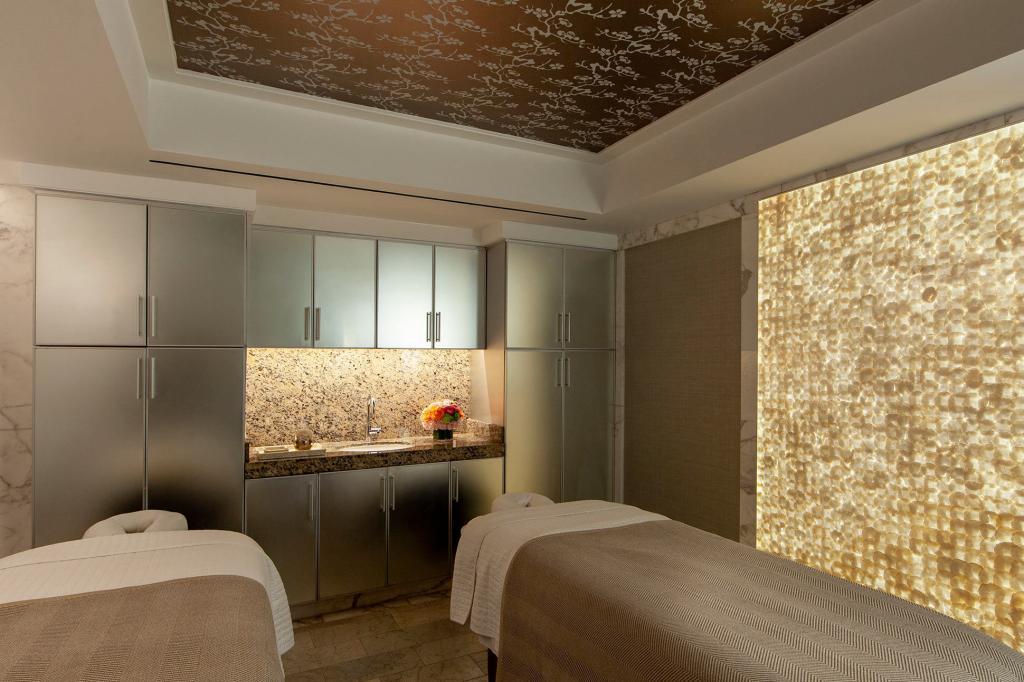 In a single Beverly Hills day, you can have your system scanned, pushed, refrigerated, 'hacked' and put together again. There are times you find yourself awestruck by technological advances and times you're in a state of deep relaxation, but above all, you spend the day marvelling: at the holistic principles that make up the foundation of many a treatment on offer in the city, at the local enthusiasm about optimising one's health in an effort to reach one's full physical and mental capacities, and at the refreshingly human spirit with which all of this is approached. For there isn't a personal trainer, massage therapist or staff member, who doesn't crack a fitness joke or brim with that typical, Southern Californian 'you can do it' attitude when applauding you on your willingness to try whatever comes your way – also, they all have a recommendation on where to re-tox in the evening.
In Beverly Hills, the concept of recreation is less about abstinence and more about proactively tackling life and reaping all the benefits and pleasures it has to offer. It's wellness 2.0 – and I love it.
Steffen's journey to Beverly Hills was courtesy of the Beverly Hills Conference & Visitors Bureau. Visit www.lovebeverlyhills.com for more.
For a healthy breakfast to kick-start the day and get you energised for a workout at next-door Upgrade Labs, visit CIRCA 55.
Photography courtesy of Upgrade Labs, the Peninsula Beverly Hills and Steffen Michels
Beverly Hills spa