When a demanding schedule or a global pandemic thwarts your plans of jetting away to Bali for an overall overhaul both physically and mentally, an urban retreat at your favourite local luxury hotel might just hit the spot – the tense one between your shoulders, that is. But no two programmes are alike. For a seductive blend between detox and me-tox (we'll explain later), we opted for a wellness package collaboration between The Lanesborough Club & Spa and Bodhimaya.
Didn't we tell you Oetker Collection, the ultra-sophisticated German hospitality group, was on to something when we shared the news about their exclusive wellbeing retreat on a private Caribbean island back in June? Though Antigua was sadly off the cards for us this summer, we did stumble upon a range of just launched residential retreats hosted by our local Oetker property, The Lanesborough. A lack of sun-spoiled beaches aside, the programmes promised everything our inner zen master could possibly ask for in a restorative staycation: extensive health screenings, immunity-boosting meals, thorough consultations and plenty of indulgence… It's not a stretch to say we were on their massage table faster than you can ommm to three (if anything, it's a pun – we love those).
Wanting an all-encompassing reset for both body and mind to kick off autumn in the best possible shape, we chose the Comprehensive Top to Toe Wellbeing Retreat, an overnight programme designed to leave you feeling cleansed, polished and pampered. Think of it as the luxury car wash tunnel of retreats, though one day stays are also available for those short on time.
Be that as it may, our 'Top to Toe' retreat actually started with our abs and arms, as it was those areas our dedicated personal trainer for the day, Aga, had vowed to help us with. If you're particular about gym equipment, everything at The Lanesborough Club & Spa is state-of-the-art – so much, in fact, it was near-impossible to come up with an excuse as to why we couldn't do certain exercises. Aga, enthusiastic and clearly passionate about assisting guests reach their fitness goals, used every opportunity to push us just a little harder (mentally, not physically – thank God!), and by the time we sat down for lunch, we'd worked up such an appetite, we felt as though we could eat a plant-based horse. Luckily for us, the spa restaurant's wonderful staff went above and beyond to customise meals and accommodate our vegan diet; though if you're looking for a post-work out lean protein source like tofu or Beyond Beef in the menu's 'Design your dish' section, good luck finding one.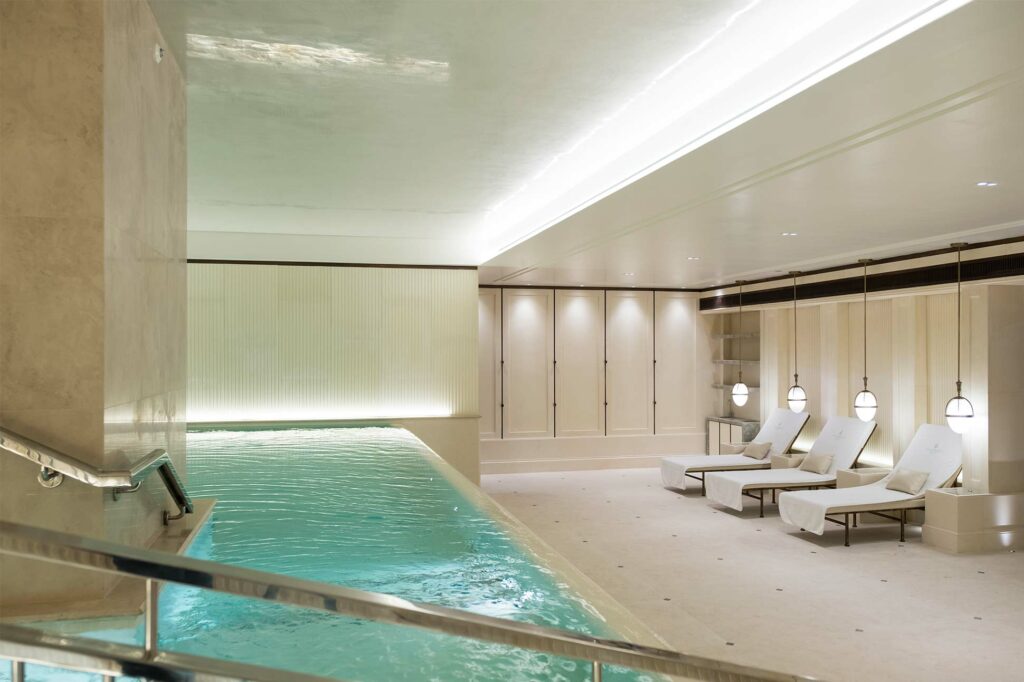 We'd only scheduled in one more treatment for the first day of our retreat, a 60-minute reflexology session aimed at relieving symptoms of stress and improving our mood. It did both, though our therapist was as lovely as she was talented, and her zealous proclamation that we had 'such beautiful feet' did its part in further lifting our spirits. Feeling rather chuffed with our little tootsies, we couldn't resist parading them around the underground complex that is The Lanesborough Club & Spa – there's a lot to discover once you're past the reception area. Opened in 2017, the facilities are easily among London's most exclusive private members' fitness and health clubs, and the hotel's design team has done a formidable job at creating a sleek and sophisticated atmosphere reminiscent of a Mayfair manor or a Bond villain's lavish lair in the South China Sea. Each retreat gives guests full access to fitness classes as well as all facilities; think bio saunas, steam rooms, a hydro-therapy pool, experience showers and more. To top things off, and help first-timers not get lost in this subterranean luxury labyrinth, a dedicated spa butler is never more than an arm's length away… unless, of course, you'd like some privacy.
The following morning, we felt refreshed and ready for whatever would come at us, as long as it wouldn't involve using our abs (fret not, they have since recovered and, in our mind, have started looking a bit like a late 19th-century washboard). Our first order of the day, in any case, was a two-hour Tata Harper Awakening & Energising Body Ritual. It turned out so relaxing, we very nearly drifted back off into sleep as our gifted therapist Aneta scrubbed, cleansed, slathered and kneaded away. Such was her dedication that by the time we were done, our entire body felt like a piece of tender meat cured with the finest salts for long-term preservation. Not an altogether vegan-friendly comparison, sure, but a curiously fitting one nonetheless.
You'd think in a blissful state like this, we'd want to kick back and relax, but we'd been much anticipating our one-on-one with Bodhimaya nutritionist Olga Hamilton, whose accomplishments include several, impressive degrees, a TEDx talk and a remarkably healthy complexion for someone who lives in a country blessed with this much rain. Now, we'd like to think of ourselves as someone who's rather clued-in on all the essential micros and macros, but Olga's extensive knowledge was a privilege to be able to tap into: there isn't a nutrient too small for her to discuss and, post-consultation, guests receive a personalised meal plan to follow at home. We really cherished this, especially seeing a healthy lifestyle isn't something you walk away with after a two-day wellness retreat, but something to be sustained and refined in your everyday life.
Similarly, for a full factory reset, checking in with your mental health is de rigueur. The 'Top to Toe' programme offers this in the shape of a sit-down with Cornelius O'Shaughnessy, a stress management expert who founded bespoke retreats brand Bodhimaya after years of studying meditation practices in 2012. Despite not having been physically present during our 60-minute session, Cornelius was certainly present in spirit, offering insight into how the mind works and asking all the right questions. 'It's supposed to be a lot to take in at first, he says on a video call, explaining his rationality-driven approach to meditation, which aims at acknowledging thoughts and emotions as products of the mind, rather than something we carry inherently within ourselves. There's a simplicity in this that resonated with us (as well as, apparently, Kate Moss), moving away from pseudo-religious doctrines and towards a more logical, actionable approach. It's a shame we didn't get to meet the man in person, not least because technology has a way of not working when you need it to, and that's no different at The Lanesborough Club & Spa.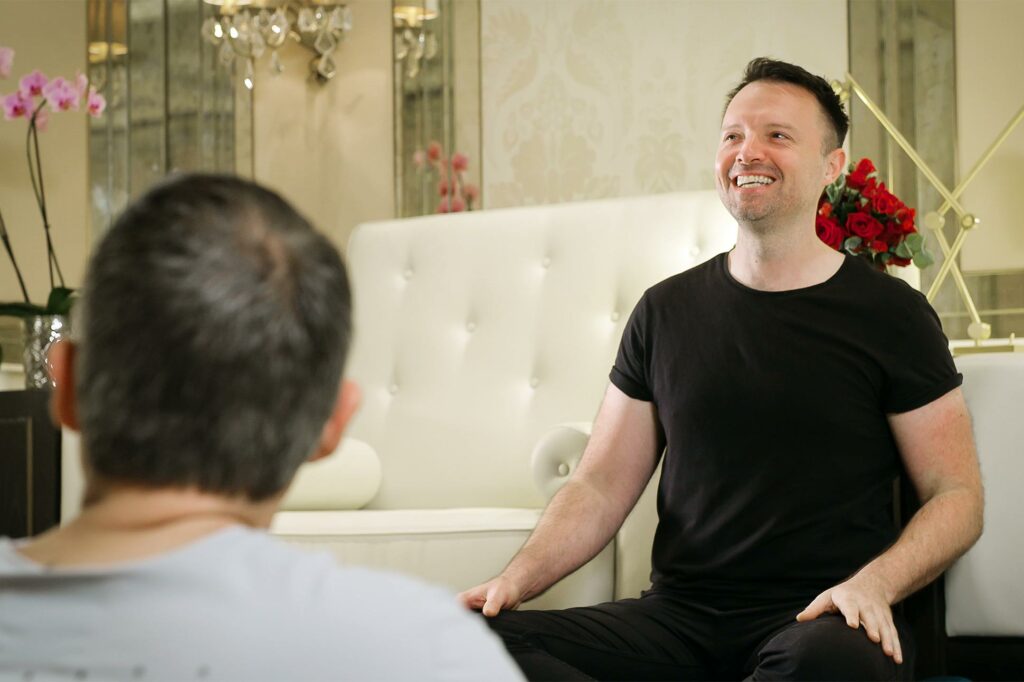 It's not the only time we felt our experience could have been streamlined. There were moments we found ourselves reminding staff of details of our retreat, and the programme on the whole could have been designed to feel more 'official', with a welcome note upon check-in, a schedule on our room, more information on the benefits of each treatment, and, just because it would be charming, some sort of certificate to take home. The thing with retreats, we find, is that guests need a sense of purpose. When you're on a mission, you're more likely to fully reap the benefits of what's on offer, and those travelling halfway across the globe to check into a wellness resort in the Indian Ocean usually seek to make long-term improvements to their lives. Local and urban retreats, which have seen a spike in interest throughout the pandemic, have yet to instil the same sense of opportunity in guests.
And The Lanesborough Club & Spa as well as Bodhimaya have more than enough reason to be confident about their retreats: we loved the latter's approach to meditation, which challenges the idea that we have to succumb to our every emotion while not pushing them away. This is what we mean by me-tox – a goals-driven stance on meditating that makes guests question their own ideas of themselves, guiding them towards clarity and calm. There's also the well-rounded nature of the programmes, which frankly astounded us. It's amazing to think how many areas of concern, both mental and physical, you can tackle within such a short time, and this far away from a tropical beach. Teething issues aside, by the time we checked out, we felt as though our every muscle and pore had overtaken the Dalai Lama en route to nirvana. Knowing you can achieve this state of serenity in an urban environment like central London is, quite frankly, a revelation in itself.
www.lanesboroughclubandspa.com | www.bodhimaya.com | www.oetkercollection.com
Photography courtesy of The Lanesborough and Oetker Collection