When staying at Jerusalem's Villa Brown Moshava, one thing comes guaranteed: you'll feel like a local. A stylish boutique hotel located in the quieter German Colony district, the Villa is a solid option for travellers looking to discover lesser-known (but seriously great) neighbourhood restaurants, as well as under-the-radar shops and charming scenes of everyday life – the kinds of things you'll struggle to find in a guidebook.
The German Colony ('Moshava') isn't exactly in the centre of town, but for many a visitor, this will only make it more desirable of a place to stay. Though well connected to central Jerusalem, which is a quick drive or even just a brisk 30-minute walk away, this vibrant neighbourhood is perhaps among the city's fastest-changing, with trendy coffee shops and boutique retail spaces popping up all along Emek Refa'im Street, its main thoroughfare. In the centre of it all – or, more precisely, on a tranquil side road – sits the Villa Brown Moshava. Not to be confused with its similarly named sister property, Villa Brown, this is as colourful of a bolthole as you could possibly find in Jerusalem.
You might not see this at first, however, owing to the hotel's historic facade. Originally built as the family home 'Beit Kharupah' in 1918, Villa Brown Moshava went on to house young exiles and later functioned as a publishing and research institution before Israel's quickly-expanding hospitality brand Brown Hotels purchased the property in 2019. The building underwent a complete redesign throughout the following year, which has given it its current look and feel: between velvet sofas, lively prints, a black reception desk and the occasional artwork or oversized indoor plant, we've found the hotel's aesthetic lived up to the 'boutique' label that's so readily associated with this kind of property (and, frequently enough, undeservedly so).
While the friendly staff checked us in and we sipped on our welcome drink, we also became very aware of another interior design detail… It's not that we hadn't noticed the coral-red walls the very moment we walked through the front door, but it only hit us there and then how stark of a contrast this was to the building's exterior. Our room, one of just 24 at Villa Brown Moshava, featured an equally rich colour theme: yellow walls and an orange bedstead were set against blue curtains framing large windows and a glass door leading out to a small balcony. We found a few design decisions a bit too 'loud' for our liking – a rather hectic carpet print paired with mirrored bedside tables and silver lampshades made our room a decidedly less calm space than what we normally look for in bustling cities such as Jerusalem. Some, however, might find all the visual eclecticism seen across the hotel's three room categories invigorating.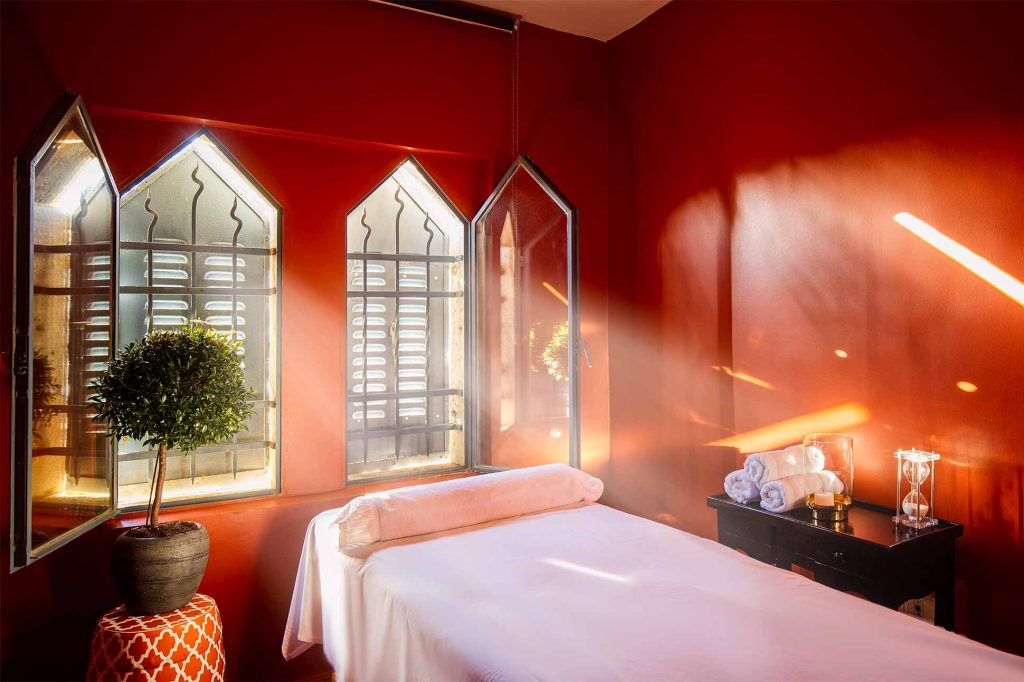 | | | |
| --- | --- | --- |
| Perfect for | Fly into | Right on time |
| The Insider | TLV | GMT +3 |
While you're Out There
Overlooked by all but the most in-the-know of visitors, the Yemin Moshe neighbourhood makes for a lovely detour if you're walking from the hotel to Jerusalem's Old Town. It's not a tourist attraction as such, but the area's cobblestone alleyways and historic buildings overgrown with bougainvillea are stunningly pretty. If you can bring yourself to come here early in the morning, you'll see the sun rise over the Holy City. It's quite something, that.
The thing about the property is that it's very much a lifestyle address rather than a luxury one. There are no porters to carry your luggage for you and you won't find the five-starred service standards here that you might be used to from other places you've stayed at. We also would've preferred a bit more space with a separate shower and bathtub, though none of this is technically speaking a no-go for us, especially seeing as staying in an authentic building with a limited floor area added the kind of local flavour to our stay at the Villa Brown Moshava that's hard to taste when bedding down at a more classic, contemporary hotel. We found that the team here won't strike up a conversation merely as a means of 'hospitality learnt by heart', but because they genuinely enjoyed welcoming us to the property. In general, this place is a lot more casual in the way it operates than a luxury hotel, and depending on your preferences, that might just suit you well.
Should you find yourself in need of some rest and relaxation, the small courtyard comes equipped with an outdoor jacuzzi and sun loungers, while a treatment room is located on the hotel's top floor – though we didn't get to try a massage during our stay. A simple breakfast is served in the lobby on Shabbat as well as on public holidays. On regular days, in contrast, guests receive vouchers for breakfast at nearby restaurant Caffit, which we'd genuinely recommend for lunch or dinner, as well (unless you want to sit by the bar, however, it's best to ask the receptionist at the Villa Brown Moshava to make a reservation for you!).
There's no on-site restaurant at the property, which again comes down to the building never having been constructed as a hotel in the first place. To some, this might be a nuisance, but as we said before, if you're looking to get under the skin of Jerusalem, finding a different, local eatery each night is just another way of making your visit more meaningful… And trust us, there's no shortage of fabulous places to eat in the German Colony. Ultimately, providing a more local and meaningful stay is what the Villa is all about. And although the property isn't luxurious in the classic sense, to many a visitor, that'll be a luxury in and of itself.
Photography courtesy of Brown Hotels