A soulful boutique hotel just off Rothschild Boulevard, The Norman is like a vintage designer shirt in excellent condition: dripping in style, strikingly sophisticated and easy to feel fabulous in. In a city where small boutique hotels rule supreme, there isn't another that's as renowned, beloved or hyped. Rightfully so, if you ask us.
You'll have a hard time trying not to fall in love while in Tel Aviv. Even if you manage to dodge the genetically blessed and impeccably dressed locals, most visitors sooner or later find themselves at The Norman, which is as easy to grow infatuated with as a bottle of iced Coke in the desert. Whether you stay here or not (and we really recommend you do), there's no way around this most happening of places to stay at the heart of the White City, a sprawling Bauhaus architecture neighbourhood doubling as a UNESCO heritage site. The hotel is spread across two buildings – one a Modernist gem and the other built in the Eclectic Style – and opened to much acclaim in 2014, following eight years of restoration work.
Walking through the front door, the fruit of this labour is quickly revealed: The Norman pays tribute to filmmaker and founder of Israel's first-ever luxury hotel, Norman Lourie, whose poignant poem 'Castle in the Sand' cascades down the walls of the four-floored, open foyer (extracts of it also appear in the guest rooms, though we won't give away where exactly you'll come across them!). Social butterflies will love that the hotel's public areas have a constant buzz to them, with guests arriving and departing, visitors sneaking through to the restaurant and staff never not on their feet to pick up deliveries or send flowers to rooms. Between designer furniture, statement light fixtures and objets d'art, there's a whole lot of hubbub within these walls.
Our 35-square-metre Grand Deluxe room, in contrast, felt perfectly tranquil. Although on the smaller side of things, we didn't mind this so much – this is an independent boutique property in a densely populated city after all, and it felt small and cosy in the best way possible. We appreciated the preserved, authentic tile flooring in our bathroom, something you'll find across the property's range of fifty rooms and suites and a feature that contrasted beautifully with modern amenities and surprisingly user-friendly tech solutions to turn on fans and lights or close curtains. And if you're a light sleeper, you'll want them closed at night, for any additional layer between yourself and the streets of Tel Aviv will be heaven-sent (things can get a little noisy at times…).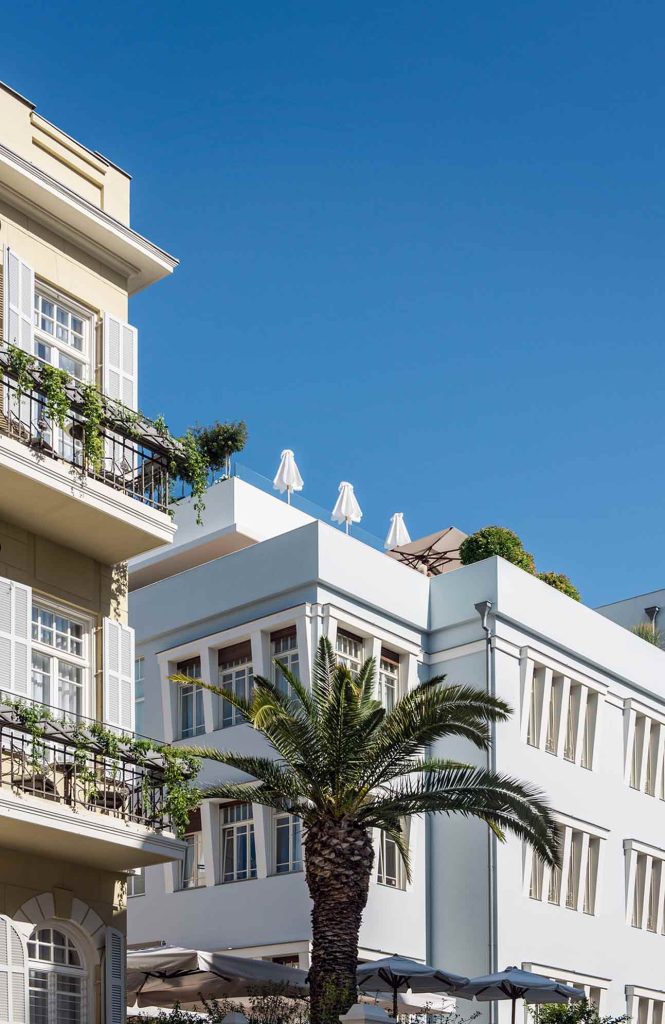 | | | |
| --- | --- | --- |
| Perfect for | Fly into | Right on time |
| The Sophisticate | TLV | GMT +3 |
While you're Out There
When staying at The Norman, the beating heart of Tel Aviv's cultural life is just around the corner, meaning there's more to discover than you could possibly see in a single holiday. One of our favourite places is the area around Nachalat Binyamin Street. Between a popular market, where you'll find all sorts of souvenirs made by local artisans, and a number of small restaurants with big plates, you'll never get bored – or hungry, for that matter.
The good news is that however your night has been, there's always a seriously good cup of coffee waiting for you in the morning. The Norman serves breakfast in its on-site restaurant Alena, which is a favourite with locals and has been awarded the accolade of Israel's 'Best Wine List' for four consecutive years – although we suggest you stick to lattes and juices in the morning. While we can wholeheartedly recommend the shakshouka with aubergine, which was the best we've had in town, we were rather disappointed not to see more vegan-friendly options on the menu. The same goes for dinner here: pretty and atmospheric at night, with great music, a large palm tree in the corner and white, tassel trim parasols adding a holiday feel, Alena certainly has plenty of soul, but no plant-based options (seriously, not one!) left us rather disenchanted. Thankfully, our charming waitress Shira, a herbivore herself, explained to us in great detail what can be made vegan while being honest about what might not work. Her handling of the situation saved the day, but with such limited options on offer for us, we only ate here once.
There's also Japanese tapas restaurant Dinings, which was closed for renovations at the time of our visit, and The Library Bar, where guests gather post-dinner for expertly crafted concoctions and, of course, the sort of chatter they induce. Needless to say, The Library makes for a wonderfully fun place to start a night out on the town. If you're looking for ways to spend a few hours on property during the day, head to the Insta-gold-certified rooftop infinity pool for panoramic views of Tel Aviv's skyline. The Norman is also home to a small but well-equipped gym, while yoga mats and pilates balls for a workout in the citrus garden between the hotel's two buildings are available upon request – so is a personal trainer, should you need a little extra push (personally, we preferred grabbing one of the bikes by the front door to go on a leisurely ride around the neighbourhood).
Most guests who stay here initially fall in love with The Norman because they adore the property's art collection and eclectic interiors by designer David d'Almada. But, as with all good boutique hotels, it's the smallest details that make the biggest difference. We loved finding The Norman Bulletin alongside other reading materials in our room, the sophisticated but not stuffy staff uniforms, and most of all the employees who wore them: the team here are an excellent troupe of people who understand the needs of international visitors, are well connected within the city and will do whatever it takes to make your stay more memorable. It's them who make The Norman one of those exceedingly rare hotels where you feel very well looked after without the stench of excess or pretence in the air. This is luxury in its most agreeable form – discreet, human and bespoke.
The Norman is a member of Small Luxury Hotels of the World. For more information, visit www.slh.com.
www.thenorman.com | www.slh.com
Photography courtesy of The Norman