Spending a week with Manila's hottest, young photographer, BJ Pascual, showcases a brand new generation of creative spirit in Asia's fastest developing city.
Filipino photographer BJ Pascual is one of Manila's biggest names. He's the city's go-to celebrity fashion photographer whose work has featured on countless magazine covers (including this one), high profile advertising campaigns and popular pan-continental TV show, Asia's Next Top Model. His work emblazons vast billboards across the Philippines, in one particular instance, the biggest piece of advertising real estate in Manila contained exclusively his work on all of its colossal canvases. He's also a best-selling author and recently graced the cover of Manila's ground-breaking gay magazine, TEAM.
I first met BJ when he was visiting London – we met for coffee in Dalston and chatted about his portfolio. It was clear he had a real talent but his demeanour seemed ill-at odds with life in the cut-throat world of fashion. How could someone so, well, nice ever hope to succeed?
A year later, I'm standing on the helipad on the roof of the Peninsula Hotel, Manila with a crew of twelve people shooting one of the Philippines' top actors. BJ stands beside me, confidently in control as he directs a celebrity 23 years his senior. Just a day before, I had tentatively asked the hotel's marketing department for permission to shoot here, and an agreement came swiftly at the mere mention of his name – "Open sesame" didn't have as much power. In his company, I became part of Manila's 'it' crowd.
A week earlier, I had landed at Manila Airport. It was 7pm on a Friday evening and I was trying to figure out the difference between the yellow and white taxis that stood at two different ranks when my phone lit up.
"Have you landed yet? You have? Wait there, I'll send my driver to pick you up." Now, I've worked with some of the world's magazine giants and own an (albeit modest) publishing company, yet the closest I've ever come to having my very own driver was sheepishly calling my Dad up as a teenager having missed the last train home from a night out on the town. "I'll meet you at your hotel and we can eat, then I need to decide if we are going to The Palace or the O Bar to catch the drag show."
Was this even the same person? What happened to that timid guy I met in London? An hour later, BJ joins me in the car and we are driven through the chaotic streets of Manila in BJ's SUV by his skillful driver. BJ is head down, buried – like every other 20 something – in his smartphone. He is posting a picture on Instagram and moments later it has been 'liked' over 200 times by his adoring fans (I keep an eye on the photo over the next day or so and at the last count it was at over 3500). Looking up from his screen for a second, he points over to a gargantuan LCD billboard that fills the entire side of a skyscraper.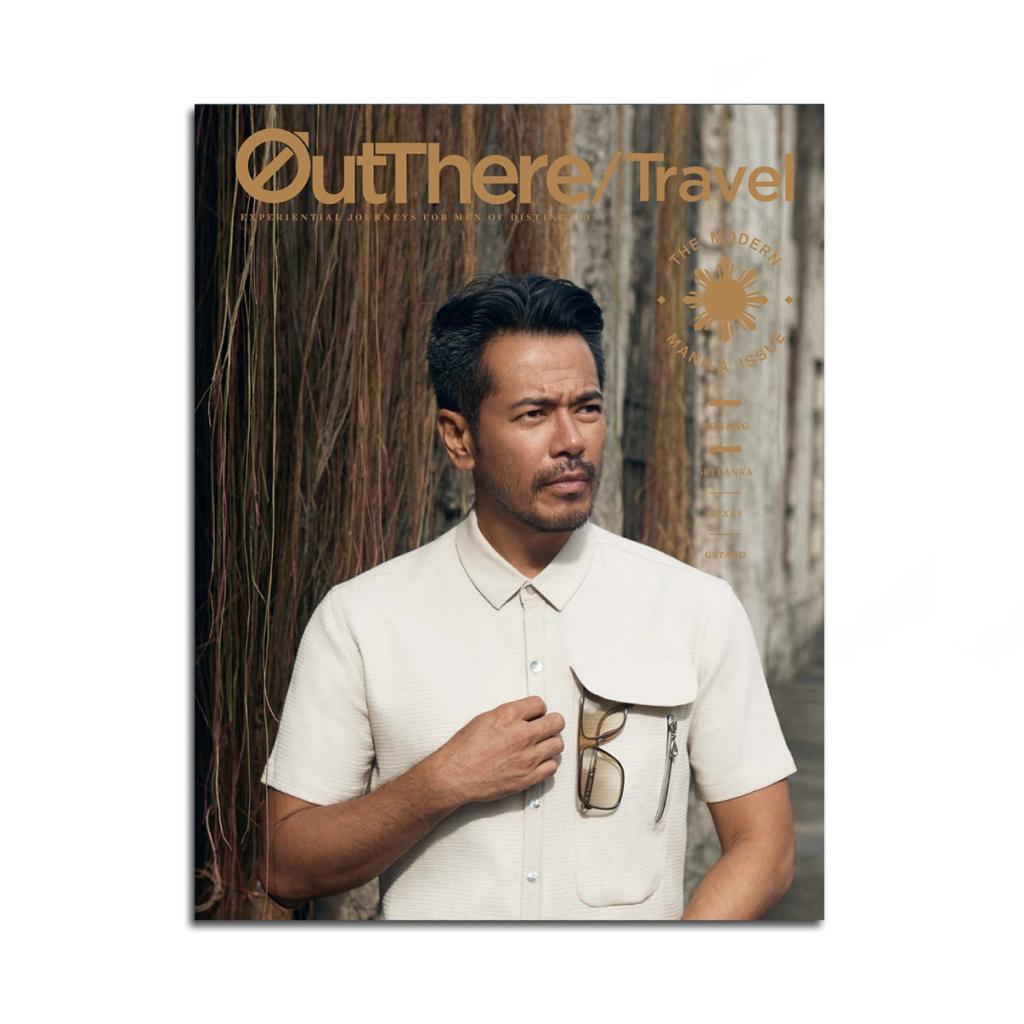 "That's one of mine – I shot it on this phone," he says casually. The ad is a loop of a model in a colourful neon-lit studio, for the new, national Samsung Galaxy campaign. It's the same phone that lights up with messages every other second. Over the next week, I learn that the only time it is not in use is when BJ's beautifully manicured hands are either being occupied by his camera, a drink or some food.
We turn off the main road into what looks like a disused retail park. We jump out and find ourselves by a little bar, welcomed by a table of smiling, gorgeous young gays. I'm introduced to them one by one – too many names to hold in my head after a 14-hour flight – and we settle down for a drink. The chat flows freely, Manileños love to talk as much as they love to laugh – but not as much as they love to eat; some things are, after all, sacred. The guy on my left, Paolo is especially chatty and we instantly click – something which seems to happen nine times in ten in Manila – a welcome contrast to the rarity with which it happens back home. It turns out that Paolo is a presenter of a uniquely Filipino, philanthropic TV show, Eat Bulaga! where prizes are handed out to the city's poor – of which there are tragically many. From what I gather, it's a game-show-cum-variety-show fusion – but contestants don't actually need to do much more than sign-up, to potentially find themself as the owner of a life-changing prize. The show goes out daily at noon and is extraordinarily popular with the Filipino public – as a result, there is no shortage of companies clambering to offer up prizes for the exposure it gives them. In Manila, exposure is everything.
"Oh, you have to see Paolo's Instagram," another of the guys shouts excitedly across the table. "It's amazing!" Sure enough, it is actually amazing. Paolo, self-taught in makeup, is a genius with an eyebrow pencil, convincingly turning himself into anyone he pleases from Rihanna to Michelle Obama, which for a Pinoy boy is no mean feat.
"I started doing it for fun, I didn't realise people would like it so much – but they did. Buzzfeed spotted me and shared my pictures." I had to double-check that I'd read it correctly – Paolo Ballesteros has over 1.6 million followers. I had thought that BJ's 245k was a lot. BJ and his peers will share, engage, consume and comment on almost anything and are by no means ill-adjusted egomaniacs. They are, for all I can see, just regular, albeit very creative, happy-go-lucky, pleasant, young, switched-on people. They just choose to share that with hundreds of thousands of others, most of whom they have never met, nor will they ever meet. And the benefits of them of doing so seem to far outweigh the negatives. In fact, it is hard to see any negatives at all.
In BJ's case, the plusses seem to go way beyond even his own expectations. There is no doubt in my mind that he is an extraordinarily talented photographer – it takes a lot for me to trust someone with something as important as a cover shoot. By no means am I saying that he would not enjoy such success without social media, but his talent for photography is equalled and supported by his talent for digital publicity. He instinctively knows what to share and what people will like; but, perhaps I'm creating too much of a division between the two things. The art of photography is not just a good eye, but also a great edit.