This year, the world's most famous spy, James Bond, celebrates 60 years on the silver screen. Honouring the landmark anniversary, the adventure crafters at Black Tomato have collaborated with EON Productions – producer of Bond films since 1962 – to bring fans around the world an experience like no other.
The most successful film series in cinematic history turns 60 years old in 2023. That's Bond, James Bond. 007. License to kill. What's so alluring about a handsome man, who smokes tobacco from a Mayfair tobacconist, drives a 1930s Bentley in battleship grey, and works as a British secret agent, turning up to rescue you? Hard to tell. Of course, we say that with our tongues buried deep in our cheeks.
There's a great deal to be said of Bond's enduring legacy. Since the 1953 publication of Ian Fleming's first book, Casino Royale, James Bond, arguably the most seductive British man in the world, has mesmerised us all like no other that came before or since.
To celebrate six decades of Bond in film, devotees can now immerse themselves in the glittering Bond experience. Award-winning bespoke luxury travel company Black Tomato, renowned for cutting-edge private travel experiences, has come together with EON Productions to bring fans an unrivalled adventure. 'The Assignment' is a curated 12-night selection of Bond experiences across five locations in Europe: France, Monaco, Italy, Austria and the UK. The encounter ranges from five nights onwards and the itinerary can be customised, shaken or stirred as desired. Just 60 limited edition trips are available and each includes a complimentary, exclusively commissioned Dr. No (1962) attaché by Globe-Trotter, official luggage supplier to 007 (and that's not the only collaboration the brand has been making headlines with).
Tom Marchant, co-founder of Black Tomato, tells us what it's been like working on this collaboration with EON Productions: 'The narratives of so many Bond films are enhanced by the distinct feel of iconic destinations, so recreating the stories as first-person travel experiences has been a delight and an honour. It's been brilliant to work with captivating European settings that allowed us to embrace the full scope of this incredible franchise.'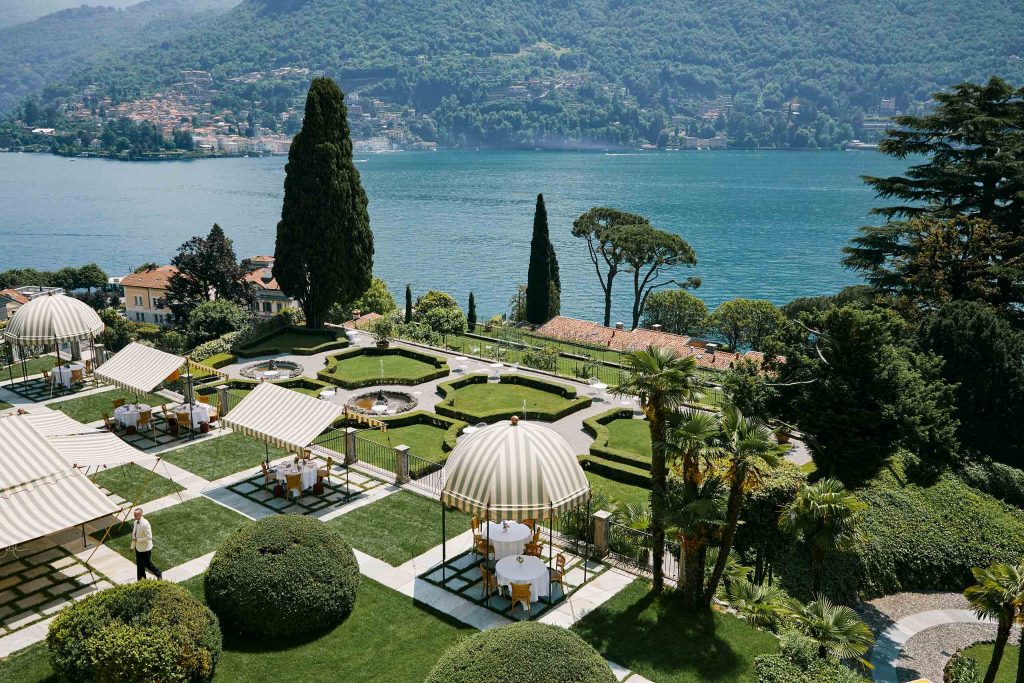 A high-octane pursuit down the Thames
A sleek black craft leaps from the flaming detritus of MI6. Here, along the span of the ancient Thames, Bond made his iconic pursuit of Cigar Girl in The World Is Not Enough (1999). You will board the very same craft – a Superhawk 34 – that Cigar Girl piloted in the movie and cruise past the Houses of Parliament, St. Paul's Cathedral and The O2. Exclusively with Black Tomato, Sarah Donohue, Cigar Girl's stunt double, will give you the scoop on how the sequence was brought to life. For the bold, the team can simulate your own high-speed chase with the option of your own film crew to capture it with a drone.
A guided sartorial tour of 007's London
For Bond, personal attire is as important as his signature Walther PPK. To get the measure of 007, you'll join a personal stylist and Black Tomato guide on a tour of London's St. James. Stores including N. Peal, Lock & Co, Turnbull & Asser, Crockett & Jones, as well as perfume maker Floris, have close ties with Bond. They hold special collections and signature items travellers can see and explore, including pieces that have appeared in the movies and items inspired by the films. A shirt worn by 007 in Dr. No (1962), ties inspired by Tomorrow Never Dies (1995), and shoes custom-made for Bond in Skyfall (2012) are included as part of the experience. At each location, you will be hosted by the store's representatives – all of whom have supreme knowledge of 007's inimitable wardrobe.
A stirring voyage down the Seine
Paris is no stranger to intrigue and plot: its streets have set the stage for some of cinema's most thrilling encounters. Enjoying a splash of Bollinger 75 at the Jules Verne restaurant in A View To A Kill (1985), 007 was about to see the entire city come to life. Black Tomato will show you Paris through the secret agent's lens on board a Venetian-style boat along the Seine; Bollinger and canapés within easy reach. You can also choose to be joined by Carole Ashby who appeared as Dominique, the butterfly whistler, in A View To A Kill (1985). She will regale you with insider tales from behind the scenes.
Step inside the secretive Bollinger Estate
Bond is a creature of sophisticated habit, and this is no truer than when it comes to champagne. Checking his suite for bugs in Live And Let Die (1973), 007 makes a laidback call to room service. A bottle of Bollinger… and two glasses. In this experience, you'll gain ultra-rare access to the private Bollinger Estate, a location ordinarily closed to the public. Enjoy the vineyards by Land Rover and take a picnic. Then, descend into La Reserve, a secret cellar that holds 3,000 magnums spanning 45 vintages and 16 different crus. From here, enjoy an exclusive tasting of Special Cuvée, Rosé Cuvée and La Grande Année 2014.
Italian shores
It was on the shores of Lake Como that Bond recovered from his wounds in Casino Royale (2006). Like him, you'll have every opportunity to rest and unwind. But this is 007, and we wouldn't be making the most of this beautiful place without a touch of glamour and speed. Today, the waters will be your playground: first, climb aboard a seaplane that will arc and yaw high above the lake. Landing upon the waters, you'll take a private water-ski session before embarking on a scenic, soul-enriching tour of the whole span of Como. At its end, you'll enjoy lunch consisting of the finer things associated with Bond. Pride of place will be given to Villa del Balbianello, where 007 recuperated (and fell in love). Only with The Assignment can these discrete experiences be knitted so cinematically together.
A fiery dinner on the island of glass
It was on the island of Murano that Bond battled Chang, his bitter adversary in Moonraker (1979), with only the precious Copa Barovier standing between them. In the movie, it was destroyed. In reality, it still lives. Like Bond, we'll take you to Venice's most storied island to view the object itself before sitting down for a once-in-a-lifetime dinner at a working glass factory – your table ringed by billowing forges and machinery. During dinner, master artisans will work their delicate craft around you as it has been specially curated for The Assignment.
A private appointment at 007 ELEMENTS & ice Q
Carved high into the summit of Gaislachkogl mountain is the futuristic 'lair' of 007 Elements – a cinematic Bond installation that illuminates precisely how the alpine elements of Spectre (2015) were staged and shot. Typically, visitors will experience a self-guided tour (we experienced one while staying in the area's most OutThere hotel), but Black Tomato has arranged for you to be led by Andreas Zunt, the exhibition's curator. When the tour ends, you'll pass to neighbouring 'ice Q', a restaurant with sweeping views over the surrounding peaks. This building served as the Hoffler Klinik in Spectre, and you'll have plenty of time to absorb your surroundings over a gourmet four-course lunch. Throughout, you can be joined by Chris Corbould OBE, the special effects supervisor who has worked on fifteen James Bond films.
Take a fall with an official Bond stuntman
In Bond's merciless world, one must learn to fight. After all, as Scaramanga chillingly declared, this is nothing less than 'a duel between titans' (The Man With The Golden Gun, 1974). It's only proper, then, that we should teach you the martial ways of a secret agent. You will experience a private training session with Lee Morrison, the stunt coordinator who's overseen the stunt program on the past five Bond films, including the iconic Matera chase scene from No Time To Die (2021). Together, you'll perfect the art of falls and fights while hearing anecdotes of how Bond's most famous escapades.
Ali James, location manager for the Bond films is equally thrilled by the collaboration. "It's a joy to see 007's travels come to life with such authenticity. It's been a nostalgic trip into the archives and a labour of love working with Black Tomato to determine locations and refine the experiences. Also involving EON's iconic partners, including Bollinger and Jaguar Land Rover, and so many people who've worked on the films from producers to location scouts. This collaboration allows us to bring travellers into Bond's world' adds James.
Photography courtesy of Black Tomato