Pride is nothing without community. And while corporate endeavours towards greater inclusion and a celebration of diversity all too often don't go beyond the stereotypical rainbow logo, the Shangri-La The Shard, London has taken it upon themselves to make Pride a 365-day event. At the helm of the capital's highest luxury hotel is an OutThere man himself, of course – Kurt Macher.
A hotelier with over 31 years of experience in luxury hospitality, Kurt Macher has worked in some of the world's most eminent hotels in senior management roles. His experience ranges from Wharf Hotels and Four Seasons Hotels and Resorts to The Peninsula Group, where Kurt led teams in the US, Canada, the Caribbean, Europe and the Middle East as well as some of the fastest-growing markets across Asia; notably Hong Kong and Singapore. During his seven years in Asia, Kurt was a finalist in the General Manager of the Year category at the China Hotelier Awards (2018). This breadth of experience coupled with Kurt's natural entrepreneurial foresight, which identified personalised service as a game-changer in luxury hospitality, makes Kurt a perfect fit to build on Shangri-La The Shard, the five-starred Shangri-La outpost in the skies above London (don't believe us? See here).
With this much experience at the table, we naturally turned to Kurt to get his insights on how luxury hospitality can thrive by not just talking about diversity but wholeheartedly practising it all year round.
Kurt, Happy Pride Month – how is Shangri-La The Shard, London celebrating Pride?
Thank you. Pride isn't something for one month of the year. It's something that is ever-present. But in terms of celebrating Pride, we always start a little bit later in the month. Because what we've noticed is that many places will do something on the 1st of June and then that's it. Nothing after that. Incidentally, at Shangri-La The Shard, London we've never taken down our Pride flag. It's been flying outside the hotel all year round.
In terms of other things, we are finalising a Pride cocktail at the moment. It's launching on the 26th of July and will be served at the Sky Lounge at TĪNG Restaurant and Lounge and GŎNG Bar. All the proceeds from the cocktail will go to a local charity that supports the LGBTQ+ community. We are in talks with a few charities at present. We want to make sure that we engage the local community where we exist.
Also, last year, all the staff at Shangri-La The Shard, London took part in the Pride in London parade, which was important to us.
So, having spent most of your working life around the world, how diverse do you feel Shangri-La Hotels & Resorts is to work for? Is diversity something that's important to the brand?
I can tell you that it's very diverse. A great deal of effort has been made to ensure that we are. For example, there is no hierarchy at Shangri-La The Shard, London. We only use first names to address each other, including me. Then, we have an online training platform where we all undertake non-bias training. With anyone new joining our Shangri-La family, I have regular, sit-down one-to-one chats with each member of staff to make sure that they feel included at all times.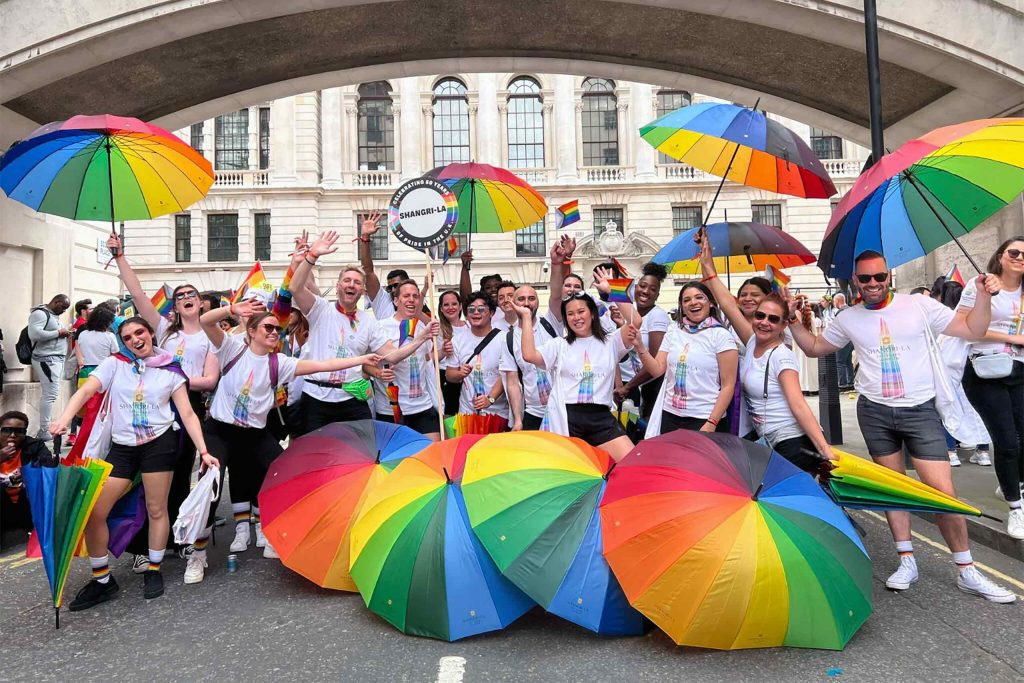 It's great to hear that you do this with staff, but how do you ensure that this inclusivity is extended to your guests?
This is something that we are very proud of. Our staff is well-versed in cultural training. What this looks like is simple things, such as using the correct pronouns for guests. I appreciate that it can be challenging to remember pronouns for so many guests. So if anyone on my team cannot remember a pronoun, I encourage them to ask questions like, 'How may I address you?'
Similarly, for any of our marketing campaigns, I ensure that we use mixed-race couples for visibility. Simply because that's what the real world looks like.
In other instances, it might be things like making sure that for same-sex couples, the room includes two large robes instead of a large and a small one. Or making sure that the slippers are the same size. Little things like that make a difference. And I'm proud to say that we also recently hosted our very first throuple at the hotel.
That's amazing to hear – and how about catering to diverse families?
We recently hosted the launch of the book The Queer Parent, by Lotte Jeffs and Stu Oakley, at Shangri-La The Shard, London. We hope that makes it clear where we stand in catering to LGBTQ+ parenting and families. In addition, we are able to customise experiences for children whether it be a Harry Potter theme or a football club. You might also notice that we've launched our Over the Rainbow afternoon tea which has a sugar-blended LGBTQ+ flag in honour of our diverse experiences as people, children and families.
Shangri-La Hotels & Resorts have properties around the world. How does each of these destinations ensure that all guests are welcome?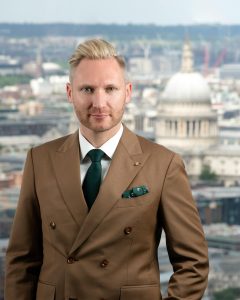 We have a variety of properties and no two are the same. Shangri-La Paris used to be a royal palace so it's very opulent. Shangri-La Al Husn is a vast, clifftop, beach resort and Shangri-La Bengaluru caters a great deal to the business community in the city. And here in London, we offer the most incredible experience at The Shard. However, no matter where we are, you will see consistency in our guest experience. Our training is in Asian hospitality. The staff who've been here for a long time and anyone who joins our family creates that culture together. We are a family-run business so we focus on the small things, which naturally extends to our guests.
Our founder Robert Kuok believed in heartfelt Asian hospitality and worked to extend that to the world. We were the first hotel group to put kettles in each room and a pen and paper next to every bed. Because our founder believed in genuine, informal hospitality from the heart. He believed that we needed to pay attention to the little things. It's something we mindfully focus on in our properties.
Moving forward, what exciting and innovative things can we expect from Shangri-La Hotels & Resorts?
This is what our brand-new campaign Find Your Shangri-La is about. A new era. We've launched a new video that was directed by Grammy Award winner Dave Meyers, celebrating guests' intimate moments of joy, which are individual to each person. In London, we've launched a whimsical menu at TĪNG, our restaurant, and a new cocktail afternoon tea in GŎNG. And of course, we're switching completely to sustainable amenities where any plastic we have is completely recycled, recyclable and refilled. And that is ocean-backed sustainability. We are committed to a better future all around.
www.shangri-la.com | www.shangri-la.com/london
Photography courtesy of Shangri-La Hotels & Resorts