Steffen Michels feasts on Beverly Hills' latest dining experiences, learning with each bite a little something about the city's innovative approach to gastronomy – as well as a secret or two about one of the Hills' most famous inhabitants.
There can be little doubt that diversity informs creativity and desire drives innovation. A place rich in diverse influences and positively abundant with the desire for the extravagant, Beverly Hills is carving a niche out for itself as a culinary destination. Though you might not have heard of it: like everything in town, you're either in the know, or you're not. To get a taste of what local chefs are dishing up, I've sought out two of the Hills' most talked-about eateries. What's on the menu? A lot of plants – and the story of a lifetime.
The sweet scent of coffee and cakes greets me as I set foot into Beverly Hills' very own Ladurée outlet, a space not unlike Alice's Wonderland, though the colour palette is more reminiscent of Wes Anderson. Here, oversized and flower-shaped lights bedeck the walls, quirky waiters with LA swag pour tea into tiny cups that jingle with the sound of chitchat and perhaps most wondrously, eggs are made of plants – and that's exactly why I'm here: for this is the iconic French patisserie brand's first entirely vegan location in the world.
Its recently launched 90210 menu was created by plant-based celebrity chef Matthew Kenney and it's recognisably Ladurée, except the Maison refers to it as a 'Green Revolution'. It's also a revelation: my vols-au-vent are pure creamy goodness, the pistachio-based and berries-laden 'Harmonie' macaron is light and fluffy and the above-mentioned no-egg omelette looks and tastes almost exactly like the real thing (it is, however, made by San Francisco-based future food company JUST, whose mung bean and turmeric-based scrambled 'eggs' have been flying off Whole Foods' shelves in 2019).
A long-established herbivore, I'm thrilled to see the menu close on the promise to 'bring this new vision to other Ladurée locations around the world, one dish at a time'. It's an interesting shift for a – mind you – French brand that looks back at more than 150 years of confectionary tradition, feeling, no doubt, the need to modernise in the face of changing consumer preferences. I can't wait to see this plant-based wonderland on Paris' Rue Bonaparte.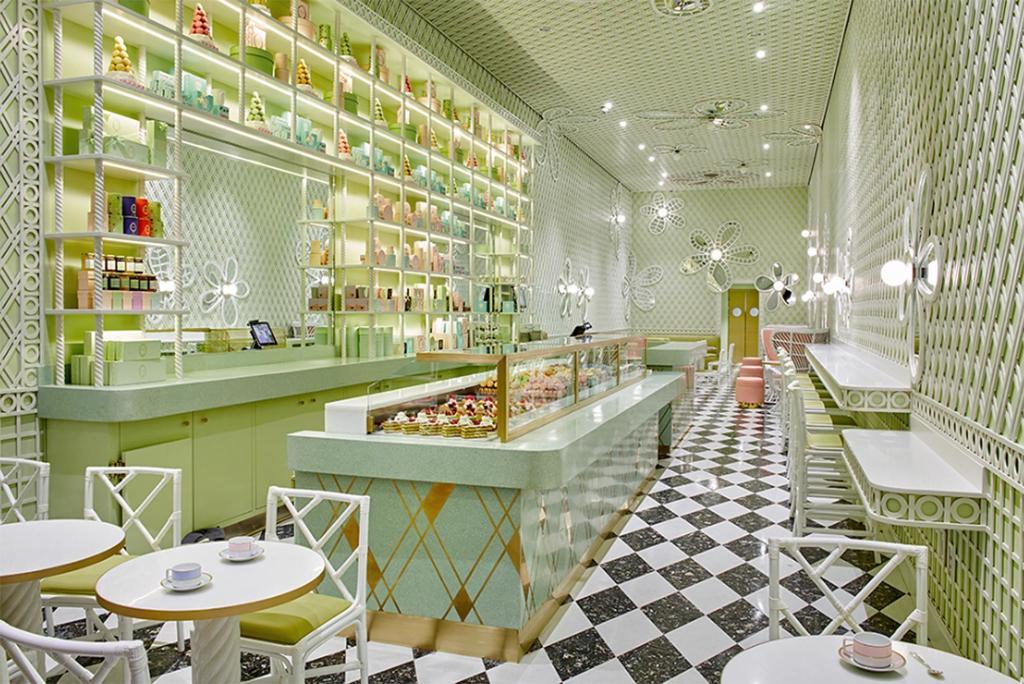 Halfway across town, another restaurant is also trying to innovate; though it does so by embracing its history. More precisely, it's the story of legendary local chef and restaurateur Helene An. Among the first guests to dine at Da Lat Rose, I consider myself rather lucky – the waiting list, I'm told, stretches months into the future.
Up a narrow staircase and into a dim room reminiscent of a Vietnamese 'bia hơi', the compact roadside restaurants where actual bia hơi (which translates to 'fresh beer') is served at a price lower than that of bottled water, it dawns on me that this isn't going to be a simple dinner. Instead, Da Lat Rose is a fully-fledged gastro-biographical experience that extends well beyond three and a half hours.
It's an ambitious concept and a journey through the life of An, who was born in 1940s Vietnam, escaped the communist uprising, sought refuge in America and became a seminal force in bringing Southeast Asian cuisine to the States – her efforts were most recently recognised with the Smithsonian's 2019 Pioneer Award. I'd say that's enough material for two lives, and certainly enough for a culinary adventure. And an adventure, it is.