My first appetiser arrives after a welcome by the restaurant's head waiter, a man of such vitality, I don't realise he's on crutches until much later, when he apologises for being a bit slow, stating 'it's very busy and, oh well, I've only got one leg!' as he bursts into contagious laughter. It's a strip of vegan 'chicken' on turmeric rice served in bamboo followed by fried shitake on a cloud of lime soufflé.
This being a biographically inspired meal, each ingredient represents a stage in the life of Helene An, though while my tablemate is served a juicy anecdote along with every dainty, my veggie journey through history is devoid of such extras – mind you, there might not have been any seitan-based chickens running around the Vietnam of An's childhood.
It's soon on to the main room, an open space with subtly beautiful decor and surprisingly bouncy basket-style chairs. An enormous birdcage overgrown with real plants hangs above my head and a glass wall to my right offers views of An's legendary Crustacean restaurant on the ground floor. It sounds spectacular, but really, the interior is tasteful, polished and high-end with a few fun quirks marrying Beverly Hills extravagance with the joie de vivre of tropical Asia: I quite simply love it.
About two and a half appetisers and at least as many cocktails into the night, it's only now I'm getting to enjoy Da Lat Rose's twelve main courses, almost all of which are absolutely exquisite: think DIY bánh mì with pickled mini vegetables, mushroom pâté, smoked baby corn and spicy sauce, tapioca with coconut sorbet, rambutan and dragon fruit, and my favourite, a portion of unapologetically intense garlic rice topped with 24-carat gold – a culinary wolf in sheep's clothing.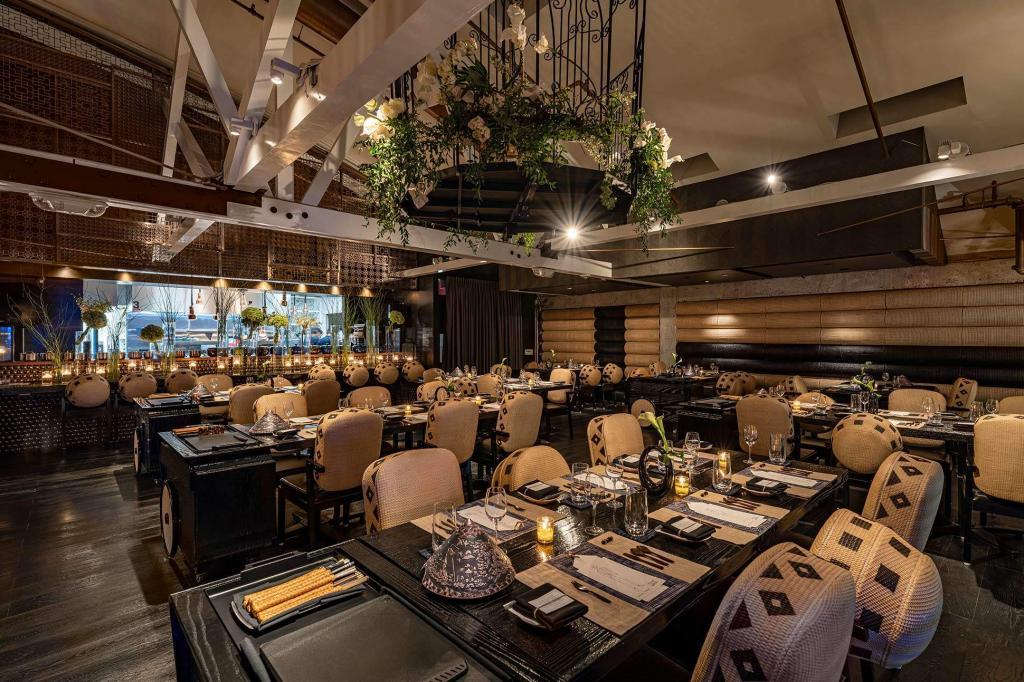 Still, it's not all perfect. Individual courses and the story behind them are often explained at such length, they're lukewarm by the time I dig in. And why an array of simple, shaved vegetables (the most mundane offering of the night) is served as 'Asian-style vegan ceviche', I don't quite understand. Then again, the region around the city of Da Lat, from which the restaurant takes its name, is at one point proclaimed to be the 'the Switzerland of Vietnam' – an idea that makes me giggle, having previously visited.
All this can be forgiven, however, in light of the one thing I hope to see incorporated in the plant-based journeys of tomorrow: the storyline. For the very raison d'être of a gastro-biography lies in the fusion between epicurean delights and the moments that have inspired them. In contrast, the foods I enjoy on my visit, albeit of superb quality, are inspired 'more or less by what's in the kitchen today', my waiter admits.
Not that I'm not impressed. With intricately crafted and stunningly displayed delicatessen alongside some ten cocktails (don't you dare suggest I got less discerning with each) and a diamond-draped crowd you'd expect at an Academy Awards after-party, the famous chef's latest venture is a foray not only into her own past, but also into the future of gastronomy.
Sure, it takes a different approach to the matter than Ladurée, but the experience is no less visionary and in any case; comparing the two makes little sense. The eateries' only common denominator, perhaps, is their location: a stepping-stone of a city home to progressive thinkers and early adopters, where each novelty becomes the talk of the town. Though while in other destinations, hype might outplay the actual quality of food, this simply isn't the case in Beverly Hills. The exceptional standard of dining in the city, some will say, is to be attributed to its many spoiled mouths. But I disagree.
I think it's to do with the local lust to distinguish oneself. The idea of making something – anything – an indicator of style, sophistication and class. And that doesn't come at mediocre quality. To truly stand out, one has to turn novel ideas into sparkly realities. A practise Beverly Hills excels at, meaning locals and visitors to 90210 alike will find what many a spectator would say they're looking for the most: something truly fabulous to talk about.
Steffen's journey to Beverly Hills was courtesy of the Beverly Hills Conference & Visitors Bureau. Visit www.lovebeverlyhills.com for more.