Whimsical, settled; retro, modern; eccentric, luxurious; visionary, concrete… The Slate is full of perfectly beautiful contradictions. Set on a sleepy, local stretch of beachfront, surrounded by the Sirinat National Park, it would've been easy to install a traditionally 'teak and bamboo' Thai luxury resort here. But that didn't fly with co-owner Khun (Krystal) Moo. Instead, she has evolved this resort into something altogether different from anything else Phuket or Thailand had ever seen.
Enlisting the help of OutThere favourite Bill Bensley, she has built an imaginative resort, full of drama, creativity and ingenuity. And that's in our two-bedroom villa alone… or rather our two-villa, or three-villa home from home, to be exact. Our magnificent 2-bedroom accommodation at the property is hard to describe, because it is actually comprised of three individual houses in a private, fenced-off compound with its own enormous pool and party bar. Two houses are identical and include a sleeping area, indoor jacuzzi, sprawling bathroom and outdoor shower. The other house is where we found the living and dining area, with its own spa.
The industrial, steam-punk-esque features throughout – tin-mine themed furniture, statement pieces and ironmonger bathroom fittings – were complemented by polished dark wood floors and colourful, handcrafted soft furnishings; and while it's easy for a concept like this not to be to universal tastes, we felt that the whole place was furnished and landscaped exquisitely.
Outside the gates of our compound, the follies continue. At Black Ginger, the hotel's signature Thai, fine-dining restaurant, we grazed on delicious, intricately prepared Thai cuisine (the lovely head chef here has been cooking for Krystal's family for 30 years). To get there, you cross a misty lake on a wooden raft laden flame-filled beacons, pulled by rope by a ferryman. So, the theatre here begins even before the food is served. That's if you're not too full from the epic Sunday brunch served at the other restaurant, Tin Mine, which also presents a lavish buffet breakfast.
Drinks are poured generously at Tonkah Tin Syndicate over a game of pool, or actually by the pool, at the Pulley Bar (just find the right one, as the hotel has three phenomenal and Instagrammable pool spaces). More intimate nightcaps and inventive cocktails are served at ReBar. The long list of in-house experiences continues… state of the art gym and training? Sure. In-house shopping with handpicked stock and a collaboration with LGBTQ+ London-street-wear design label, This is Fred? You got it. Whatever you're looking for from your Phuket escapade, no request is ever too big at the Slate.
---
This Basecamp review is an extract from a longer feature article, first published in print. To read the full article, click here.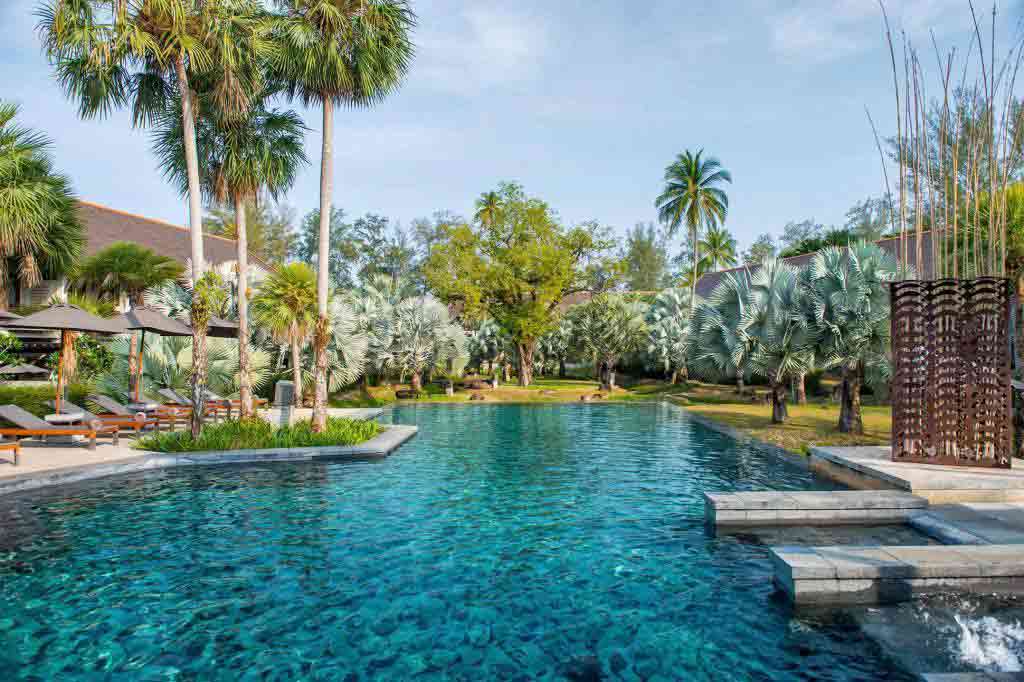 | | | |
| --- | --- | --- |
| Perfect for | Fly into | Right on time |
| The Insider | HKT | GMT +7 |
While you're Out There
The property's Coqoon Spa is another whimsical experience, where therapists pummelled and stretched us in a soothing environment true to its name. The spa itself is quite distinctively Thai, which was nice: we liked the fact that, despite the contemporary ambience
across the rest of the resort, there was still an element of clasp-handed Thai hospitality here.
Photography courtesy of The Slate