Turning a corner on Nablus Road and entering the grounds of The American Colony Hotel feels like stumbling upon an oasis in a desert: stunningly laid out gardens paint a picture of abundance and natural beauty that marks a stark contrast to the dusty roads of Jerusalem. By booking yourself into what's arguably the city's most historic place to stay, you join an elite circle of guests including everyone from Lawrence of Arabia to Miuccia Prada.
We only caught a quick glimpse of the gardens to our right before our driver steered towards the left, pulling up underneath the overgrown arches outside the main entrance of The American Colony Hotel, where a member of the team welcomed us with a big smile and a helping hand. This, we thought, was so classic of a hotel arrival, it made it hard to believe that the property wasn't originally constructed or laid out to be a hotel at all. Yet in a previous life, the Ottoman-style building was the 19th-century residence of a Turkish pasha (and his four wives, no less), who had it built atop an existing structure, a wall of which remains visible within the 1902-opened hotel.
Over the years, everyone from Winston Churchill to Bob Dylan and Giorgio Armani has paid a visit to the hotel, further cementing its reputation as one of Israel's most iconic places to stay. And they all had their preferred accommodations across the compound, which encompasses not just the Main House, but also the New Wing, the Palm House, the East House and the Cow Byrne. Whichever building you end up in, we thought the entire property looked very much like a vast, private residence that truly feels as though you've stepped into someone's home, rather than a hotel. It makes it a joy to explore, not least because of the aforementioned gardens, which sit between the buildings and grow up the old stone walls. Our favourite, it has to be said, was the herb garden by the East House, with its serene little corners and pretty ponds.
Of the 94 rooms and suites at The American Colony Hotel, over 50 have unique features and no two lodgings are exactly alike. Some rooms impress guests with extraordinary ceiling height, architectural quirks, internal staircases or several nooks and crannies. We stayed in room No. 1, which was divided up into a number of uniquely laid out sections and spread out across two floors. It was all the more charming for its wide windowsills (perfect to sit in and enjoy a cup of tea while looking out over Jerusalem) and the furnishing's Turkish Ottoman opulence. If you're into design-heavy hotels, you'll find the interiors a little dated, though personally, we loved that they felt so specific to the property and its location.
That said, some features could do with an upgrade to make for a more luxurious stay: from the windows, which let in a lot of noise, to a safe that was too small for our laptop, and our shower, which lacked a handheld shower head. And don't get us started on the plastic bottles of water provided – not only do they do a disservice to a place built from authentic, natural materials like stone and wood, but they're also simply unsustainable. In contrast, smart additions like USB charging sockets by our bed were more modern than we'd expected from this historic property, making for a pleasant surprise. The same could be said about the gym at The American Colony Hotel, which we'd like to think has lured fitness fan Uma Thurman to its state-of-the-art Technogym equipment during her stay. We, however, spent more time in the Swedish sauna and dipping into the hotel's heated outdoor pool, which is stunningly framed by all sorts of shrubs and flowers hanging from the surrounding terraces. Should you wish for a little more wellness still, massages and facials are of course available.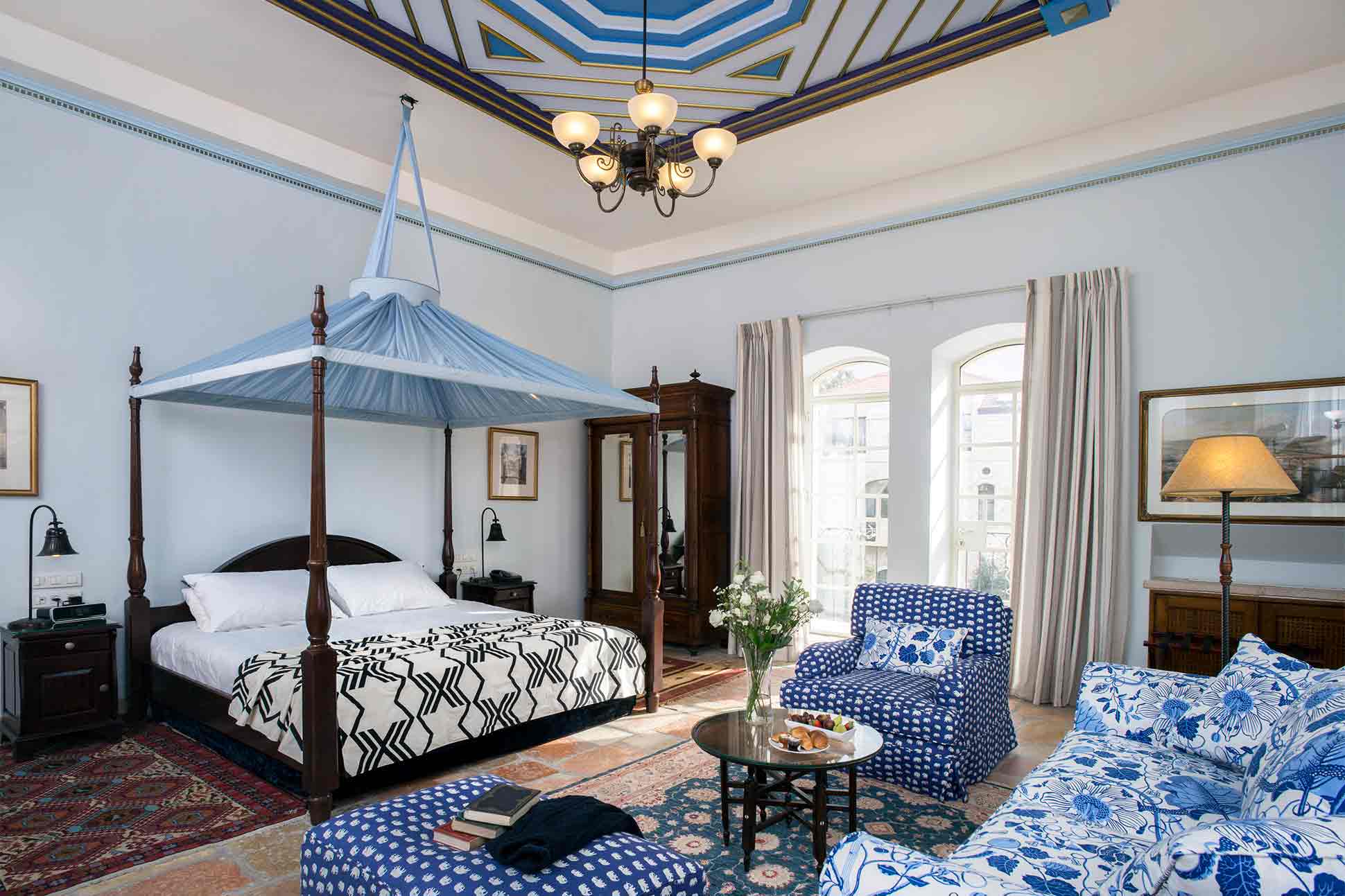 | | | |
| --- | --- | --- |
| Perfect for | Fly into | Right on time |
| The Culturalist | TLV | GMT +3 |
While you're Out There
A contemporary art museum with a focus on socio-political questions, The Museum on the Seam isn't far from The American Colony Hotel. While most visitors to Jerusalem come for the extraordinarily significant, historic sites, this small art space truly punches above its weight. Its daring and sometimes controversial exhibitions have secured it a spot among many a 'world's best museums' list… you'd be silly not to go!
As you can probably tell, this is one of those iconic hotels whose continued success is safeguarded by its status, reputation and the countless lives it has touched since the early 20th century: from connections made, adventures had and milestones celebrated, The American Colony Hotel is a place where experiences turn into anecdotes and stories ooze from every crack in the wall. With that in mind, we found that the property is resting on its laurels in some respects. The Arabesque restaurant looks so tired, we didn't want to try it. A large variety of foods is served for breakfast here (although we found little to suit our plant-based diet). While far from bad, it also wasn't exactly exquisite, and with staff not regularly replenishing or cleaning the buffet's trays, be prepared to meet chaos if you arrive late for breakfast.
Moreover, we found service to be inconsistent. While we met many capable team members here, we also came across the opposite. Upon asking for a simple meal of boiled rice and cooked vegetables after falling sick and feeling seriously under the weather one night, staff unfortunately sent us from one in-house restaurant to another, with team members contradicting each other – one restaurant had no availability, another 'doesn't serve rice', and so forth. We could only handle so many 'no's in our miserable state (as well as being interrupted by our waiter, who displayed no empathy whatsoever), meaning we eventually had to take matters into our own hands. What should've been a situation in which our wellbeing, depending on something so simple, was a priority, ended up being an unnecessary and dragged-out farce: at least, staff eventually acknowledged this and apologised to us.
If you're a little luckier with your dining experience, you're in for a wonderfully atmospheric Courtyard restaurant, where guests sit beneath mulberry trees and listen to the constant babble of a fountain. In the evenings, lights hang from the trees above, their reflections twinkling in the arched windows on all sides. This really is a special spot, even within a property where the charm of yesteryear is present in so many a detail. The American Colony Hotel remains Jerusalem's most historic place to stay, and nothing can take away from that. With some efforts made towards modernisation and bringing staff up to speed with the level of service travellers will expect in a five-star hotel these days, this most magical of hideaways will continue to write stories for another hundred years and more. For now, it makes for a good place to stay while in town – but it has the potential to be truly excellent.
The American Colony is a member of Small Luxury Hotels of the World. For more information, visit www.slh.com.
www.americancolony.com | www.slh.com
Photography courtesy of The American Colony Hotel