While OutThere is all about championing LGBTQIA+ friendly and welcoming luxury properties and hospitality brands throughout the year, there are some brands and hotels celebrating Pride Month this year by going the distance to stand out and proud, create fabulous activities in their spaces and give back to the community.
Choosing where to stay, is among the most important decisions you'll make when planning your holiday. In today's far more OutThere world, there is a multitude of welcoming and friendly options committed to creating safe and inclusive spaces for diverse travellers from all backgrounds, particularly the LGBTQ+ community.
This Pride Month, we've seen many hotels across the world voice their support … changing their logos to a rainbow on social media and creating timely campaigns to capture the hearts and minds of OutThere travellers. But there are other hotels celebrating Pride Month by going that little bit further to engage LGBTQ+ people and their friends, from those who are creating community hubs where Pride celebrations can't happen or have been scaled back in real life because of the pandemic; to those making global statements to proactively reaffirm their commitment to inclusive hospitality.
After a monumental year for NYC who showed the world their Pride for the 50th anniversary of Stonewall, year 51 was – and now year 52 is – a somewhat quieter, neighbourhood-based affair. But the city is open and so are its fabulous hotels. The Langham New York, keen to find a way for people to celebrate Pride even when the parade isn't happening in the city, has created a package for Pride lovers that they're calling "The Langham Loves Pride," so that we can still enjoy the free and fabulous spirit of NYC, bang smack in the middle of Manhattan. Guests will enjoy a 10% discount on spacious party pads at the hotel – including complimentary Private Kitchen breakfast in-room and some deliciously pink Falconeri Rosé cocktails (our hot tip is to take them on the brand new Sky Terrace, a hideaway eatery on the 11th floor) – and another 10% will be donated to the Ali Forney Center, the largest community organisation helping LGBTQ+ homeless youth in the United States. The hotel are long supporters and fundraisers for the charity, as they truly believe in the important work that they do.
The Langham New York is just one of the brand's hotels celebrating Pride Month. After all, The Langham is all about celebrations: celebrating diversity, celebrating their colleagues and celebrating their guests. Over in London, UK, The Langham London has for many years been the site where the Pride in London parade kicks off. The British hotel has launched a "Stay and Do Good" campaign as part of a wider social initiative, inviting guests to book one of five overnight packages that will give back to a shortlist of charities. For those guests wanting to celebrate Pride in style (and substance), you can opt to support the Switchboard LGBT+ helpline when you stay.
At Accor – the hotel mega-group who are owners of big names like Sofitel, Raffles and Fairmont – this Pride Month is a cause for celebration on a worldwide scale. This week, they announced a global partnership with the International LGBTQ+ Travel Association (IGLTA), committing to do their bit to ensure that the hospitality industry is a safe and inclusive space for all. As a global player and major employer in the hospitality industry, Accor recognises the critical role it must take in setting and enforcing the standard for diversity and inclusion.
Accor has long been a proactive player in LGBTQ+ diversity, so this isn't a coming out as such. As part of the brand's 'Feel Welcome' initiative, it has invested in training worldwide, creating internal events to develop networking, share best practices and create better allies – many of which OutThere has been part of. They also regularly sponsor Pride parades across the world and support LGBTQ+ rights, most notably and vocally in 2017 as Australia crawled towards Marriage Equality.
This ethos carries on down to individual hotels as well. This month, we've seen some great, rainbow-themed activities from the luxurious Fairmont Miramar Hotel and Bungalows in beachy Santa Monica, USA, who are working alongside Santa Monica Pride's Rainbow Road Art Walk and local charity Allies in Arts, commissioning LGBTQ+ artist Tim Devlin to create a "Pride-a-Blooma" floral installation as part of the celebration. The Fairmont is also offering up a special cocktail that will benefit the Liberty Hill Foundation, a Los Angeles based social-justice organisation.
Over in Philadelphia, Sofitel Philadelphia at Rittenhouse Square is another of Accor's hotels celebrating Pride Month. They'll be raising a large rainbow flag to fly out front at the property on 17th Street, to mark their "Hall of LGBTQ+ Flags Exhibition" featuring six individual community flags in the hotel lobby, as well as putting on drag events at weekends, which are all part of a month-long benefit to support the William Way LGBT Community Center.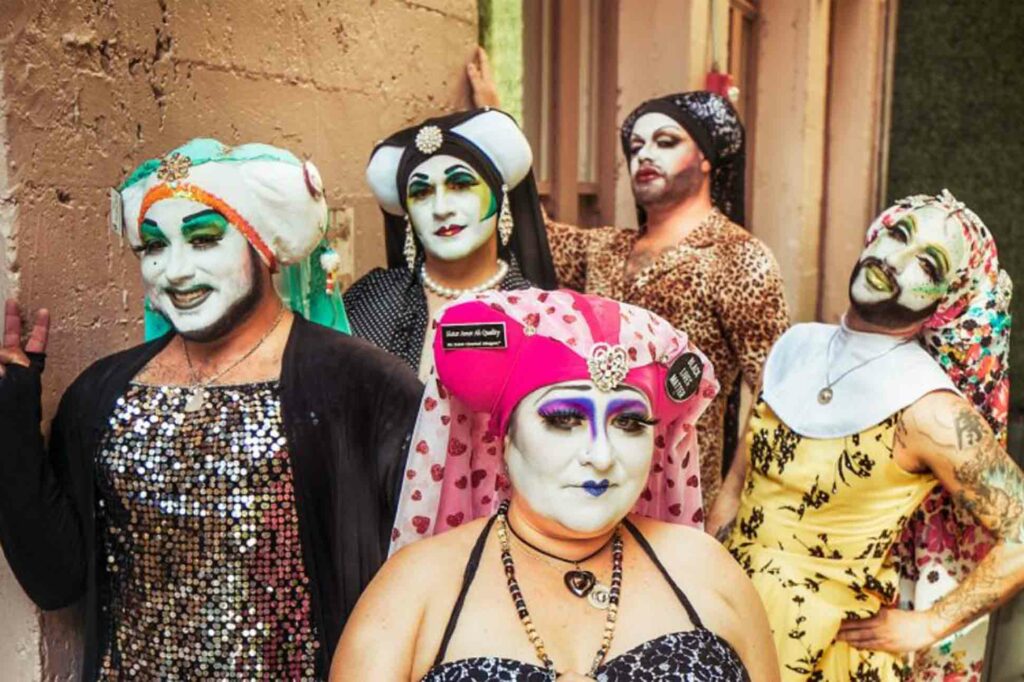 Our friends at Viceroy Hotels and Resorts believe that every single one of their hotels was built with love; and for love. So they're keen to shout it out from the rooftops (as well as their beaches and exquisite pools). They've created a calendar of special Pride events across their properties throughout June, to celebrate their LGBTQ+ travellers and colleagues, from drag lip-sync battles, to crafty cocktails, to suite specials. But more than just good times, they're giving back to causes that support the community as well.
Some of their hotels celebrating Pride Month include the four they have in San Francisco. The Hotel Zeppelin San Francisco is teaming up with charity and street performance group, The Sisters of Perpetual Indulgence to "Lip Sync For Your Eternal Life" with proceeds going towards the group's continued efforts to call attention to sexual intolerance and morality. Their sister property, Hotel Zelos is putting on a number of drag events to raise much-needed funds for the Imperial Court of San Francisco, a nonprofit organisation that works to build community relationships for equality.
The Viceroy Chicago are not just celebrating, but imbibing. Their "I'm into the wine, not the label" event will see the local LGBTQ+ community come together on their lauded Somerset Patio for 'pink tasting' events where their sommelier will give notes and anecdotes about the styles, regions and expressions of some large pours of rosé's (and pink bubbly too). The event will donate proceeds to The Trevor Project. We hope that the fundraising will be as generous as the pours.
www.langhamhotels.com | www.accor.com | www.viceroyhotelsandresorts.com
Photography courtesy of Viceroy Hotels and Resorts