As we obsess and debate over the UK's traffic-light travel system, another red, amber and green map has been released. The ILGA-Europe (the organisation that is a driving force for political, legal and social change for LGBTI+ people in Europe and Central Asia) Rainbow Europe Map and Index, now in its 12th edition, illustrates how 49 European countries fare when it comes to LGBTI+ rights. It has also become somewhat of a reference point as to which destinations in Europe LGBTI+ people will choose to visit on holiday.
As LGBTI+ people, we understand the value of community and human rights. So it's no wonder that many OutThere travellers will opt for destinations with a good track record on LGBTI+ rights when they travel. While we at OutThere believe in boundless travel, we fully understand why LGBTI+ travellers would prioritise visiting and supporting communities in the countries that truly welcome them; and for many, that means some scrutiny into how those nations look after their own LGBTQI+ citizens.
The ILGA-Europe annual Rainbow Europe Map and Index has become the barometer of LGBTI+ acceptance across 49 nations in Europe and Central Asia. It ranks the legal and socio-political situation when it comes to LGBTI+ rights on a scale between 0% (gross violations of human rights and discrimination) and 100% (respect of human rights and full equality) and showcases them as a traffic-light system. ILGA-Europe tracks each country using a wide range of indicators; covering everything from equality, family issues and hate speech to legal gender recognition, freedom of expression and asylum rights.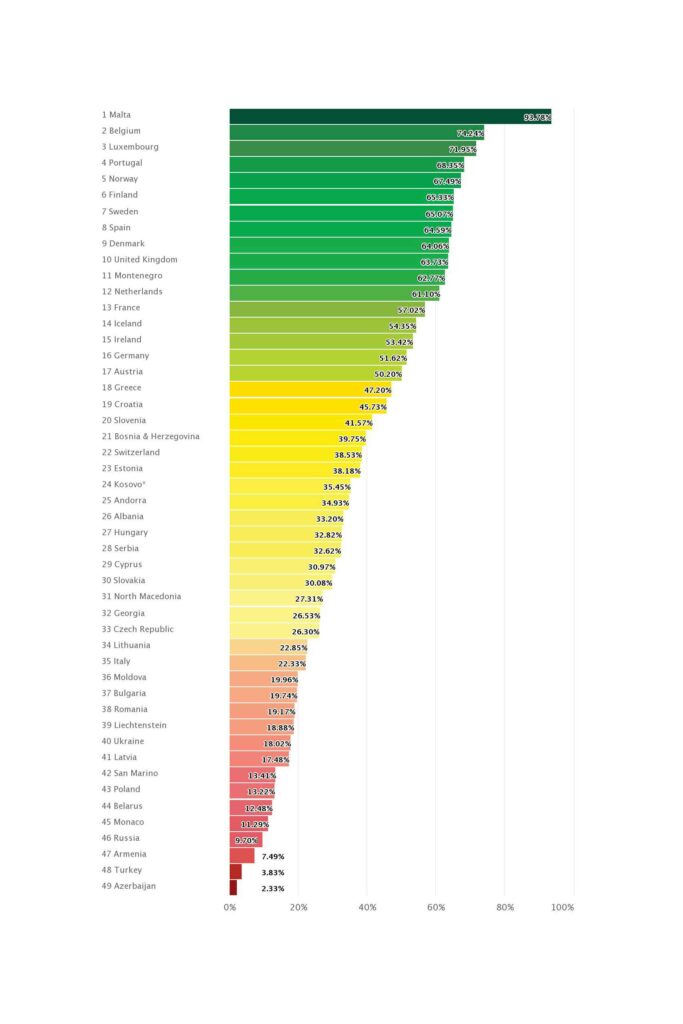 The archipelago nation of Malta tops the list of countries, with Benelux and Nordic nations, as well as Spain, Portugal and the UK coming in the top 10. No huge surprises there. But what may shock travellers is that some of our favourite destinations – like Greece (18), Switzerland (22), Italy (35) and Monaco (45) – while in their urban bubbles and OutThere outposts may seem safe and welcoming, don't score high when it comes to how the laws and policies of each country impact the lives of its LGBTI+ people. There are destinations like Turkey (48) that are also popular among travellers, that feature at the very bottom of the list.
This year's ranking and report is of particular interest as it takes into account community development in the pandemic. While so much has been discussed in human rights in the last 18 months alone, we are startled to hear that the last year has seen a widespread stagnation on LGBTI+ rights, with no movement or advances forward for the first time in the index's 12 year history. In some countries, like Poland and Hungary, we have actually noted a regression.
Perhaps it shouldn't come as too much of a surprise considering governments are prioritising battling the pandemic, but with legislative proposals still on the table in so many countries, there is an opportunity for governments to take more concrete action, to make sure people are more protected, not less. The human rights of LGBTI+ people can't be something that is sidelined when times are tough. It is easy to apportion blame to political attention being immersed in the public health and economic response to COVID-19 but ILGA-Europe reports that in many countries there has actually been increased political polarisation and a growing lack of popularity on LGBTI+ issues.
So this Pride Month, while you are planning your next holiday and considering Europe – and waiting to see if your favourite destination goes "green" as to its mutual COVID-19 entry or quarantine protocols – do bear a thought for the alternative traffic-light system compiled by ILGA-Europe … as it may just impact your decision.
Images courtesy of ILGA-Europe