Malta is not short of premium hotel accommodation, but intent on doing something altogether different and 'live like a local', we checked into Indulgence Divine, an LGBTQ+ owned, private luxury home-for-hire in the heart of old Birgu (or Vittoriosa), one of the fabled and historic Three Cities.
For OutThere travellers looking for a Maltese sense of place, staying in old Birgu, just steps from the Inquisitor's Palace, the Dominican Priory and the Old University of Malta, is hard to beat.
Stepping off a narrow street, through an inconspicuous door and up a set of old stone stairs, the ancient, 17th-century limestone architecture quickly shapeshifts into a sizeable, modern duplex apartment with vaulted, double-height ceilings. The layout of Indulgence Divine is quirky – perhaps deliberately so – yet it feels sympathetic to this historic townhouse.
The décor is a fusion of old and new: eccentric in some parts, chic in others, but altogether creative, reflecting the owner's personality. In the dining space, a trio of crusader art, fashioned into black and white contemporary photography, adorns the walls. The space is lit by what looks to us like a blue-green Murano glass chandelier and furniture is made from Carrara marble, or otherwise white high-gloss as you'd expect in an apartment in Rome, complete with bulbous, sculptural legs. In the bedroom, an antique canopy bed is draped with a reproduction tapestry of Hieronymus Bosch's Garden of Earthly Delights, the famed triptych of hedonistic depravity. Is the owner Aldo trying to convey a message of what life was like here in the city in the 1600s, we wondered? Or perhaps it's a nudge-wink of what was to come during our stay. If the double shower (one that's actually big enough for five) is anything to go by, perhaps it was the latter.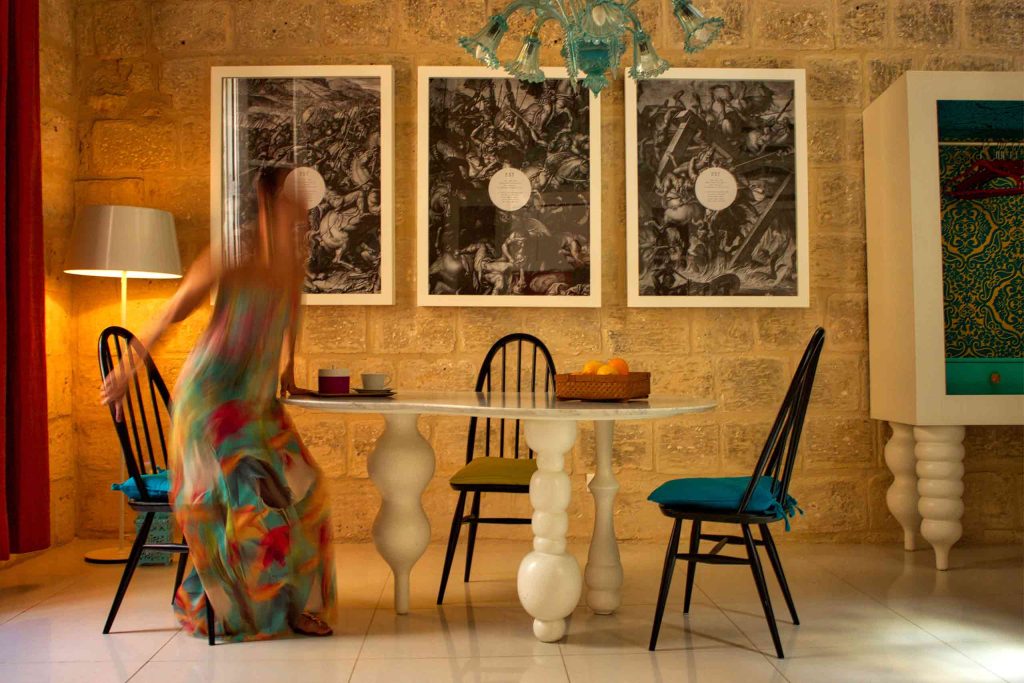 | | | |
| --- | --- | --- |
| Perfect for | Fly into | Right on time |
| The Insider | MLA | GMT +1 |
While you're Out There
In the kitchen of the Inquisitor's Palace, we knocked back oysters and champagne delicately prepared by Chef Malcolm Baldacchino. Alongside Taste History curators Liam Gauci and Kenneth Cassar, Malcolm has been painstakingly trawling through history books, merchant records and other evidence of ingredients imported into Malta back in the time of the Inquisitors, to find that they ate and drank rather sumptuously. Today, they recreate those recipes, as closely as they can, to the tastes of the 17th and 18th centuries albeit with a little creative license, in a truly experiential and historical dining experience set in some of Malta's top heritage landmarks. If the walls could talk, they'd tell you they're hungry. Exclusive private tastings are also available by advance booking, from a romantic dinner for two to celebratory banquets for bigger groups.
From our bed, we noticed a little keyhole, which inspired our inner Alice in Wonderland to discover further. In the dark, it's a little spooky, but throwing on the lights, we found a winding stone stairwell that led back down to street level, where Aldo has arranged a small library in what must have once been a little shop or animal shelter.
We marvelled at how we were at first fooled by the building's narrow façade, as Indulgence Divine is truly enormous. Another spiral staircase led up to a huge mezzanine living room, once the house's chapel. On further exploration, we found a serene, private rooftop terrace: our favourite breakfast spot, it was a joy to awaken our senses each morning to the sound of omnipresent church bells and indiscernible chatterings of our Birgu neighbours.
Aldo is a consummate host: a selection of thoughtful welcome amenities awaited us; he was in touch throughout the stay over WhatsApp and the house radio doubles up as a two-way walkie-talkie whenever we needed to ask something. Throughout Indulgence Divine, we could also scan small QR codes to find out more about the property and the surrounding area. Even Aldo's website is a treasure trove of inspiration and information about this very special place. He has really gone the distance to second-guess what travellers are looking for, but also offered up personal advice and an inside track on how we could make the most of our visit. It takes a special someone to share a home like this with strangers, but we liked the playful, unconventional style and the place just brims in personality while affording plenty of privacy and an ambience that's uniquely Maltese.
Photography courtesy of Indulgence Divine