This acclaimed boutique property in Valletta is part of a trio of family-owned properties and is located in a 16th-century baroque palace that time-travels guests back to old Malta, but with modern comforts considered. This is the Palais LeBrun.
It is a trend for boutique hotels to try and be modern and contemporary. But the Palais LeBrun bucks that trend somewhat, in an effort to delve into the essence of classic Maltese hospitality, fitting to the palazzo that it is situated in. And the old-world storytelling continues inside. If the walls could talk, they'd tell you that the building was first constructed for a Grand Master (aka head Knight) of the Order of St John. A few hundred years later it was the childhood family home of Malta's first prime minister. In short, the hotel is adept at being the home of VIP guests.
As we expected, the Palais LeBrun is decked out fully with antiques, classic furniture and old pictures and portraits, both in its common areas and inside its 28 individually appointed rooms and suites. We found the neutral in-room decor borderline bland, and even the velvet and brocade soft furnishings (the only colour accents) were a little tired. Don't get us wrong, there was nothing wrong per se with our suite: the fact of the matter is that it was actually quite comfortable, but it did little for the imagination and we just felt that more could have been done to bring out the hotel's personality. It was almost hard to know if the decor was purposefully in a traditional style, or actually dated. We'll like to give the Palais LeBrun the benefit of the doubt though, and judging by other properties in the same family, we'd think it is the former.
Our 'deluxe double room with balcony' did have a Maltese gallarija (non-streetside properties look onto sidewalls and small alleyways, just if you like to know what's going on outside, do choose a room that faces the front) and our bathroom was luxurious: with beautiful ceramic fixtures and tiles, as well as a contemporary rain shower; much more in line with what we'd expected from the property.
What we didn't get to experience is the hotel's Duplex suite or 'Suite with hot tub', and perhaps these are more appropriate accommodation options for OutThere travellers. From what we're told (and what we see on Palais LeBrun's website), these suites are much more spacious. The duplex consists of a two-level layout, featuring a mezzanine and double-height windows, certainly upping the luxury feel.
Keen to see what else the hotel had to offer, we headed up to its rooftop, where an inviting plunge pool meets yoga deck with a few sun-loungers awaited, as did a handsome cocktail waiter ready to pour some heady drinks. The hotel's location – pretty much on the tip of the Valletta peninsula – ensured sea and horizon views from the roof, as well as that of the old Valletta skyline. It is however a small rooftop, there's definitely not enough space up there for the hotel's circa 50 guests when full. Still, it is very popular and at some point all of LeBrun's guests will head up there, making it a great place to meet fellow residents over a drink or five.
Deep in the hotel's cellar, we found the Palais LeBrun's outstanding restaurant, worth a meal. Plus, if we wanted to work off some of the Maltese carbohydrates we've gorged on during our trip, the property also has an ample gym down here.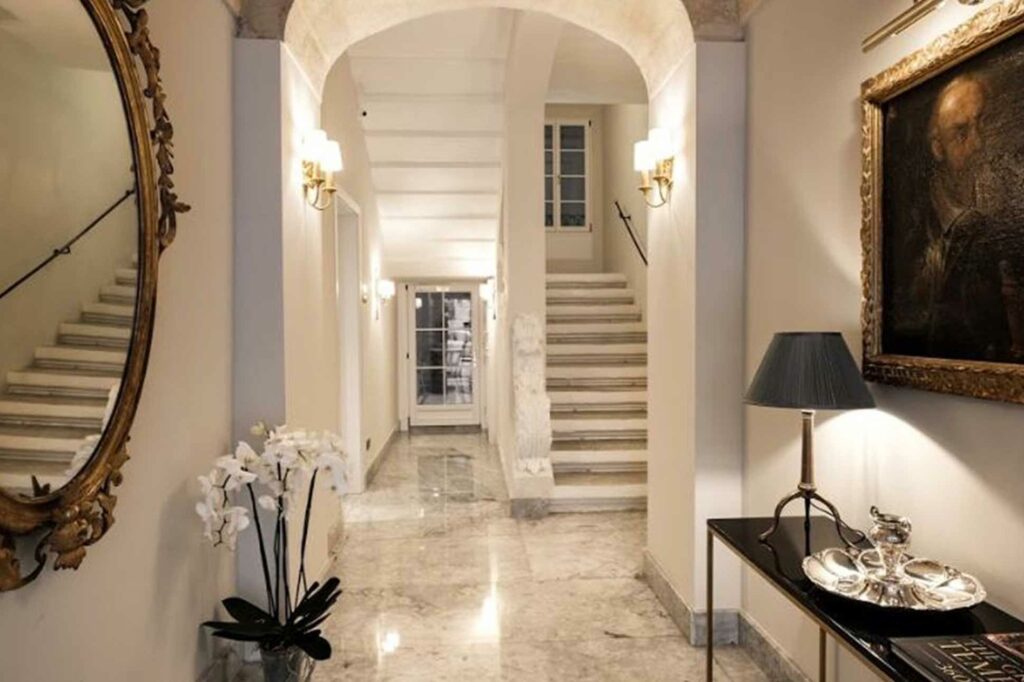 | | | |
| --- | --- | --- |
| Perfect for | Fly into | Right on time |
| The Culturalist | MLA | GMT +1 |
While you're Out There
If you're looking for a special celebration or private dining during your visit, ask about the Palais Le Brun's VIP annexe, sometimes used to host art exhibitions and exclusive local events. Right at the end of the Old Bakery street, through the ramparts and down by the water, you'll find Maori, Simone Falzon's community-centric, safe-space and artsy dive bar that hosts regular LGBTQIA+ events.
Photography courtesy of Palais LeBrun