A world away from bustling Valletta is the laid-back island of Gozo, an escape for Maltese city-folk (and those who take the time to visit), where the slow pace of life and the clear azure, Mediterranean sea invite travellers to slow down and decompress. But then, resting and relaxing here can be super chic too, thanks to the luxurious, hideaway boutique property, Thirtyseven Gozo.
When we visited Malta last, we knew we had to check into Gozo's most talked about private, luxury home away from home, a property that is the brainchild and creation of personable hosts Patti and Giuseppe, who founded, reimagined and designed the old Gozitan village home into what it is today. They escaped life in the frenetic Milan fashion industry to come here and set up their upscale, boutique hideaway. It's a story in itself that sets the tone for this escapist island; there are many who come here on holiday and fall truly, madly and deeply in love with it. Consequently, they have got tourism tongues wagging as a result, as there is nothing quite like it on the island. After all, it's where Angelina Jolie, her children and her entourage based themselves when shooting her featurette, By the Sea. And if it's good enough for the Hollywood elite, it's certainly good enough for us.
In any case, it'd be hard not to fall in love with the property. After years in fashion, the founders have coloured the place with an aesthetic elegance – stylish, tasteful yet homely and with a clear Milanese sensibility. It brims in its owners' personalities, filled with curios from their travels around the world, each with their own story (Patti loves collectable spoons for example, and they tended to appear on our table at mealtimes).
But gorgeous interiors, anyone can do. What Thirtyseven Gozo has that is irreplicable is that it captures and embodies the destination's soul. There has long been an inexplicable, positive energy here in Gozo – the Neolithic people who built Ġgantija, the megalithic temple complex on the island certainly thought so. Patti and Guiseppe have bottled that energy in this beautiful property, an oasis of calm and charm, on an already laid-back island.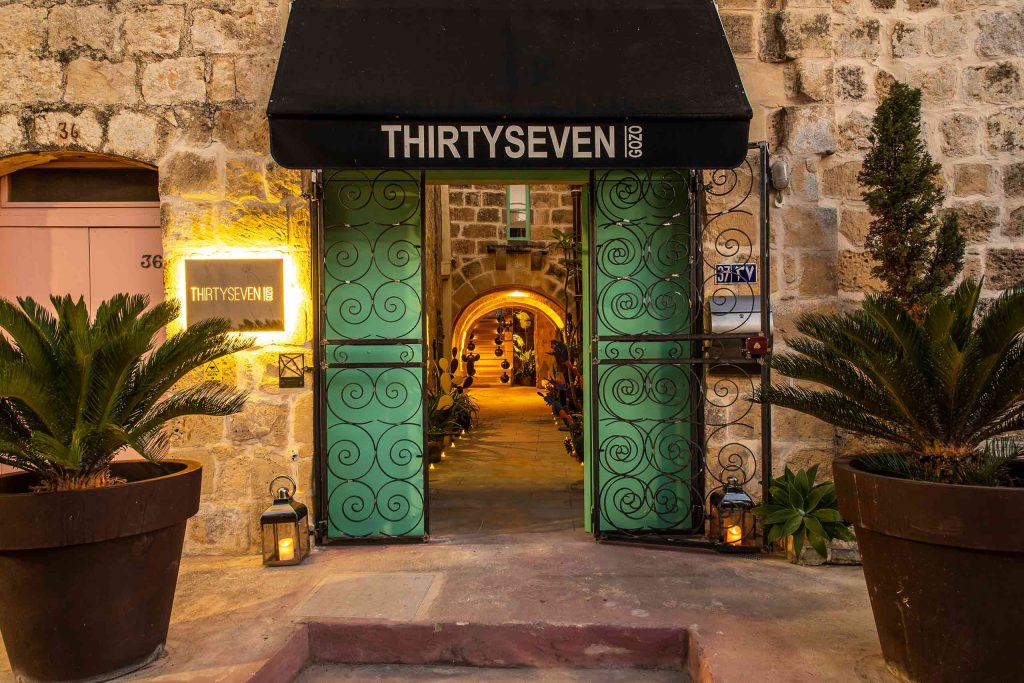 | | | |
| --- | --- | --- |
| Perfect for | Fly into | Right on time |
| The Insider | MLA | GMT +1 |
While you're Out There
Staying at an insider hotel means getting an insider restaurant recommendation. Patti and Giuseppe took us to their favourite bayside taverna serving up the freshest seafood to those in the know. You have to take the dirt track down the hillside by car, or arrive by yacht if you have the privilege. There were two stunning Rivas anchored in the bay, called Mġarr ix-Xini, when we arrived. Look out for the red-framed blackboard listing what's on the menu that day. And if you want to get out on the water to neighbouring Comino, the Blue Lagoon and some other special spots only locals know about, then Thirtyseven Gozo's partner, Aloha Boat Charters is who to turn to.
Each of the ten suites at Thirtyseven Gozo is themed individually, inspired by Patti and Giuseppe's travels, or a mood they want to evoke. Ours was a minimalist, Japanese-themed 'Tokyo Suite' that juxtaposes against the views from its wrap-around floor-to-ceiling windows: a Gozo skyline of churches, Christian flags and old farm buildings. It comes with a rooftop terrace attached, a wonderful place to soak in the sun, sights, sounds and smells of the local village. Our stay was particularly atmospheric, as there was a big Festa on, coinciding with a saint's feast day. With vodka and Kinnie (a local, bitter orange fizzy drink) in hand, the spectacle was especially entertaining to observe.
Other suites include a design-led Milanese-Manhattan-style apartment with see-through glass closets and Marilyn Monroe portraits on its walls. There is also an Indian-inspired room, filled with caricatures of holy cows (Patti adores India and its spirituality). Further accommodation options are more classic farmhouse Maltese, with wooden beds and antique furniture.
Thirtyseven Gozo's communal spaces are designed for social conviviality. There are two inviting outdoor pools, bougainvillaea-strewn gardens, a 'coffee courtyard' and a bar area with a gigantic, commissioned piece of flamingo street art (yes, you guessed it, Patti is obsessed with flamingos). The buildings are painted in bright, cheerful pastels and landscaping casts beautiful plant shadows across the walls and floors in the sunshine. House cats sleep and pose in empty fire pits and everywhere you look, more curios and collectables are presented, getting quirkier each time you look.
The team were also amazing. Thirtyseven's General Manager heads up a perfectly trained pair of Filipino housekeepers and ensures the highest level of service and discretion. A consultant chef (quite the character) is on standby to come in and whip up delicious meals – her speciality being vegan food – on demand, and it turned out Patti is also quite a baker!
Although the island has a lot to offer visitors, it's very tempting to enter the gates of Thirtyseven Gozo and not leave during your stay. But if that's what you choose to do, no one will judge you. At least not us… we were tempted to do so ourselves.
Photography courtesy of Thirtyseven Gozo