To experience a duality of hedonism and heritage while visiting storied Malta, check into the InterContinental Malta, which offers up exquisite, contemporary luxury in its 'five-star hotel within a five-star hotel' at the heart of the island's top entertainment destination, St. Julian's.
Bustling St. Julians has a lively reputation. Known as the 'party-hearty' part of the island, it receives the bulk of the country's tourist traffic. While Malta may be perceived as a widely religious nation, the congregation here is made up of young, up-for-it revellers, whose churches and temples are the bars and nightclubs of thriving Paceville and are rather unlikely to make mass in the morning. It is also home to Malta's celebrated queer nightclub, Michaelangelo Club Lounge.
Its stride is a far cry from the uber-cultural capital of Valletta, but actually, the two are not too far in distance by car, which allowed us to experience a quirky duality of hedonism and heritage while on vacation here, summing up what Malta is all about. But don't worry, it's not just tequila shots and scantily clad youths here: the area is also known for beaches like Balluta Bay and chilled fishing villages like Spinola.
InterContinental Malta (or the 'InterConti', as locals affectionately refer to it), is the most luxurious hotel in St. Julian's. It's a huge property with nearly 500 rooms, but OutThere travellers like ourselves will want to check into its most upscale accommodation. There's a special block in a private section of the hotel, reserved for its most discerning guests, an all-suite building which effectively creates a 'luxury hotel, within a hotel'.
Suite guests share many of the facilities of the property but have access to some added VIP spaces: like the elegant, wrap-around club lounge with a view, where breakfast was served daily (if not in our suite). There's also the stunning rooftop, SKYBEACH (seasonal), with a massive infinity pool that looks out to sea and is the perfect place to rub shoulders – while on a sunlounger or in a cabana – with other, like-minded guests. Day tickets are available for outsiders to come here, but subject to a hefty minimum spend, so it locks out the masses, who will be down at the InterContinental Beach Club, 19 floors below, instead. And just in case that's not enough, there's also an indoor pool (and a great spa)!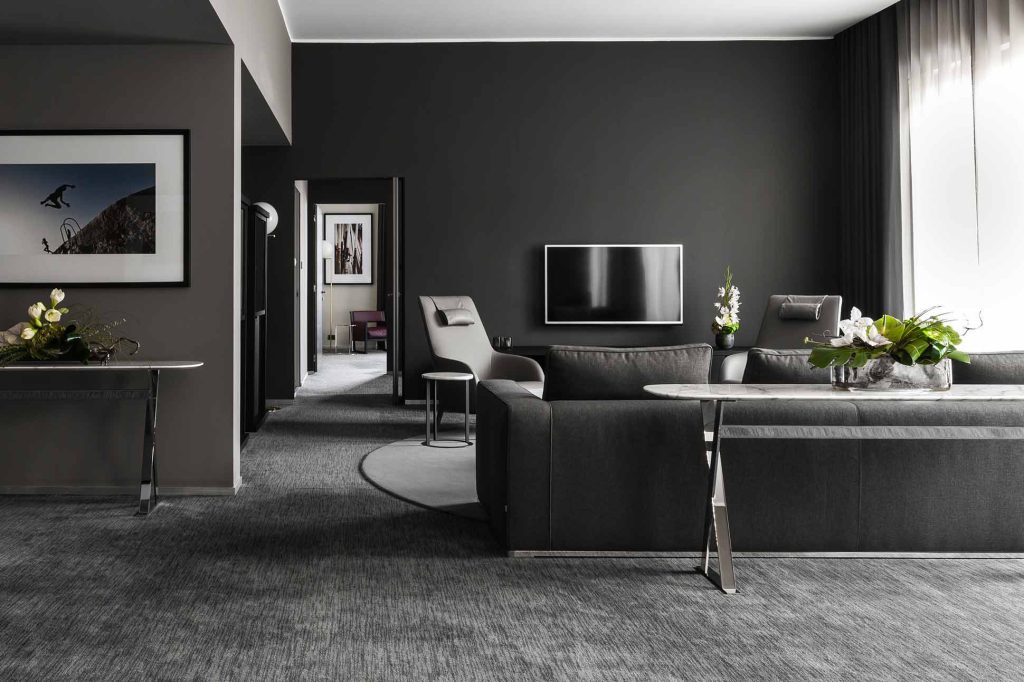 | | | |
| --- | --- | --- |
| Perfect for | Fly into | Right on time |
| The Hedonist | MLA | GMT +1 |
While you're Out There
For a sumptuous meal, head to Paranga, the hotel's 'seaside' restaurant with an outdoor deck that is perfect for sunset and late evening drinks, adjacent to the Med. Local fishermen deliver fresh seafood here daily and the food is cooked up with Italianesque coastal charm. Our recommendations are the seafood crudo, followed by the salt-baked catch-of-the-day. Delicious!
Our gigantic Panoramic Suite at InterContinental Malta was beautifully and contemporarily appointed, with slate grey textured walls, sumptuous carpets and high-spec designer furniture, all conforming to a religiously monochromatic aesthetic. The space is accented by a smattering of turquoise soft furnishings, positioned perfectly for whenever our eyes caught a view of the ocean, as well as black and white (of course!) photography of island life, taken by one of the hotel's owners. Rumour has it that a loyal, long-stay guest didn't think much of the colour palette (taste is subjective, it seems, because we loved it), so the team got to work to temporarily offer a fresh paint job prior to his arrival, which just shows the level of dedication that the hotel has to exceed the expectations of their guests in residence.
An inviting (and thoroughly comfortable) bed awaited us each evening, as did generous welcome amenities with a daily-changing selection of sweet treats, as well as buckets of champagne on ice. Our large, sprawling bathroom provided us with ample space to get ready for long days of exploring the island and longer nights in the area's restaurants and bars. In-room wellness facilities from yoga mats to free weights are available for those looking to break a sweat on the enormous terrace overlooking the bay and beyond.
We also liked that InterContinental Malta (despite being a hospitality juggernaut) has gone some distance to be conscious of how its operations impact the environment and the people that live nearby. The hotel has taken the UNESCO Sustainable Travel pledge and promises to promote environmentally friendly travel, community resilience and heritage conservation globally while being focused on helping guests make more responsible travel choices on the whole.
www.malta.intercontinental.com
Photography courtesy of InterContinental Malta