On the site of the original Duke of Edinburgh hotel, right in the heart of Victoria on the small Maltese island of Gozo, is the modern The Duke Boutique Hotel, offering Gozo-daytrippers and 'deeper dive' (literally) explorers alike a charming place to rest their heads.
Black and white pictures of the late Duke of Edinburgh, Prince Philip – celebrated Royal Navy man, who was once stationed in Malta with his young wife in the 1950s, the Crown Princess and back then 'soon to be' HRH Queen Elizabeth II – line the walls of The Duke Boutique Hotel. For good reason too, as once upon a time, the eponymous Duke of Edinburgh Hotel also sat on this very plot of land.
Today, the site of the old hotel is home to a rather non-descript, modern shopping mall (named, you guessed it, The Duke's Complex) but located on the top two floors is this self-proclaimed 'boutique hotel'; making a strong and ardent bid to recategorise itself as such, because under current ratings it only achieves three and a half stars. It's a small hotel that has to be accessed through the retail and shopping space, and it doesn't have certain facilities such as a communal pool, spa and gourmet restaurant to push its star rating, but it strongly feels that its current rating sells the hotel short.
We agree, because the hotel is deserving of more accolades. The rooms and suites here at The Duke Boutique Hotel are large and contemporarily designed, clearly with the modern traveller in mind. Standard rooms are beautifully appointed, but basic (in the owner's own words, he wanted to create spaces where those who just want a fantastic place to sleep can do so, but those who want to spend more time here can upgrade to greater levels of comfort). In our opinion, the best and most OutThere spaces are the Junior Suites that face Gozo's storied Citadel and come with large terraces and Jacuzzi hot tubs – we recommend booking early to bag one of these suites. For those who want to top the bill, the Duke Boutique Hotel's prestige accommodation is its 46-square-metre (just under 500 square-feet) Presidential Suite, with its own heated pool and a view that includes Republic Street and Villa Rundle Gardens.
We also liked that for guests with accessibility needs, there are rooms that offer state of the art facilities (and do not look like a hospital or care home). This includes direct access to accessible parking and the ability to access most of the hotel. It's heartwarming to see a hotel thoughtfully celebrating its disabled guests rather than it being an afterthought.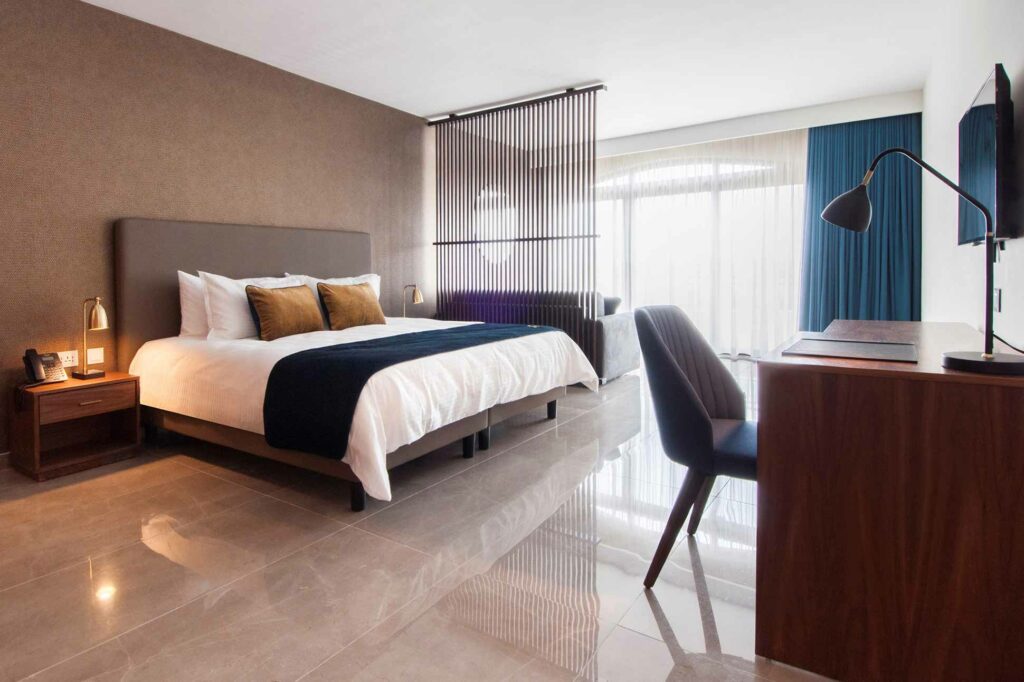 | | | |
| --- | --- | --- |
| Perfect for | Fly into | Right on time |
| The Adventurer | MLA | GMT +1 |
While you're Out There
Gozo's charming and historic old citadel is a short walk away from The Duke Boutique Hotel. For photographers (and Instagrammers), this means that you can have this filmic landmark all to yourselves before the tourists arrive in the morning (even at sunrise, if you're so inclined) and after they depart in the evening. But even if you're not a snap-happy traveller, a stroll there at these times can be somewhat otherworldly.
The property has thought about travellers who will be coming to visit for longer periods of time, in line with a growing trend and new breed of work-from-anywhere, nomadic visitors. Thus, it also has a number of rooms that cater for longer stays, each coming with its own kitchen. This is where the hotel's location, right above a shopping mall with a huge supermarket, comes into its own. You don't have to go far for supplies.
Service at The Duke Boutique Hotel is very friendly and efficient, but don't expect staff to dote on you here, although the team at reception will gladly spend time telling you about what to see on the island and how best to go about doing it. The same is to be said for breakfast each morning, which seems far more about convenience, than long, luxurious vacation time. However, where we felt the hotel could improve is on providing more comfortable communal space – a cosy private bar, or lounge perhaps. This came as a surprise to us really, considering most come to Gozo for a holiday. The absence of these leisure spaces gives it an urban, chain-hotel vibe rather than that of a boutique independent.
What is unbeatable, however, is the hotel's location. It is super central and at the heart of everything on the island. So whether you're a history buff looking to explore the island's treasured sights, or a foodie hungry to try Gozitan gourmet cuisine; or a scuba diver and water-baby looking for a comfortable base to decompress after a long day at sea, the Duke Boutique Hotel is a solid base that's close to all of Gozo's delights.
Photography courtesy of The Duke Boutique Hotel