This palatial five-star resort built in local limestone isn't quite what we expected on this small island. Blink and you'd think you might have been transported from Malta to Morocco. But when you find out that the Kempinski Hotel San Lawrenz has long been a getaway for Valletta city-slickers, it all makes sense.
The Kempinski Hotel San Lawrenz is an upscale island resort in the traditional sense, with multiple swimming pools, tennis courts, a spa and a children's club, all surrounded by palm-filled gardens. And for those seeking luxury, the Kempinski brings with it a big-brand know-how that's hard to find elsewhere on the island. For bougie 'Beltins' (the urbanites of Valletta), the hotel makes all their American country club dreams come true, with a dash of Club Med thrown in for good measure. For international visitors, it affords solid service, spacious accommodations and the promise of a sun-filled holiday away from the usual tourist trail back on Malta island.
Constructed with local limestone giving it its pinkish, somewhat terracotta hue, we'd say that the architectural influence leans towards Moroccan. For example, the reception area flanks a vast inner courtyard (as you'd find in many Moroccan structures) and elaborate arches frame the spacious grounds dotted with palm trees and pools. At first, it came across as an unusual choice of design, but on learning more about Gozitan history, we found that perhaps it wasn't all that strange at all. In fact, we even met an Australian architect of Maltese origin at the pool, who told us that the design is quintessentially Maltese, the tall ceilings, cool stonework and archways being more a nod to how the Knights would have built their edifices. And with Malta being such a melting pot of cultures, this shouldn't really have come as much of a surprise.
The interior of our large, clean-lined suite in classic resort beige, accented with colourful artwork prints, was not much to write home about. That said it was very comfortable and provided an air of serenity. Tiled floors and a spacious marble bathroom with a walk-in shower for two made the space feel more modern. But at the time of our visit, the property had not been renovated for over a decade. While the fixtures, fittings and facilities were kept in top-notch form, considering, some elements of the accommodation were pretty dated.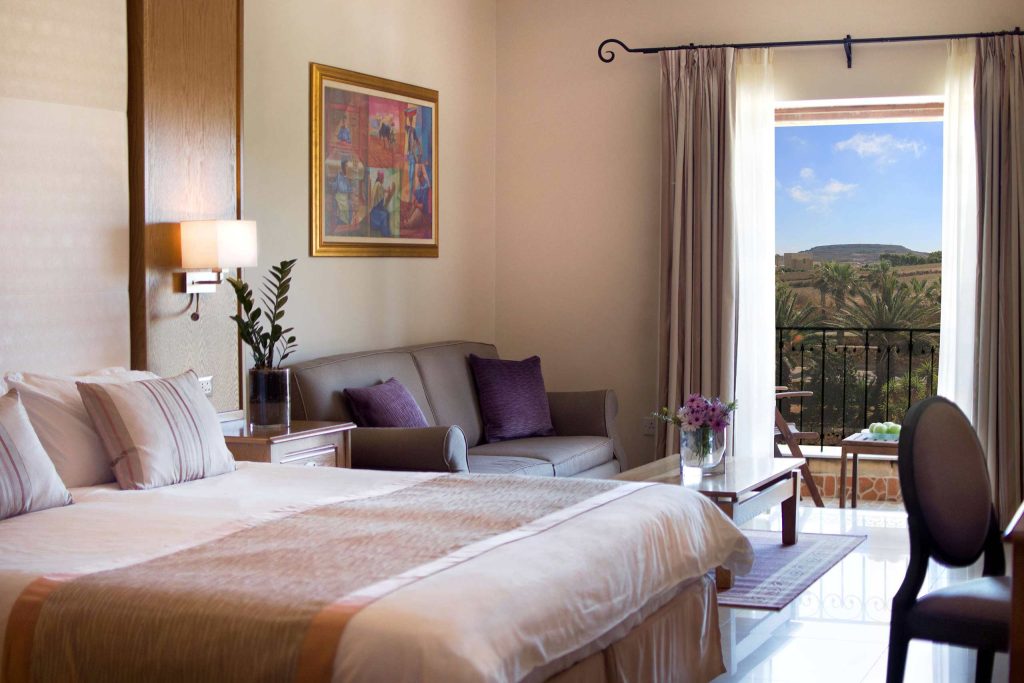 | | | |
| --- | --- | --- |
| Perfect for | Fly into | Right on time |
| The Sophisticate | MLA | GMT +1 |
While you're Out There
Though there's nowhere truly 'remote' on an island this small, the Kempinski Hotel San Lawrenz offers as off-the-beaten-track as it gets on Gozo. That said, there are a few pretty sights in the area that are worth venturing out of the resort for, including Dwejra Bay. You won't find a beach here, but the views over the Mediterranean, especially at sunset, are simply marvellous, and not many visitors know about Dwejra…
Those looking to stay on the island for an extended period (we met plenty of people during our time in Gozo who came to the island and never left, so you never know) can opt to check into one of the hotel's apartments – ranging from one bedroom to three – affording even more space and a small kitchen.
Why you'd want to cook for yourself here at the hotel is beyond us, because the L-Istorja and L'Ortolan restaurants, which serve delicious Mediterranean, Maltese and Gozitan cuisine in a charming farmhouse setting, are fantastic options. Much of the cooking we tried at the Kempinski Hotel San Lawrenz was centred around locally grown, Gozitan produce – some from the hotel's own gardens. The L'Ortolan is also the setting for a sumptuous feast for breakfast each morning.
A resort of this calibre naturally comes with the best spa on the island – Kempinski The Spa – a tranquil space with ample therapy suites and talented therapists to match. The concept here is inspired by the cycle of the Mediterranean seasons, with treatments designed to evoke and restore the body's natural equilibrium. There is also a hydrotherapy circuit and if you are indeed a water baby, hammam experiences are available, too. In addition, be sure to check out the surprisingly authentic therapies at the hotel's own Ayurveda Centre.
We found ourselves in the spa rather often. With the Kempinski Hotel San Lawrenz being quite a large property and with its appeal to families, it was sometimes difficult to find a moment of solace outside of our suite, even when younger guests were busied away at the Kid's Club.
If big-brand luxury resorts are your thing, then it's hard to fault this hotel – they certainly have the monopoly when it comes to that. We did feel however that beyond the culinary experiences, there were opportunities to bring in a greater sense of place, considering that Gozo abounds in history and culture. But that's an easy fix.
Photography courtesy of Kempinski Hotels & Resorts