Bang smack in the middle of the island of Malta, inspired by its original 1800s Neoclassical limestone villa and accompanying sprawling gardens, is the opulent, old-worldly, yet rather laid-back Corinthia Palace Hotel & Spa.
Everyone who is Maltese knows the Corinthia Palace, one of the country's upscale, grande-dame hotels. They've had a drink there, been to a relative's wedding or have a cousin who has worked there. The hotel is very much a part of Maltese high society, the birthplace and "OG" of what has become a global family of lavish luxury properties known for their nostalgic, sumptuous stylings and impeccable service. And that, the Corinthia Palace certainly is.
As we waltzed through its fountained front garden and glistening cream and brown marble lobby, a bellman in a starched uniform scuttled to help us with our luggage. The space was dotted with elaborate floral arrangements in equally ornate vases on white, columnal (Corinthian!) plinths. The polite, young staff greeted us and addressed us immediately as a same-gender couple, clearly applying the sensitivity training they have received for LGBTQ+ guests to our check-in experience. This attention to detail when it comes to queer travellers is something that the hotel's management is very proud of.
There is an unflustered vibe here. Despite its opulence, the service and ambience are relaxed. And clearly, that's a personality trait that the Corinthia Palace wants to exude. The background music is hushed and staff float around ready to pounce should we have needed something, but leaving us to our own devices when we didn't. The property also has a serene garden, which was a rather lovely place to escape to. It was also where the property's sun-trap pool is located.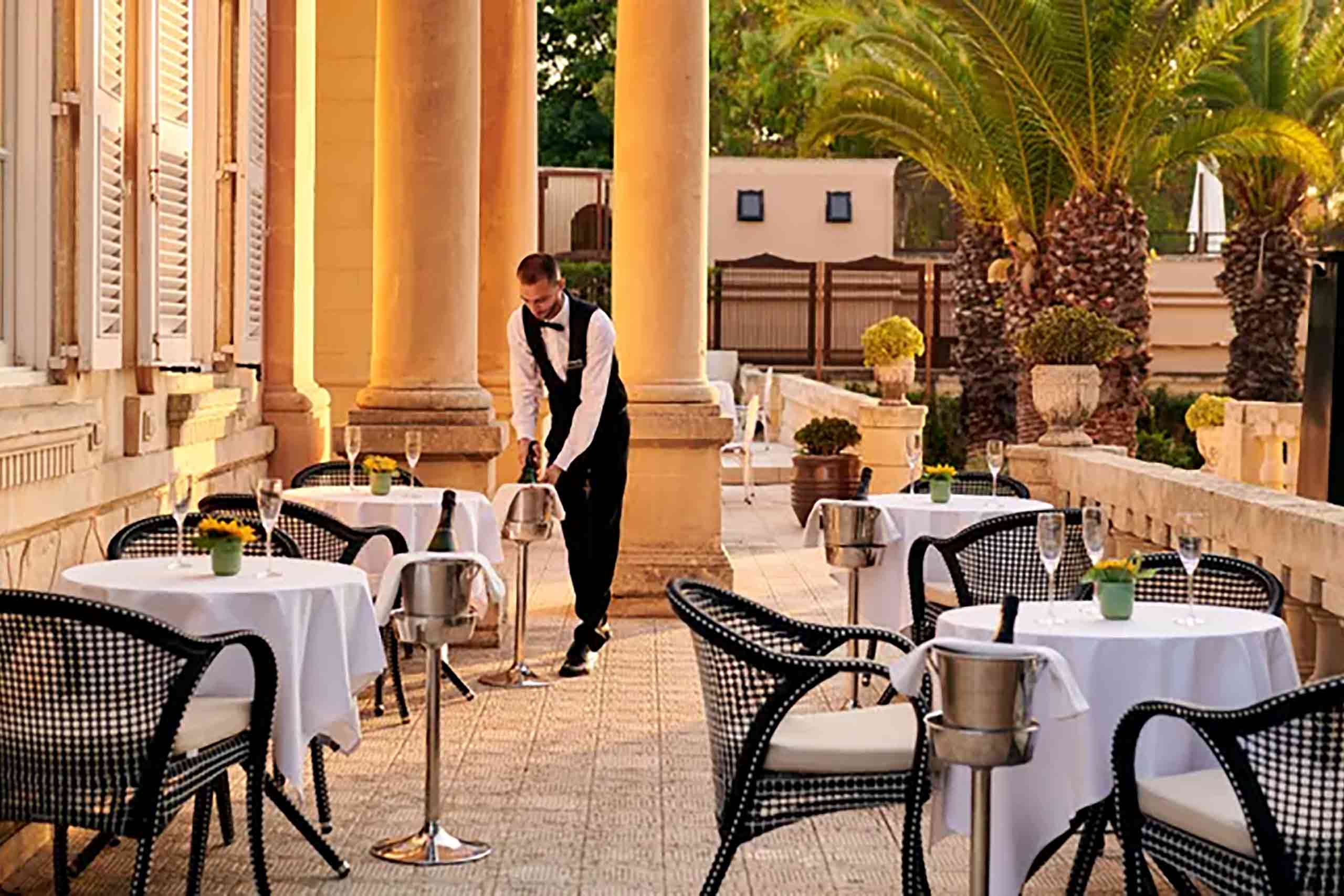 | | | |
| --- | --- | --- |
| Perfect for | Fly into | Right on time |
| The Sophisticate | MLA | GMT +1 |
While you're Out There
The menus at the Corinthia Palace's handful of eateries sport the staples you'd expect of a hotel of this stature, but if you want exceptional fine dining there's that option too – Francesco Mazzei at Villa Corinthia, a Southern Italian addition to the hotel's culinary array and part of a rotating guest-chef residency programme – is a much-talked-about and delicious dining experience, located in the old house out front that was once home to the late Maltese physician and psychologist Edward de Bono.
Nearly every member of staff we encountered at the Corinthia Palace mentioned their ESPA wellness space – not in an upsell-sy kind of way, but as something they're fond of. At the time of our visit, it had recently been renovated by the British design team known to have revitalised a number of stunning wellness properties across the world. It was a handsome space, with seven treatment rooms, a gym, and a private relaxation suite. With both indoor and outdoor areas, it makes the most of Malta's many sunny days. Its outdoor hydrotherapy circuit and plunge pool, heated hammam loungers, and patio deck positively discouraged us from joining other guests at the main pool. After all, we had our chance to hobnob with them (predominantly older British couples, American cruise overnighters and families) on the terrace at breakfast and for evening drinks as well, although we did notice that outdoor tables were in high demand, so if you want one, start your day early – or start drinking early!
When it came to accommodation, we found our room to be rather traditional. The accurate word to describe it would be 'classic', as it wasn't old-fashioned per se, but fashioned in an old style. Our opinion is that the suites and rooms at the Corinthia Palace could do with a bit of a refresh, and they were relatively small compared to other luxury accommodations that we've roadtested in Malta. Though, we can't deny that our room was comfortable and quiet. It also came complete with a small terrace overlooking the garden. But as we were out most days exploring Malta, we didn't mind too much.
As for the Corinthia Palace's location, it's not really near anything, but hardly far from everything, if you know what we mean. Its central location means that all of Malta's key sites, like Valletta, the Three Cities, Mdina, St Julian's, and even the ferry to Gozo were never far away (mostly within a 15-20 minute drive). But unlike staying in Valletta or St Julian's, there isn't much locally to see on foot, unless you're a lover of even more grand villas and gardens (the Sant' Anton Gardens and Palace are directly behind the walls of the hotel).
That said, if you're looking for a property that gives you the duality of easy-to-access exploration and unrivalled tranquillity away from the touristy hustle and bustle, then the Corinthia Palace is a solid and charming, Maltese sanctuary.
Photography courtesy of Corinthia Hotels