It was only a matter of time before the once resolutely no-frills resort of Riksgränsen went upmarket, and that time came in 2018, when luxury ski lodge Niehku Mountain Villa opened. We had the good fortune to find ourselves up in the area, whose massive snowfalls and location 125 miles north of the Arctic Circle allow keen skiers to hit the slopes until late May, when you can ski beneath the awakening midnight sun.
The roundhouse originally served the steam trains of the Malmbanan (Iron Ore Line), which has been used for over a century to transport iron ore from Kiruna to Narvik, in Norway (the border between Sweden and Norway is less than 100m from the villa, and it's possible to ski into Norway from Riksgränsen's highest ski lift, then back into Sweden on an off-piste route called the Norvege Svången – literally, 'Norwegian bow'). Features of the old roundhouse, which accommodated a turntable for spinning the locomotives around for their return trips, have been retained in the villa, which was designed by architects Krook & Tjäder and interior designer Stylt Trampoli and won the prestigious UNESCO Prix Versailles for the world's best hotel interior in 2019.
On our first night at the villa, as we dined with Niehku's co-founder and manager Jossi Lindblom (who also happens to be a fully qualified mountain guide and regularly leads the villa's guests on heliski adventures), he pointed out remnants of the original semi-circular wall of the roundhouse, now a feature of the restaurant.
Head chef Ragnar Martinsson has created a modern rustic menu that relies heavily on game and fish from the surrounding mountains, forests and lakes, as well as from the nearby North Atlantic. This evening's main course was a perfect example, consisting of baked beetroot with flamed moose heart, fermented mountain berries and fennel seeds. Jossi had hunted and shot the moose himself – about as local and organic as a meal can get.
Being neophytes when it comes to wine, we found it reassuring to be guided by our waitress Ramone through a series of whites and reds designed to complement each dish. The villa's unique wine cellar houses around 500 different wines and sits in an old engine-greasing pit, which can be seen through a glass ceiling that also serves as part of the restaurant floor.
---
This Basecamp review is an extract from a longer feature article, first published in print. To read the full article, click here.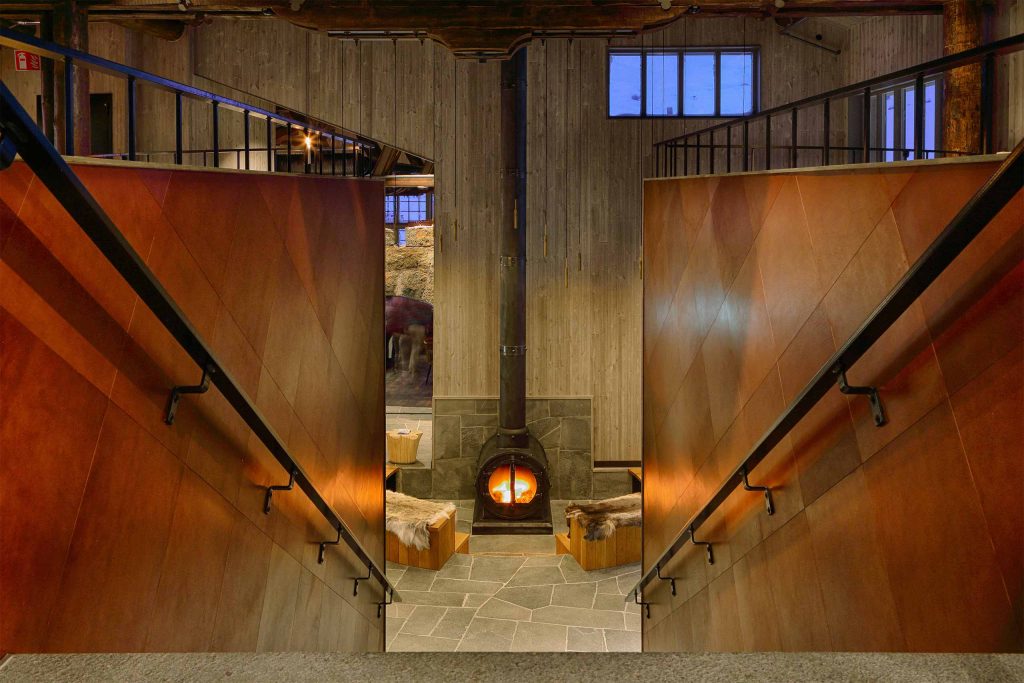 | | | |
| --- | --- | --- |
| Perfect for | Fly into | Right on time |
| The Adventurer | KRN | GMT +2 |
While you're Out There
If you're visiting at a different (snow-free) time of the year and you still want to take to the air, Niehku Mountain Villa also offers heli-hiking, which is exactly what you'd think: the team will take you to a remote (well, even more remote) location from where you can set off into the mountains of this spectacular part of Swedish Lapland.
Niehku's heliski operation has access to over 5,000 sq km of snow-draped mountains, featuring more than 60 peaks, and the terrain is sufficiently varied to offer exciting skiing for everyone, from heliski first-timers, to hardened pros, since the slopes can vary from easy-angled glaciers to steep, challenging couloirs.
But rough-around-the-edges vibes evaporate once you walk through the doors of Niehku Mountain Villa, where friendly staff enquire in perfect English (this is Sweden, after all) about your day on the mountain as you make a beeline for the bar. Or maybe you'll choose to relax in the glass-walled sauna, with its lovely views over the mountains, or ease abused quad muscles with a massage before dinner.
The comforts of the villa's 14 rooms would have been unimaginable to those early residents of Riksgränsen who were driven away by the immense winter snowfalls – super-luxe Hästens beds and a spacious wet room borderline encouraged us to stay in our room and simply chill out. But then, we'd miss the sociable library and coffee area, with its cosy open fireplace and expansive views over Riksgränsen and the Vassijaure Lake, and the bustling bar centred around an open fire with a unique design inspired by the coal-fired steam-engine boilers that were once the heart and hearth of this very site.
Photography by Philipp Herfort, David Carlier, Mattias Frederiksson, Erik Nissen Johansen and Lars Thulin