We're fresh off the plane from Gothenburg and already looking forward to our next visit: thanks to a certain word-of-mouth status and smart developments firmly placing Sweden's second city (though it ranks first on the cosiness scale) among Europe's most sustainable and laidback getaways, Gothenburg has become a bit of a magnet for OutThere travellers – and with the holidays coming up, right now is about the best time to visit.
Travel to Gothenburg in November and December and you'll quickly come to see everything revolves around 'julmys', a local concept describing the cosiness inherent to Christmas traditions. And those, they have plenty of: from markets to concerts and, of course, epicurean escapades in the city's six Michelin starred restaurants (a culinary feat for a destination this size that's manifested Gothenburg's status as a gourmet pilgrimage site).
If you were looking for a relaxed yet vibrant place to dive head first into holiday shopping, immersive culture and wellness experiences with a contemporary twist, steer your sleigh towards Europe's Christmas capital and give yourself the biggest present of them all: that of an unforgettable time.
Experience the magic of Tjolöholm Castle
A scenic half hour's drive along the Kattegat coast south of the city lays Tjolöholm Castle, a 19th-century country estate flanked by a landscape of untouched trees on all sides but one – not that we'd expected to see pines and birches grow in the adjacent fjord. The Tudor-style property rose to Hollywood fame back in 2010, when controversial director Lars von Trier used it as the main set for his star-studded epic Melancholia, though to our great delight, melancholic sentiments have since moved out.
In their place, joy and jolliness are set to take over Tjolöholm between 15 November and 1 December, when the castle's annual Christmas Market lures in visitors from all over West Sweden. And in line with the locals' fondness of all things festive, there's more to see here than artisanal ornaments and carved nutcrackers: from guided tours and Bohemian Luxury, an exhibition on British textiles in collaboration with Liberty of London, to elegant Christmas dining in the property's Storstugan restaurant, Tjolöholm offers a luxurious countryside escape.
With that said, both Nääs Castle as well as Gunnebo House and Gardens are no less alluring in the midst of winter.
Take your shopping spree to the Haga and Magasinsgatan districts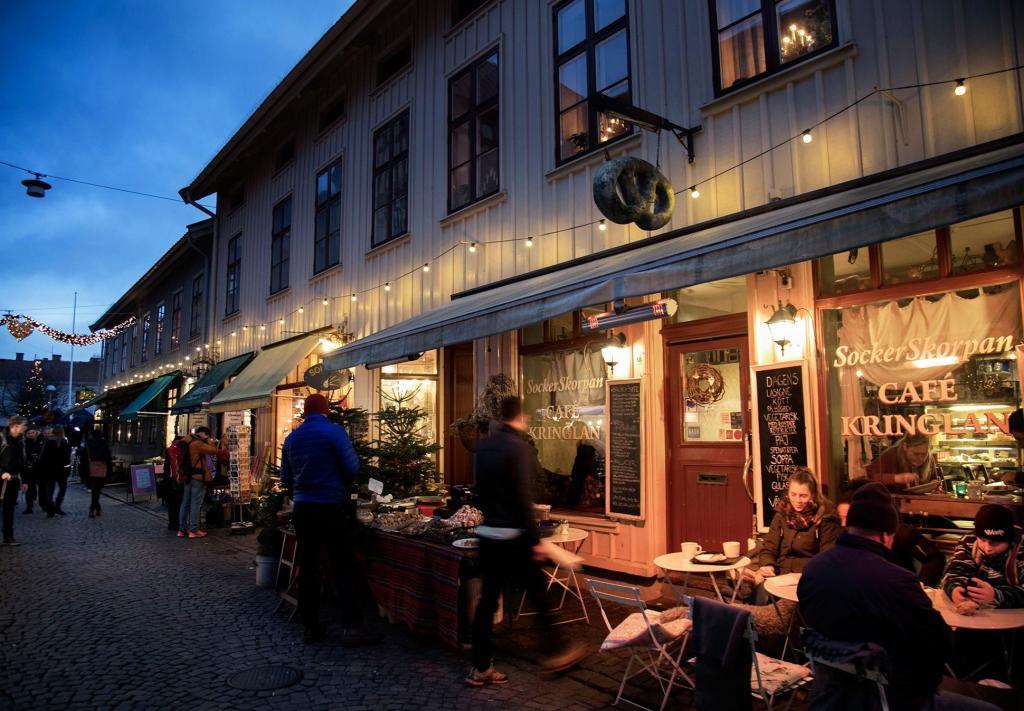 Not quite done with your Christmas shopping? Do it like Santa and arrive with a large sack in tow, because Gothenburg's finessed sense of style means its retailers are no less spectacular than those of Stockholm – and that's quite the benchmark.
The city's Vallgraven Island, beautifully connected to sweeping parks and public squares via a number of attractive bridges, is home to Magasinsgatan, where savvy shoppers find some of today's most celebrated Swedish brands. We just got our hands on a brand-new winter coat by fashion-forward Acne Studios (no way we'll risk a cold this season) and foraged for some upcycled denim at the local Nudie Jeans branch.
A short walk from here, Gothenburg's famous Haga district – the city's first suburb with several original, wooden structures still remaining – is a cobblestone-clad winter wonderland. Think Christmas markets and storefronts dominated by mouth-watering displays of freshly baked cinnamon buns, all drenched in the warm glow of a thousand little lights. The Antikhallerna is a must for lovers of all things antique, housing an impressive thirty shops selling everything from fin de siècle furniture to unique, Nordic art pieces and collector's items of all sorts.
More contemporary-minded shoppers will get their money's worth at Thrive, a conscious fashion store focusing on organic cotton pocket squares, vegan leather accessories and the like – there's simply no better place to find sustainable Christmas presents for your beloved ones (trust us, we looked everywhere).
If shopping is taking a toll on your energy levels, stop by at da Matteo and savour the best Ristretto we've had in all of Sweden.
Feel the heat at Gothenburg's excellent saunas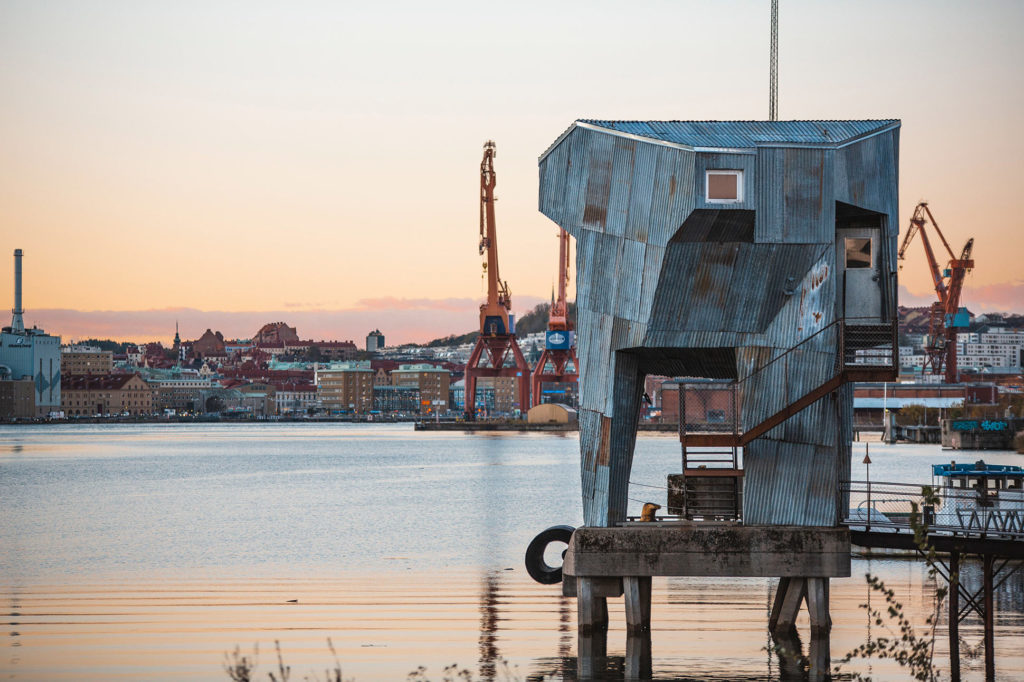 You won't want to be caught out not having visited a sauna on a trip to Scandinavia – it's the ultimate faux pas, if the locals are to be believed. Thankfully, Gothenburg has no shortage of spas and recreational facilities that cater to tired travellers' needs.
One steamy venue in particular has kicked our socks off (along with everything else) due to its innovative design: the sauna at Frihamnen. The brainchild of Berlin-based Raumlabor and constructed almost entirely from recycled materials, the conceptual-looking structure part of Jubileumsparken features three stories and sits next to an equally stunning outdoor pool that seemingly floats in the icy waters of the Göta Älv River. It's as experiential as a trip to a Gothenburg sauna gets, though note there are women and transgender-only times, so it's best to visit their website and book accordingly in advance.
To travellers worried about running out of steam (you know what we mean) over the holidays, we'd wholeheartedly recommend a full, pre-Christmas spa day at Gothenburg's highest hotel, five-starred Upper House. The excellent sauna with views over the annual Christmas market extravaganza held at Liseberg Amusement Park had us melt like butter, while a 7am yoga session the following morning was the energising kick we needed before setting out for our last day in town. Dread the idea of going home without a good story to tell under the Christmas tree? Take a dip in the heated glass-floor pool protruding from the hotel's 18th floor – it's quite the experience.
*This article is in partnership with Göteborg & Co.
For more Gothenburg Christmas inspiration, visit www.goteborg.com/christmascity.
Photography (top) by Beatrice Törnros, Göteborg & Co