Leafy in the fall, atmospheric in winter and pretty in spring, Stockholm ranks among a select list of world capitals worth a visit regardless of the season. Our personal favourite time of the year to travel here, nonetheless, has got to be summer. When temperatures even out somewhere around a mellow 25°C and the locals sip on a glass of vespertine Aperol after work, the city's lust for life is at its most tangible – and there's no better time to make friends.
We've always said Stockholm truly blossoms in July and August (just in time for Pride, as a matter of fact) and perhaps it's to do with the ubiquitous natural environments the city is built on: the Lake Mälaren, whose temperatures peak after June and the many parks, which seemingly turn into everyone's backyard before fall kicks in.
Though that's far from all when it comes to Stockholm's summer hotspots.
The sculpture park at Millesgården
The former home of sculptor Carl Milles, Millesgården is just about everything a cultural destination can be; from a museum and a learning centre to a restaurant we'd highly recommend. Its most celebrated function, however, is that of a sculpture park – for there is no greater collection of Milles' extensive body of work anywhere else in the world.
During the summer months, Millesgården tends to be at its busiest, though don't let that deter you. We find that it's with the added bustle of other visitors that the gardens become even more animated (perhaps it's the beautifully elevated statues that seem to jump from column to column near the waterfront). There is an allusion to Mediterranean gardens, too: a loggia, designed by Milles' brother Evert and approached via a marble path flanked with classical sculptures on plinths, features a simply gorgeous fresco painting of the bay of Naples. Frankly, if Millesgården isn't a must in the Stockholm summer, we don't know what is.
Mälarpaviljongen
Don't think Scandinavia and Café del Mar vibes go together? Let Mälarpaviljongen prove you wrong: the capital's most popular chill-out spot by far doubles as a magnet for Stockholm's hip kids – though that's not to say the crowd here are a snobby kind of bunch! In fact, the pavilion on the Lake Mälaren does Bohemian cool with an egalitarian flair that brings locals and visitors together on the grounds of their mutual appreciation for all things fun, fizzy and – of course – relaxed.
Mälarpaviljongen is only open from April till September, and a number of dapper flowerbeds and arrangements make it a stunner in the summer with the added bonus of frequent 'garden sessions'. Show your face at these to enjoy Stockholm's finest DJs spin the records as the sun sinks into the lake and the pavilion's very own brand of rosé champagne is served alongside plant-based street food from adjoining Green Queen restaurant. This is our favourite kind of outdoor fun.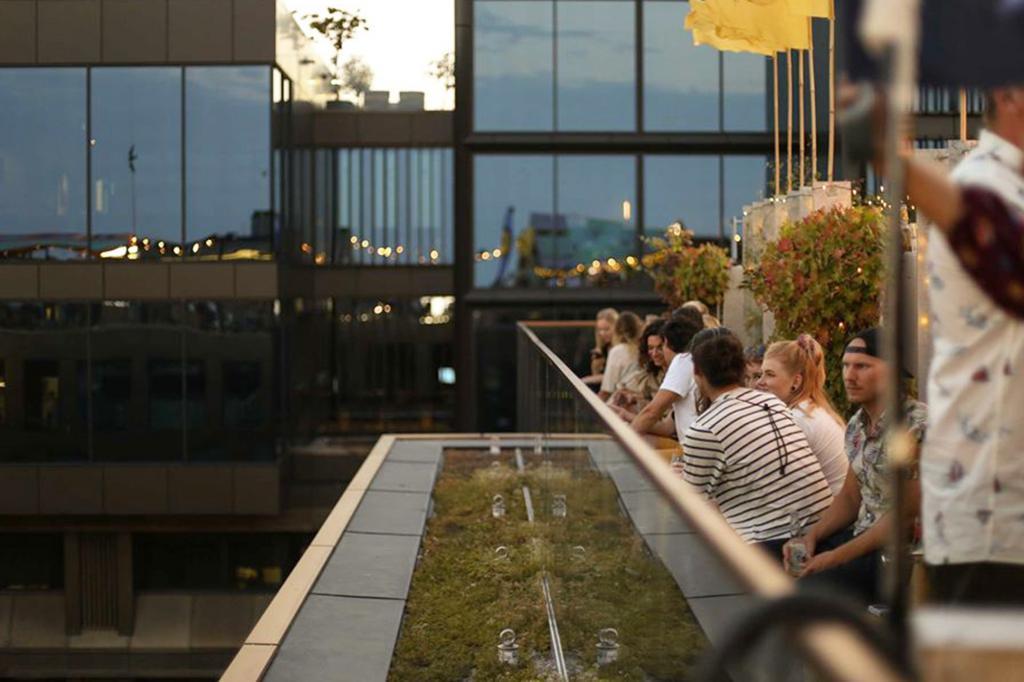 Stockholm under the Stars
Similar to Mälarpaviljongen, Stockholm under the Stars is only open for a few months each year, and for good reason, too: it's the capital's prime rooftop entertainment park. Some fifty metres above the city below, the stylish venue sits atop the OutThere favourite and five-starred design hotel At Six and it's home to all sorts of summer delights; from an open-air cinema to a myriad of globally inspired street foods to be enjoyed – you guessed it – under the stars.
Rub shoulders with us in the exclusive Molnet section, where we'll be whiling away an afternoon or two this season, bathing in the sun and pretending to study a menu of curated cocktails while throwing secret glances at the city's in-crowd (you don't come here not to be seen, do you?). Stockholm under the Stars is also the perfect place to see why we have a special fondness of the capital in the summer: from up here, you're afforded views of all that makes the city so beautiful.
*This article is in partnership with www.StockholmLGBT.com.