It's not that there hadn't been quite a few lessons to be learned throughout 2020, but if there's one thing we've personally come to realise, it's that even the smallest pleasures can add a special spark to one's day. Up in Stockholm, that's no different. Sure, there are attractions in the Open City we never seem to tire of; from the capital's sublime Royal Palace to the historical treasure that is the Vasa Museum. But Scandinavia's Open City is about much more than simply grand sights.
Among the many nooks and crannies of the Swedish capital, visitors will find meaningful and even contemplative experiences to cast their spell upon them. After all, immersion in Nordic culture is arguably less about the splendid and more about the serene. Here are some of Stockholm's smallest yet finest luxuries.
Watch life go by over a lazy fika at Riche
This lively eatery on the city's prime boulevard describes itself as 'the heart of all things fun in Stockholm', and they're not completely off: at Riche, the haut monde convene to clink glasses at their newest designer finds and let each other in on the latest Stockholm gossip. But it's not all champagne and 'ciao'. Instead, Riche dishes up heritage Scandinavian cuisine with a French twist that's authentic yet innovative.
Still, our favourite thing to do here is turn our backs to the café society and instead watch the goings-on on busy Birger Jarlsgatan outside. There's no designated fika menu here, so don't expect to find cinnamon buns on the menu. A range of tasty starters, salads and soups more than makes up for this, however, and so long as there's a cup of coffee involved and you're having a good time, it counts towards your obligatory daily fika. Don't think watching the locals going about their affairs will keep you entertained for long? You just wait and see until you're on Stockholm's most fashionable avenue.
Indulge in an intimate dinner inside Ernst Rolf's Loge at Cirkus
If you're thinking world-class stage shows and theatrical performances at the mention of Cirkus, you're not wrong. But off the boards, this long-running Stockholm establishment is furthermore home to its very own restaurant. Also named Cirkus, the pretty eatery is the type of place where one could easily spend a French amount of hours on slow-dining, and that's especially true if you've booked the original Ernst Rolf Loge for a private night in the company of your beloved ones.
The exclusive booth, which sits up to twelve guests, has seen few updates over the years, meaning it brims with the charm of Swedish yesteryear: hearty meals made from locally-sourced ingredients are served under a chandelier topped with Empire lamp shades and candles illuminate authentic black-and-white photographs on the walls. Visitors to the Open City looking to treat their company to a local experience that feels totally tucked away from touristy Stockholm, this one's for you.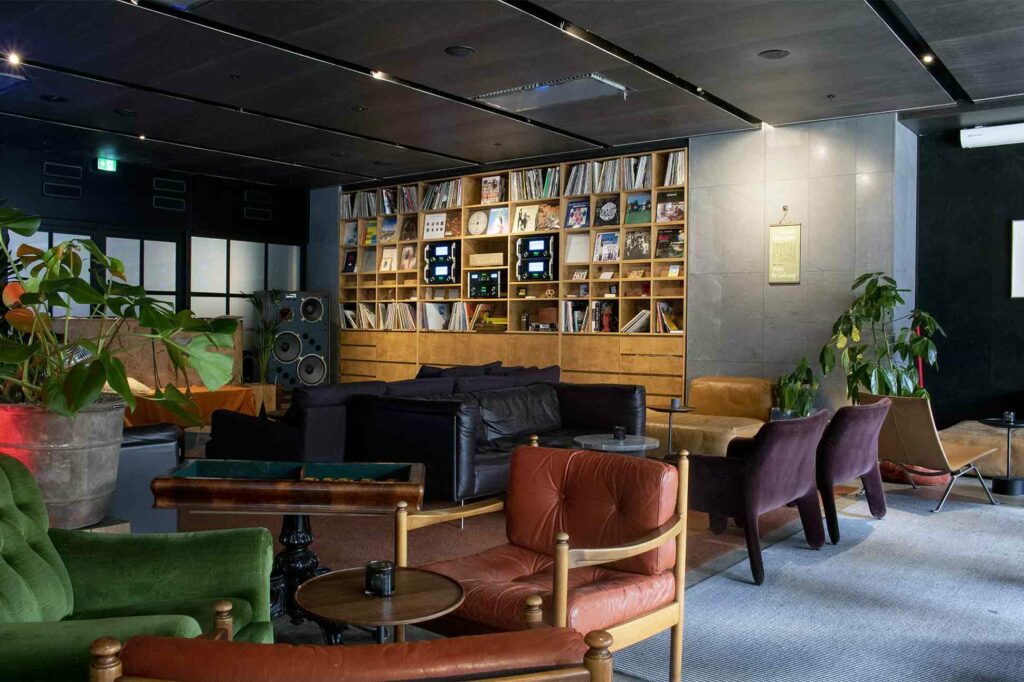 Mellow out to the capital's most curated playlist at AtSix' Hosoi
We never knew we needed a 'social living room' in our lives until we stumbled upon one during our most recent stay at AtSix, the five-star number on up-and-coming Brunkebergstorg you'll likely recognise from the covers of architecture and design magazines (or, of course, from our review of the hotel). Known as 'Hosoi', AtSix' living room is actually an experiential music listening lounge and a space that allows visitors to give into acoustic pleasures away from everyday distractions.
It's a pioneering concept by the hotel's very own music curator, Victor Sanchez, who wanted Hosoi to feel homely and social, yet different from just another stylish lounge. When we took a seat, we were amazed by just how elevating the art of listening can be; not least because DJs are given complete freedom to express themselves in a genre-free setting equipped with state-of-the-art loudspeakers. Who know leaning back and simply listening to good music – and by that, we mean really, really excellent music – could be this much fun?
Enjoy the serenity of Royal Djurgården
Some of life's purest delights are actually rather grand and nothing attests to this more than a simple stroll through Mother Nature. Beyond its world-class tourist attractions, Stockholm's Royal Djurgården has managed to remain perfectly quaint and unassuming. In search of tranquility, we tend to venture to its easternmost corner, Blockhusudden, a leafy area affording sweeping views over the Baltic Sea.
Start at popular Skansen, the world's first outdoor museum, and walk south towards Sollidsbacken street. From here, it's a good 40 minutes walking to the lakeside Blockhusporten café, where simple but delightful treats are served as waves keep crushing onto the shore. Don't rush it, though. There are plenty of scenic sights and little wonders to discover en route: from historical statues and gates to Prince Daniel and Crown Princess Victoria's 'Lovers' Trail', a short detour into Djurgården's most fairytale-like corners that you're likely to have all to yourself. Sometimes, all it takes to experience a taste of luxury is a bit of time.
*This article is in partnership with www.StockholmLGBT.com.