When in Sweden, one thing will always be on your mind, if it's not on your tongue. Fika, the beloved, daily coffee break celebrated across Scandinavia's largest nation with almost religious fervour (if you must believe in something, why not make it snack time?), is omnipresent in Swedish everyday life. Some might be tempted to say it's the only tradition truly considered a faux-pas not to partake in.
Not ones to dismiss local customs, we take our fika very seriously – so much, in fact, we've developed a habit of taking not one, but two fikas a day. In Stockholm, this luckily isn't particularly hard. The capital's luxury hotels like to put their own, more sophisticated spin on Sweden's most important daily meal, while the hip and happening cafés of Södermalm have us drool over a conscious take on the classic (vegan tuna sandwich, anyone?).
For some of Stockholm's most 'out there' fika breaks, you can't miss the below.
The Butiken at Hotel Diplomat
Somewhere between the capital's prettiest mini grocery store and a gateway into its most award-winning five-star hotel (no really, the Diplomat has been declared Sweden's best address on numerous occasions), the Butiken is a treasure trove filled to the ceiling with locally sourced produce and organic specialties from all over. Hotel guests tend to pop in and out for regular stopovers between the many cultural (and retail) highlights within walking distance, though we suggest you take a good hour out of your day to just sit and enjoy.
Thanks to its location, the Butiken benefits from a friendly and lively atmosphere, with locals dropping by to grab fresh fruit and veg as you wash down your cinnamon bun with a flat white or a cup of Earl Grey (you can take us out of Britain, but you can't take Britain out of us). Those looking for a more elaborate fika will find it in the Diplomat's excellent afternoon tea. Champagne is optional – but really, who wouldn't?
The Green Queen
Part of the LGBT-run Mälarpaviljongen family, The Green Queen offers perhaps the most health-conscious fika anywhere in town. There are, of course, traditional pastries and sweets on offer, but this LA-inspired, minimalist hideout with a plant-based focus doesn't stop at carbs and caffeine: instead, our personal favourites here are the raw juices, the avocado toast and, oh well, the grilled mushrooms with truffle oil and tomato salsa.
You'd be forgiven to stop by The Green Queen once a day (we certainly aren't in the position to point the finger) and make it your regular fika spot, though it would be a crime not checking out neighbouring Mälarpaviljongen while you're in the area. Stockholm's single most popular summer hotspot, the pavilion on the water attracts those in the know with a laidback and ultra-inclusive atmosphere, as well as some of the finest live music, courtesy of the city's local talent. Short on time? Order at The Green Queen and eat at Mälarpaviljongen. It's the best of both worlds.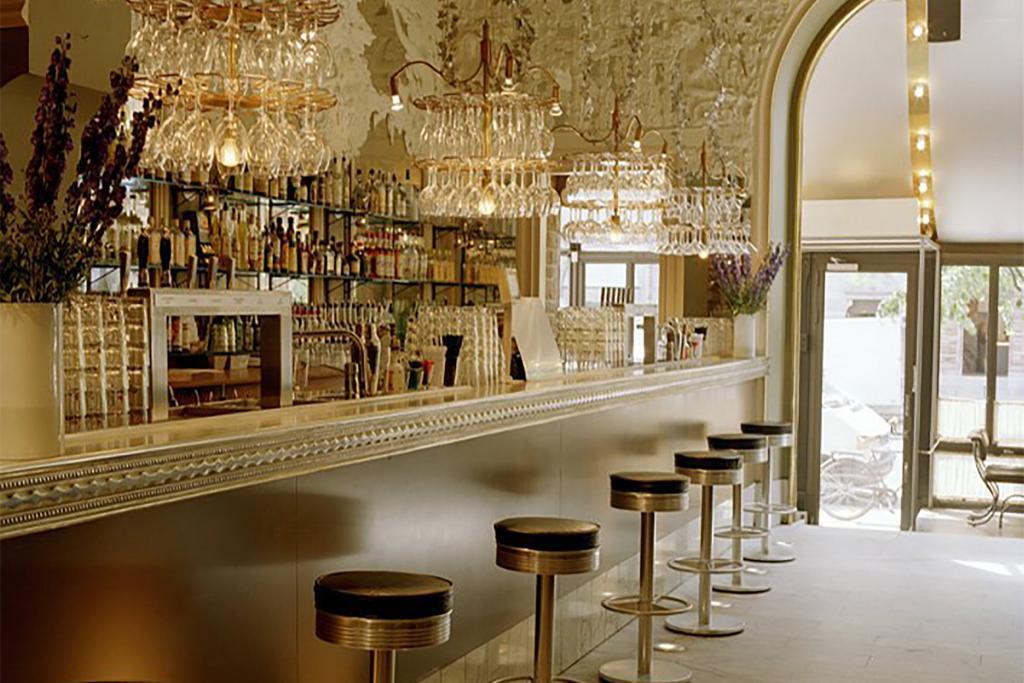 Restaurant Riche
Suggest a trip to this Östermalm-based restaurant on any Stockholm street and we guarantee all the locals within a 10m radius will start raving about their favourite meals at Riche. To call this place an institution would hardly be an overstatement. With its walls decked in art – countless artists have come here for their fika over the years, and many of them have had their work displayed at the eatery – Riche is as much about its culinary offering, as it is about its legacy.
Though arguably as enthralling to watch as the art on its walls (and endlessly more entertaining, if you ask us) are the crowds strutting down adjacent Birger Jarlsgatan. We especially enjoy taking a late afternoon fika here; for few things are more blissful than watching busy commuters out in the streets from the comfort of cosy Riche, sipping on a cup of what might just be the capital's best coffee. If you can't quite get yourself to part with the restaurant, don't force it: the dinner menu here is among Stockholm's most exciting and innovative. Who'd be in a hurry?
*This article is in partnership with www.StockholmLGBT.com.