The Rosselli AX Privilege is a luxury boutique property with jet-set appeal. The Palazzo hotel's very contemporary and elegant individual rooms offer up an experiential hotel stay with a touch of bling. Plus, its lauded Michelin-starred restaurant, Under Grain, is the talk of the town.
Victor Borg's amazing Michelin-starred restaurant Under Grain, found in the basement of the Rosselli AX Privilege has set the hotel above it up for success (the restaurant is spectacular, you can take it from us). But this five-star boutique property in central Valletta does a lot to hold its own as well.
Opening in 2019 to much fanfare (not to mention spend), the Rosselli AX Privilege has an unconventional approach to accommodation. It tries hard to put aside the industry standard of 'room categories.' Instead, considering that each of its suites is individual, it provides luxury features in each room to somewhat democratise any stay – meaning that some of the smaller, traditionally lower category rooms may have desirable features that the others don't have. The idea is that whatever room you pick, there's something to write home about.
Our 'Maruzzo' (considered entry-level) room playfully toyed with design and embodies the original period features of the house. Our room was up in the hotel's attic and while it lacked natural light (we only had the top half of the original attic window), it was a big, characterful space, dressed in rich, contemporary furnishings and a large 'ramen bowl' soaking tub.
Going up in rate (not necessarily size) from there, are the bold, monochromatic Mezza Croce deluxe rooms that pay tribute to 'chiaroscuro', the contrast between light and dark. Another step up again is the Alusietta superior rooms, a tribute to female elegance (and that is interpreted by the Rosselli as all things floral – supposedly more 'feminine' in the traditional sense of gender). It's an outdated notion in our book, but we're sure some will like it. The Don Pietro Executive rooms are light, uplifting and relaxing, designed to be escapist, coming with its own private spa. The '3 Herons' Junior Suites are all duplexes, stunningly decorated in high-gloss contemporary Italian furnishings, our favourite. The extravagant Sixteen 34 suite is the best in the house, said to be among the top suites in Malta. Our recommendation for OutThere travellers considering the Rosselli AX Privilege is to pick from Don Pietro and above.
What ties them all together, as well as the communal spaces at the Rosselli AX Privilege, is a taste for the showy and glossy: the aesthetic most definitely nods to Maltese – perhaps even Italian – high-society glamour, in a complete departure from the old palazzo that it is all in. Yet somehow, it works.
Rosselli's high-brow atmosphere also rubs off on the staff here. Suited and booted, they operate with military precision but perhaps lack some conviviality. They could take some lessons from their colleagues downstairs at Under Grain, who are similarly polished, but extremely friendly and approachable.
Other dining options include the ground-floor Grain and the rooftop Over Grain. There's more fun to be had up there on the roof. There's a gorgeous bar and sun-trap area (where we spent most of our time) with stunning views over Valletta's rooftops, as well as a plunge pool exclusively for guests. Here we fraternised with other Rosselli clients and Malta's be-seen crowd, which was a lot of fun.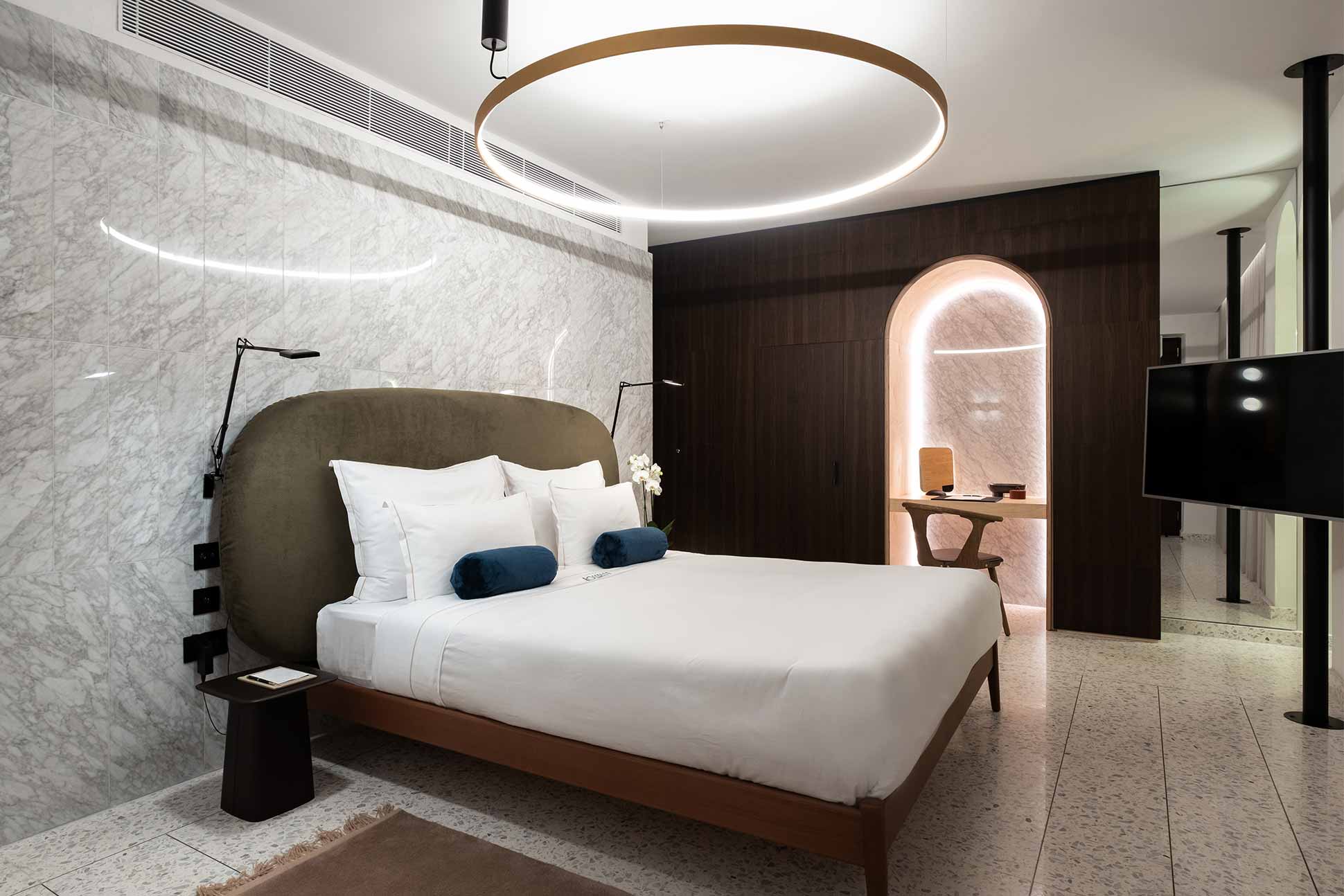 | | | |
| --- | --- | --- |
| Perfect for | Fly into | Right on time |
| The Hedonist | MLA | GMT +1 |
While you're Out There
If for some reason you're hungry for a non-Michelin snack, just a few steps up the road you'll find the fully restored Is-Suq Tal-Belt or Valletta Food Market, with a mix of fresh produce and food-court style eateries. Now, the stalls within the building offer a wide variety of foodie establishments and its supermarket, Arkadia, is an attraction in itself.
Photography courtesy of Rosselli AX Privilege