In both scale and glamour, the inaugural World's 50 Best Hotels Awards, which took place at London's historic Guildhall on Tuesday, were impressive to say the very least. And although competing hoteliers had flown in from all across the globe in hopes of making it to the very top of the ranking, the overall theme of the night was that of a joint celebration of excellence in hospitality – particularly in a post-pandemic world.
It's hard to believe that The World's 50 Best Hotels Awards was a mere three days ago. For one, that's because what hotels ranked the highest is all anyone's talked about this week, but also – and perhaps more crucially so – because we've had suspiciously little sleep in the 72 hours since (you can blame London's NoMad Hotel, which came in at number 46 and hosted an afterparty for the history books, for that).
The World's 50 Best, which is produced by British media brand William Reed and traditionally split between two separate editions for restaurants and bars across different world regions, has been around for over twenty years, of course, though this week's event marked its first array into the realm of hotels and resorts.
Wonder what criteria come into play when creating a ranking as prestigious as this? Well, no specific ones at all, as it turns out: rather, an anonymous Academy of 580 travel industry experts and insiders is chosen by nine leaders in their respective geographical areas, from Europe to Oceania. All experts get to nominate a total of seven hotels in order of how deserving they judge them to be of ranking among the list's top spots. Importantly, they must have stayed with any hotels they nominate within the past 24 months.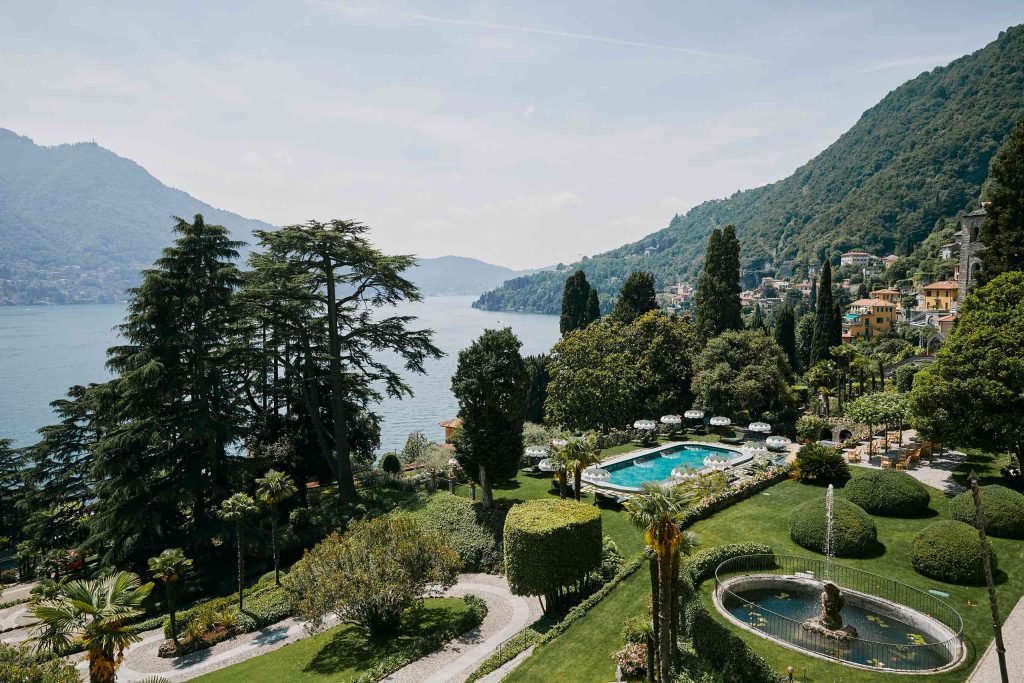 You'd be living under a rock if you hadn't heard of the top spot going to Lake Como's sublime Passalacqua, which only opened in June 2022 and, as you might recall, had us dreaming in dolce vita when we visited the very moment the property's doors flung open. Passalacqua, rest assured, had one of the biggest openings in recent years, with its eclectic rooms and manicured gardens popping up on our Instagram feeds as frequently as advertising for hair transplants (we really don't know how that happened… we're barely even receding!). The hotel coming out top in The World's 50 Best Hotels Awards further cements its reputation as an exemplary place to say, even by lavish Como standards. It also attests to the flair of its owners, the De Santis family, as well as, to no lesser degree, to the wonderful team that makes Passalacqua the warm and welcoming place to stay it is.
Other honourable mentions must go to the Rosewood Hong Kong (#2) and the Four Seasons Bangkok at Chao Phraya River (#3). With the fourth and the fifth spots also going to hotels in Asia – Hong Kong's Upper House and the Aman Tokyo, respectively – there was a clear indicator that Asian hospitality is world-leading: this goes particularly for Thailand, as the Mandarin Oriental Bangkok came in 10th, followed by the Capella Bangkok in the 11th spot, and the ever-eclectic The Siam ranking at number 46.
With a total of 18 represented hotels, Asia was only three hotels short of drawing close with Europe, where London landmarks and Parisian palaces ruled supreme. In contrast, North America was curiously far behind, with only six hotels making the list (One&Only Mandarina was named the Best Hotel in North America, coming in at number 8), while only three African hotels managed to secure spots in the ranking (Marrakech's La Mamounia at #6, the nearby Royal Mansour at #23, and Singita Lodges – Kruger National Park at #15). South America, meanwhile, was only represented once, with the Rosewood São Paolo at #27, and Oceania scored its sole entry with Brisbane's The Calile at #12.
Now, we did find these discrepancies in geographical spread somewhat startling. There are arguably hotels worthy of featuring on a list like this everywhere from Botswana to Beverly Hills, and we couldn't help but wonder what the ranking might've looked like, if a somewhat more evenly balanced spread had been a prerequisite in the voting process. Would the Bavarian Alps' Schloss Elmau, which boasts a cultural offering and concert series to match that of the world's most cosmopolitan capital cities, have appeared on it? Or the daring and ambitious Fife Arms, which wraps visitors in a uniquely art-filled tartan of all things Scottish Highland luxury, while inviting the local community into its stylish on-site pub? There's also more than one andBeyond lodge we can think of, that would've deserved ranking among The World's 50 Best Hotels.
It's perhaps little surprising that 'typical' travel destinations, which tend to see the largest footfall, feature so strongly in the ranking: London, Paris, Japan, the Maldives. This does leave out some of the most shining examples of luxury hospitality, which find themselves in beta destinations like Southern Germany, Namibia, remote Bawah Reserve or even parts of the Caribbean. The latter was represented with one hotel, mind you, the legendary Eden Rock in St. Barts (#41). An Oetker Collection property, Eden Rock was joined by its sisters Le Bristol (#29) and the Hotel du Cap-Eden-Roc (#33). Other major brands also scored highly, from Aman to Four Seasons (each ranking four times) to Rosewood and the Maybourne Hotel Group (each ranking three times). Noticeably absent were firm OutThere favourites Belmond and Peninsula, which caused more than a little chatter among industry peers after the ceremony.
If this all sounds a little corporate to you, you're not the only one: for though we'd be the first in line to attest to how deservedly the Six Senses Ibiza appears in the ranking (#49), we did find that there was distinct lack of smaller, independently run and boutique properties, many of which we've had the pleasure of staying at in recent years; think Mykonos' show-stopping Kalesma, or the sophisticated Delaire Graff Estate in South Africa's Cape Winelands. In all fairness, The World's 50 Best Hotels did also hand out a number of individual awards to recognise specific property types, with The Newt (#37) winning the Carlo Alberto Best Boutique Hotel Award.
You could also argue that there are ten times as many possible contenders for the list than there are spaces on it – but a little more recognition for or inclusion of those properties that work extra-hard to pierce through the mainstream, while typically offering some of the most authentic local experiences and pioneering in ways that would be unthinkable for larger chains, would, in our opinion, be a wonderful addition to what's already a much-valued new authority within the luxury travel space. Rankings of hotels might just be a little different from rankings of restaurants and bars, when it comes to that. One independently run hotel that's made it on the list, Chablé Yucatan (#13), is perhaps the best example of this. By insisting on doing things a little differently than the big-brand properties that continue to expand across Mexico, its owners told us over dinner the following night, they've turned the hotel into one of the most talked-about places to stay in the entire country.
Can't get enough of Awards season? Entries are now open for OutThere's very own Experientialist Awards, which are set to return soon. Revisit the winners from our inaugural Awards here.
Photography by David Holbrook, Steffen Michels and courtesy of Passalacqua, Rosewood Hotels & Resorts and Four Seasons Hotels & Resorts