'Bienvenidos a Miami', albeit with a heady dose of Far Eastern-style zen – not to mention equal measures of epicureanism and indulgence – thrown in for good (actually, great) measure. The Setai, Miami Beach is an exclusive, pleasure-seekers paradise, perfectly complementing the seaside haven of fun and frivolity it calls home, and encapsulating the diversity and internationalism of the Magic City.
It surprised us to find our suite décor at The Setai, Miami Beach appointed somewhere between Balinese and Thai styles. But what would have been perfectly at home in a South East Asian luxury resort, is rather extraordinary here in Miami, and a far cry from the usually light and breezy Floridian aesthetic.
A vision in sleek teak, our suite boasted clean lines and natural wood flooring. An ample and open-plan living space was complemented by a generous bathroom and wardrobe/dressing area. Wooden shutters cast louvred shadows on the white walls; the little sunbeams it let through illuminating carefully positioned pieces of contemporary Asian art. Their silhouettes danced like an Indonesian 'wayang' show. Earthy-coloured textiles and soft tussah silk furnishings accented the built-in banquette daybeds that lined the far walls. A pyramid of plump oranges sat proudly on a dark-wood dish, an amenity (replenished daily, we checked) that connects Asian gift-giving (the Chinese word for orange, "kam" being a homophone for gold – symbolising prosperity and abundance) with the fruit of the Sunshine State.
In this corner of the historic Henry Hohauser-designed, 1930s Art Deco building, every effort has been made by the interior designers to mask the building's functional structure and to exude, instead, an air of Far Eastern bliss. It almost perfectly reflected 'Tri Hita Karana': the Asian elemental design philosophy contrived to imbue a sense of calm among the chaos. Quickly, we understood that at The Setai, Miami Beach, we were to expect the unexpected; true if the large in-room soaking tub located beneath the giant television was anything to go by. Before arriving, we had never heard the term 'Asian Deco Fusion' before, but we left as firm fans.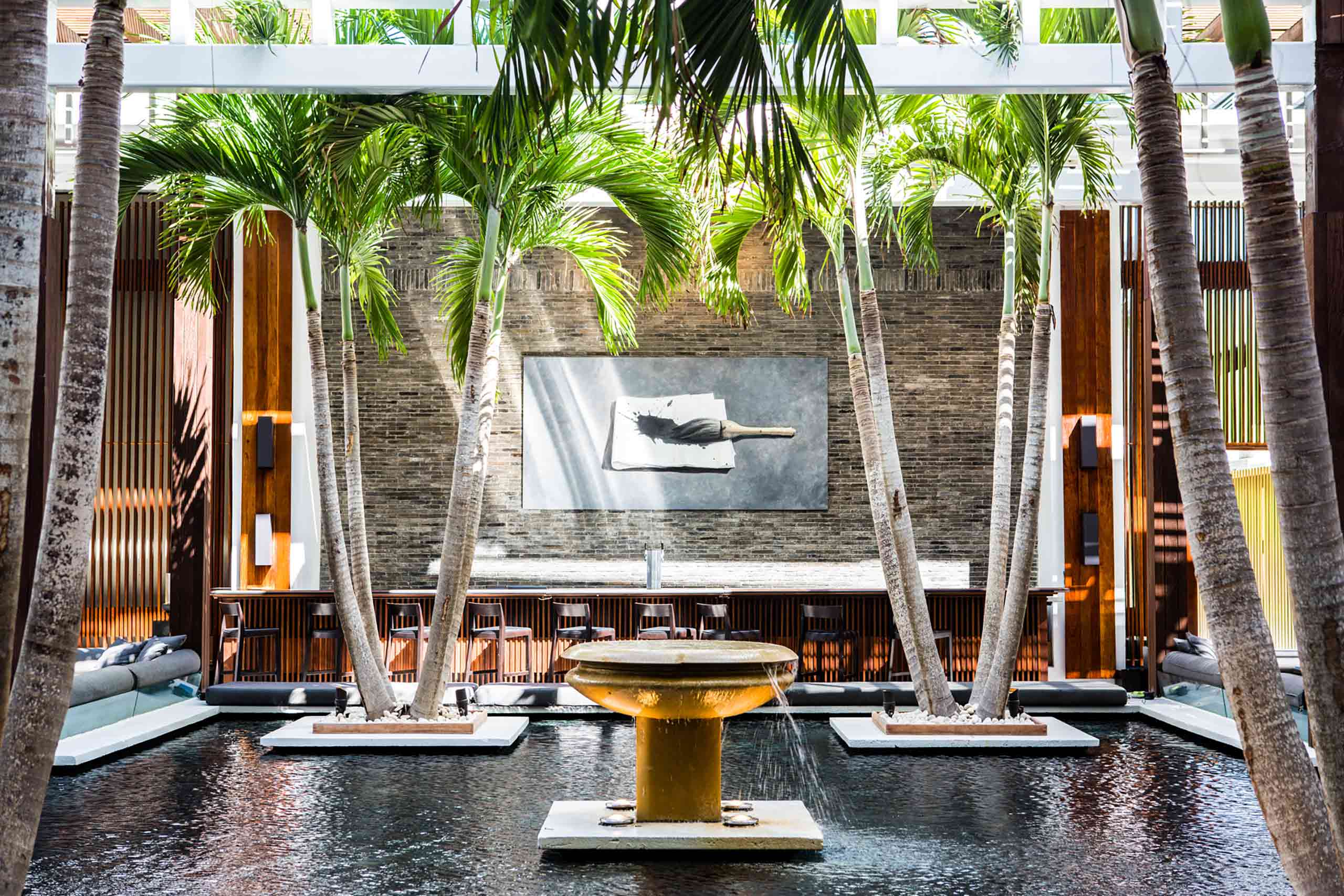 | | | |
| --- | --- | --- |
| Perfect for | Fly into | Right on time |
| The Hedonist | MIA | GMT -5 |
While you're Out There
If you're looking to go all out (there), then check into 'The Penthouse' atop the property's Ocean Suites wing. It spans the entire 40th floor, amounting to 10,000 sqft/930 sqm of party and living space, and boasts four bedrooms, a private rooftop pool, a full kitchen and jaw-dropping city, bay and beach views. Want to get even higher? Then you can also book a ride in the hotel's own helicopter!
The eastern and oriental-esque palatial vibe continues throughout the rest of The Setai, Miami Beach: its wenge-hued brick floors (recycled from old Hutong buildings in China, dismantled and relocated here) and zen corridors lined with slatted wooden panels and plinthed candles. Its grand lobby is packed full of museum-worthy curiosities and monumental floral displays.
The foyer space opens into Jaya, the heart of the hotel and the property's landmark restaurant (it means 'Victory' in Sanskrit, and consequently in Bahasa Indonesia and Malay as well). Its sprawling courtyard is graced with palm trees, inset Salas, water features and reflection pools. The space by day serves a hearty breakfast, or signature jazz brunch on weekends, but by night transforms into a temple to supper-club style pan-Asian dining, serving anything from succulent morsels baked in the restaurant's Tandor oven, to crispy Peking Duck and delicately prepared sushi rolls – accompanied by live entertainment, DJ, acrobats and fire-breathers.
We were told that Jaya is particularly popular amongst Miami's LGBTQ+ community thanks to the diverse range of acts who perform each night. That's easy to believe as it's clear that Jaya is the place to see and be seen. We eyed up the constant stream of revellers jostling for a space at the bar (a must-go for a drink, although we recommend hotel guests do it in the early evening for an aperitif, rather than when it's in full session later at night) or queueing for a table, all bedecked in their most fashionable of finery. Whether it was a Grindr first date or a bachelorette party, the people-watching was exceptional here.
Beyond Jaya, there are more pools to be found… ones we could swim in. Stepping outside, we found three rather inviting horizontal pools mirroring each other, sloping gently to the boardwalk and beach. It was also here on the beachfront that we dined at Ocean Grill (where the Atlantic breeze meets the Italian Riviera, so they say) on fresh, Mediterranean-inspired seafood dishes, in the light of the full moon.

Unwinding at the hotel's Valmont Spa was an absolute treat – yet another intimate, peaceful and beautifully designed space. We indulged in signature massages and treatments based all around anti-ageing and cellular regeneration, something that its namesake's Swiss skincare brand is famous for. There are seven treatment rooms in total to escape to, each with views of the beach and ocean.
But the best bit about The Setai, Miami Beach was by far the staff. Well-poised, heeled and trained, they made our stay a true delight, going the distance to ensure that everything was in place and our expectations were exceeded. In addition, the hotel takes great pride in its approach to inclusivity, striving to create safe and celebratory spaces for OutThere travellers of all backgrounds. For example, the in-room amenities are ungendered, including their infamous 'Lovers Kit' of naughty toys and games to spark connection/reconnection. Ooh la la.
Photography courtesy of The Setai, Miami Beach