Not too far from the hustle and bustle of tourist-centric Duval Street is this quiet oasis, the Kimpton Lighthouse Hotel – one of five charming boutique hotels in the Kimpton Key West collection. Although there's a lot to love about this fabulous property, its location near several of Key West's top tourist sites is arguably its biggest draw.
The location of the Kimpton Lighthouse Hotel at the heart of the Old Town – across from Ernest Hemingway House and next to the famous Key West Lighthouse – made us feel right at home in the very heart of this paradise island.
The property's buildings date to the mid-1800s but have been updated in a modern bohemian style, with a gorgeous banyan tree which, together with our suite's beautiful patio, provided a beautiful, natural backdrop to our stay. For an added sense of place, the original property in which we stayed was one of Key West's first LGBTQ+ guesthouses.
We really liked that although considered one hotel, the Kimpton Lighthouse Hotel comprises a number of original Keys houses and guesthouses. It has been how centuries of holidaymakers to Key West would've been accommodated and we felt that this added some rather unique charm to our stay.
Of course, all guests are also afforded Kimpton's special boutique brand of hospitality: a complimentary daily wine hour and a dog-friendly stay for no extra charge, with a Wag! pet concierge at your pooch's disposal. The hotel's staff was just a quick text away with anything we needed or might have left at home.
Our one of eight suites (of 45 keys) is a bohemian take on classic, Keys or 'Conch' (Florida Keys native) style… complete with colourful tropical prints, flourishes of island artwork and old-world inspired furnishings. Of course, the accommodations here come with all modern conveniences, from widescreen TVs (although we didn't even care to switch ours on) and Atelier Bloem bath products.
Back outside, a beautiful pool awaited us, as did Isabel, the hotel's bustling bar.
When checking in, we were greeted by the sweetest cat who, like the occasional rooster, roams the grounds freely. This sums up the ambience here at the Kimpton Lighthouse Hotel. Relaxed, laid-back seaside living – where everyone: human, dog and cat are welcome – at its best.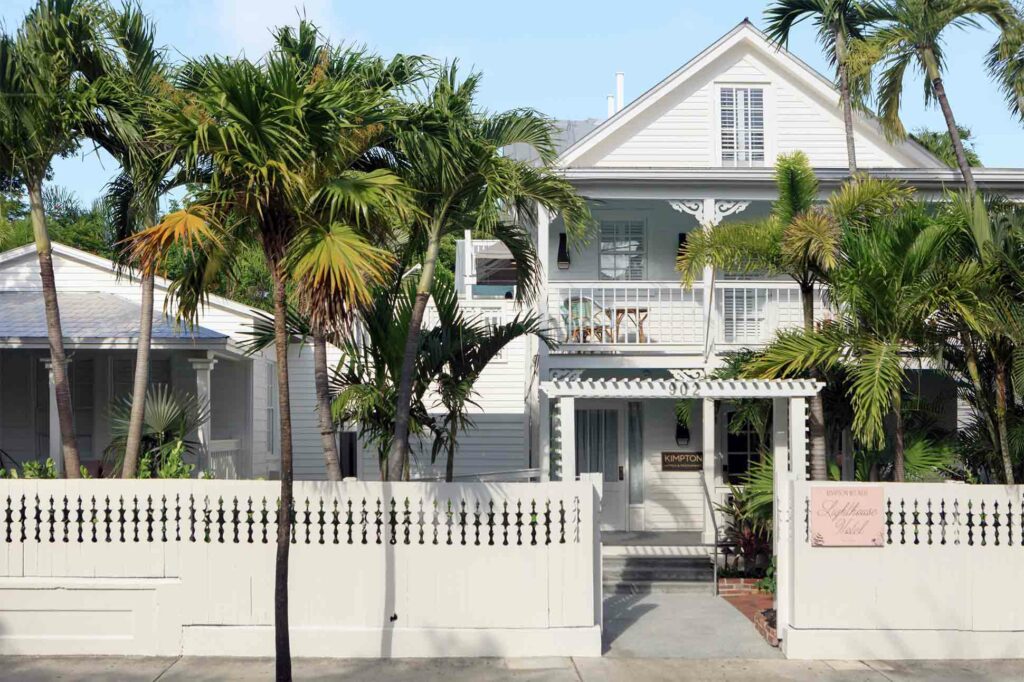 | | | |
| --- | --- | --- |
| Perfect for | Fly into | Right on time |
| The Culturalist | EYW / MTH | GMT -5 |
While you're Out There
Be sure to partake in an eco-tour on the water and enjoy the area's natural landscape and habitats of amazing marine life. We recommend embarking on a dolphin-friendly sea safari with Honest Eco on board its solar-powered boat that keeps a respectful distance from the magnificent Floridian wildlife.
Photography courtesy of Kimpton Hotels